Ask the Experts: Office Max
We asked some of the most successful, creative, and resourceful execs in the country how to transform any area into a hub of inspiration. Here, their top tips.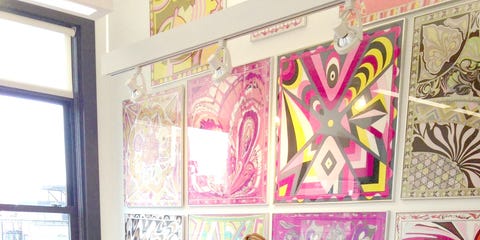 PHOTO CREDIT: COURTESY OF SUBJECT
We asked some of the most successful, creative, and resourceful execs in the country how to transform any area into a hub of inspiration. Here, their top tips.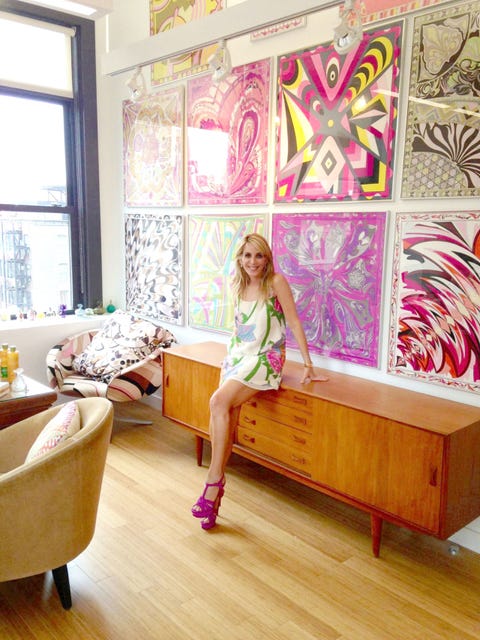 PHOTO CREDIT: COURTESY OF SUBJECT
Leverage open spaces.
"We have three flexible spaces with glass sliding doors. I wanted to create a 'party' vibe that looks and feels open and collaborative for constant interaction, but still gives executives privacy at their desks."
Alison Brod
Founder, Alison Brod PR
New York City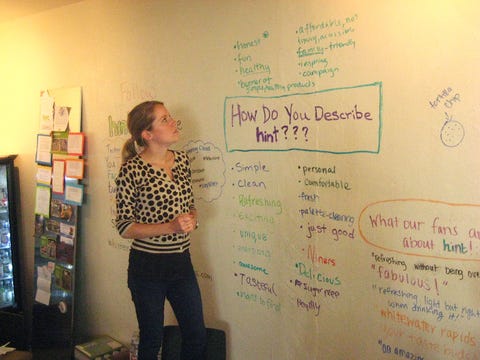 PHOTO CREDIT: COURTESY OF SUBJECT
Create multitasking walls.
"I have a wall in my office covered entirely in dry-erase paint that we use for strategy planning. We jot down ideas to follow up on, quotes that inspire us, and even our individual to-do lists. We also have a collage of the buzzwords that our customers use to describe Hint Water on social media."
Alyssa Raine
VP of Marketing, Hint, Inc.
San Francisco, California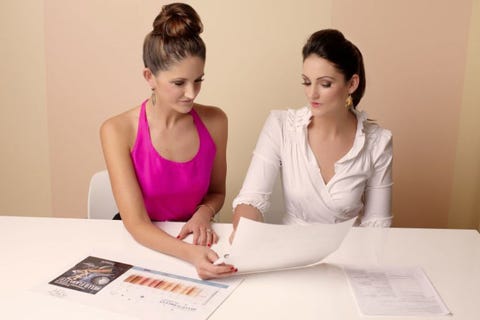 PHOTO CREDIT: COURTESY OF SUBJECT
Go bold with color.
"We call our office the pink palace. Everything, including the walls and furniture, is pink, pink, pink. It's the way we Benefit-ized the space to give us inspiration. In the entrance we have a fireplace with chandeliers and family photos. It feels just like home, and it's pretty much the girliest place you can work."
Annie Ford Danielson
Global Beauty Authority for Benefit Cosmetics
San Francisco, Calif.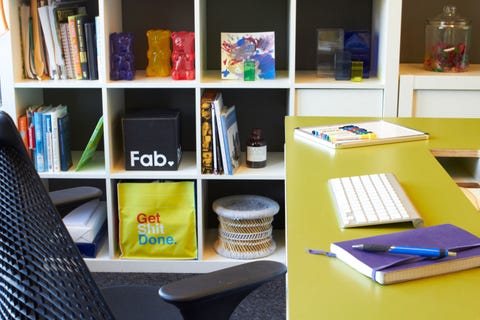 PHOTO CREDIT: COURTESY OF SUBJECT
Make professional use of kiddie art.
"My three-year-old son's artwork is prominently displayed because it reminds me that in a world where we need to be very rigid in some ways, particularly on the operations side, but we still need to push the envelope and be creative."
Beth Ferreira
Chief Operating Officer, Fab.com
New York City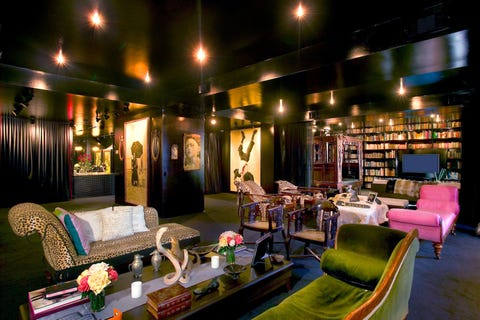 PHOTO CREDIT: COURTESY OF SUBJECT
Your decor is your billboard.
"I work out of my 3,800-square foot open-plan apartment—I don't have a home office, per se. My place is styled after a bar in Shanghai. It has black walls and is filled with the results of a lifetime spent hunting flea markets and junk shops—it's very stimulating for my clients who are looking to change the game."
Cindy Gallop
Brand consultant and founder of IfWeRanTheWorld
New York City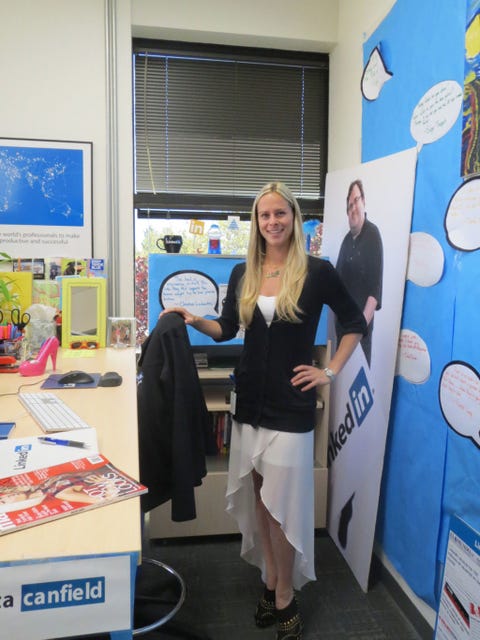 Show your team spirit.
"I have LinkedIn-blue colored paper taped to the walls of my cube, a life-size cutout of our founder Reid Hoffman behind my desk, and megaphones covered in LinkedIn stickers hanging overhead. Sure, it"s random, but it"s a good icebreaker, especially with people from other departments."
Krista Canfield
Sr. Manager, Corporate Communications, LinkedIn
Mountainview, Calif.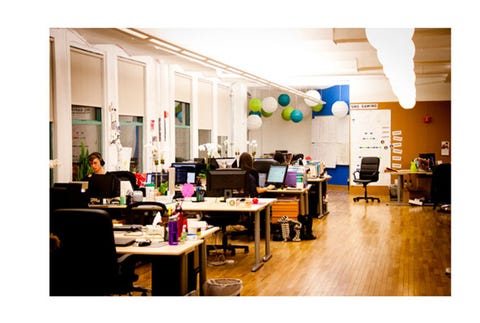 Don't get too comfortable.
"Every six months we pull names out of a hat and when your name is called you get to pick a new desk. That way we switch up where we sit every six months and work next to different people. It's an open office environment and there are no private offices so I can bounce ideas off different co-workers throughout the day."
Naomi Hirabayashi
Chief Markeing Officer, DoSomething.org
New York City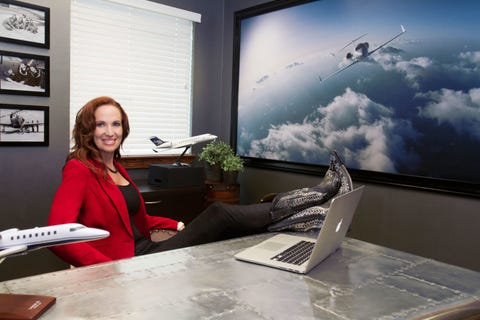 PHOTO CREDIT: COURTESY OF SUBJECT
Mine your industry history for inspiration.
"My office encapsulates both the modern and historic parts of aviation. I have one wall dedicated to a mural of a Gulfstream, and another wall with a mirror made out of an old aircraft engine. I work on an 'Aviator Wing Desk' from Restoration Hardware keep photos of WWII-era women aviators on the wall."
Rene Banglesdorf
CEO, Charlie Bravo Aviation
Georgetown, Tex.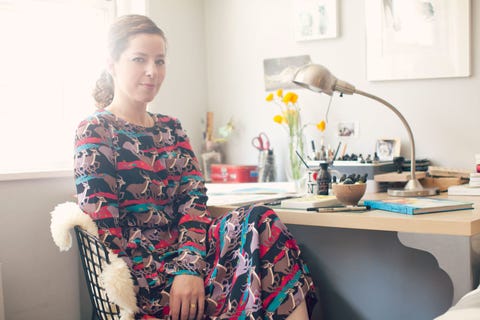 photo credit: Kathryn Wirsing
Exploit natural light.
"I've designated half my bedroom as studio space and work on a blonde wood drawing table. It's right next to the window so it illuminates the workspace. Since I'm working most of the day, I need to get all the benefits of natural light, which really can't be compared with any lamp or overhead light."
Samantha Hahn
Illustrator, Well-Read Women: Portraits of Fiction"s Most Beloved Heroines (Chronicle Books)
Brooklyn, NY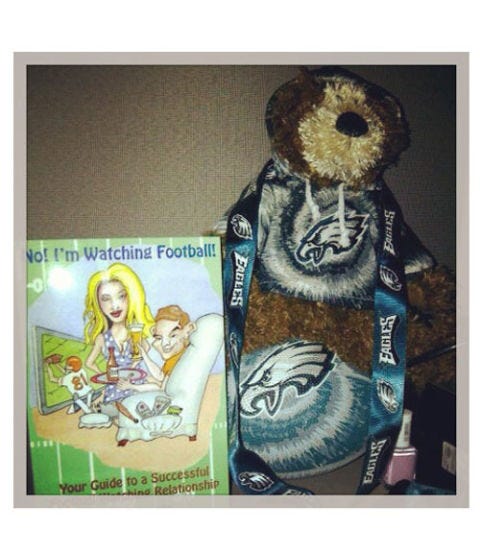 PHOTO CREDIT: COURTESY OF SUBJECT
Root for the home team.
"I'm from New Jersey and am a huge Philadelphia Eagles fan. So I keep sports souvenirs around my office. When I lived in Detroit, it was such a great conversation starter. These things don't just keep me humble and grounded, but they make it easier to break the ice, especially when I'm getting ready to interview someone."
Syma Chowdhry
Anchor, KYW3,
Philadelphia, Pa.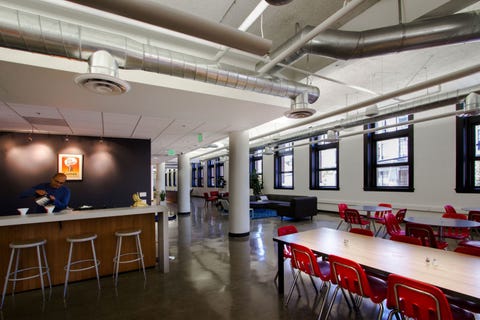 Bond with co-workers during lunch breaks.
"We cater meals every day in our second floor cafeteria so that teams have a casual environment in which to engage. The second floor was built for this type of interaction and has great light. There's a coffee bar and good snacks... including our house made granola with which I have a slightly unhealthy obsession."
Teal Newland
VP of Global Sales and Brand Strategy, StumbleUpon
San Francisco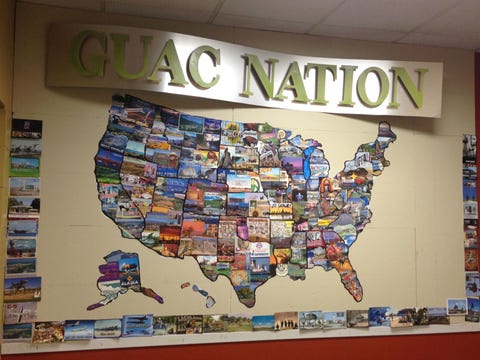 Solicit off-the-wall ideas.
"Monday morning staff meetings start off with people sharing ads, products and articles they read over the weekend. We pin them up and talk about them. The one caveat: they cannot be food related. This way we learn (and steal) great ideas from other industries."
Tracey A Altman
VP, Marketing & Product Development, Fresherized Foods
Saginaw, Tex.
This content is created and maintained by a third party, and imported onto this page to help users provide their email addresses. You may be able to find more information about this and similar content at piano.io