Shower Like A Supermodel: Kate Upton's Secret to Glowing Skin
Sports Illustrated cover-girl Kate Upton shares how she stays fresh and clean, even after an intense workout.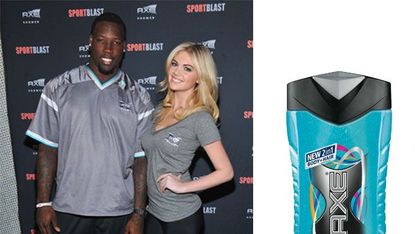 (Image credit: Archives)
When we caught up with Kate Upton at the AXE event Wednesday night, she was kicking some serious ass. The swimsuit model went head-to-head with Giant's Super Bowl champion Jason Pierre-Paul, challenging him to a variety of games, from a runway showdown to ping-pong to throwing a football. Upton — who grew up on a farm in Michigan playing flag football games with her family — effortlessly schooled him in nearly every match. After working up a sweat, this laid-back model hits the shower with a bottle of AXE Sport Blast 2-in-1 Shower Gel + Shampoo. She explains that "the refreshing formula makes my skin super-soft and the light, and the clean scent keeps me energized after an intense workout." Um, have you seen her in a bikini? We're sold.
Get AXE Sport Blast 2-in-1 Shower Gel + Shampoo now at amazon.com.