Kate Moss' Playboy Cover Revealed! (PHOTOS)
And they don't call her a supermodel for nothing.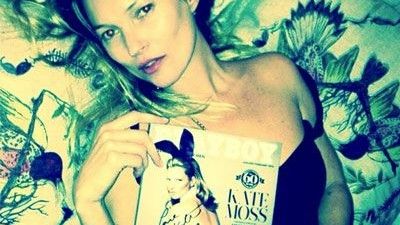 (Image credit: Marie Claire)
It's here! It's finally here! Fashion fans and, well, Playboy fans alike have been waiting with baited breath for this 60th Anniversary double issue to hit stands. Because we're lovers of Kate Moss and her bod, we're excited to announce the mag has finally arrived! The famed supermodel posed for a holiday-themed 18-page spread, shot by photographers Mert Alas and Marcus Piggott.
Alas posted a sneak peek of the issue to his Instagram account as what we can only consider an early Thanksgivukkah/Christmas present. No matter what holiday you're planning to celebrate, these pics are sure to make someone on your list extremely happy—as long as they're 18 or over. Sorry, little bro.