On Making Black Lives Matter
Extreme violence has clarified one thing: Allies aren't enough anymore.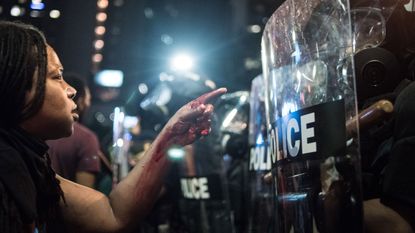 (Image credit: Getty)
Marie Claire Newsletter
Celebrity news, beauty, fashion advice, and fascinating features, delivered straight to your inbox!
Thank you for signing up to Marie Claire. You will receive a verification email shortly.
There was a problem. Please refresh the page and try again.
Last week, Alton Sterling and Philando Castile were killed by police officers in Baton Rouge, Louisiana and St. Paul, Minnesota. Five police officers were killed in Dallas, Texas and seven others were injured. And then, on Saturday, Alva Braziel was shot and killed by police in Houston, Texas. To bear witness to so much senseless violence, so much senseless death, is unbearable.
On social media, people are grieving and hurting and raging. On the streets of cities across America, people are protesting. They're saying, "Enough." In Baton Rouge, the police force has become a small army, replete with SWAT teams and officers in full riot gear. There is a new iconic image reflecting these turbulent times: Ieshia Evans, a young black woman in a flowing summer dress facing a militant line of Baton Rouge police officers.
Against the backdrop of a contentious election cycle, it is easy to feel like the world is coming apart, like the world is coming to an end. It is easy to feel unsafe, helpless, hopeless. I am feeling all of these things while also trying to resist defeat. I am trying to recognize that the world is not coming to an end—the world is changing.
I was talking to my mom on Friday, when things seemed especially hopeless. She asked, "Why should I have to wake up every day and address God about the safety of my life?" She told me about how she and my dad had talked to my brothers, my nephew, reminding them, reminding all of us to be careful when we're out in the world. She told my nephew to keep his wallet out, in the center console, so it is visible and easily reached if he's pulled over by the police.
As we spoke, I thought about my own obsessive ritual when I get in my car—making sure I have my license, registration, current proof of insurance—because if pulled over for Driving While Black, I cannot afford any missteps. They might cost me my life.
This is no way to live, this is not freedom, always holding your breath, always feeling like a target, always worrying about the men and women you love, hoping they won't run into a police officer who cannot control his fear.
As is often the case during times of social upheaval, most of us are wondering how we can productively contribute to positive change when change feels impossible. There are no easy answers. For white people, being an ally to the black community is often framed as a way forward. Allyship is a nice idea, certainly. It's a way for people to say and demonstrate that they care and (want to) help even if they cannot fully understand the lived experiences of marginalized people.
But in the wake of last week's violence and unrest, I've seen what often happens during difficult times—people who consider themselves allies, well-meaning people, to be clear, ask what they can do to help. They ask for guidance, as if black people, in this instance, have the solution to the ongoing problem of systemic racism, as if we have access to a secret trove of wisdom for overcoming oppression.
I've seen allies share their laments in a way that focuses on their emotional needs. I've seen them demanding the emotional labor of people who have nothing left to give.
The problem with allyship is that good intentions are not enough. Allyship offers a safe haven from harsh realities and the dirty work of creating change. It offers a comfortable distance that can be terribly unproductive.
I am reminded of a conversation I had with Ta-Nehisi Coates in 2015, upon the release of his book Between the World and Me. When I asked him about allies, he said, "I think one has to even abandon the phrase 'ally' and understand that you are not helping someone in a particular struggle; the fight is yours." I mulled his words over for weeks because they were so pointed and powerful. Those words began to inform the ways in which I try to support other marginalized people—making their fights my own because that's the only way forward.
Black people do not need allies. We need people to stand up and take on the problems borne of oppression as their own, without remove or distance. We need people to do this even if they cannot fully understand what it's like to be oppressed for their race or ethnicity, gender, sexuality, ability, class, religion, or other marker of identity. We need people to use common sense to figure out how to participate in social justice.
Don't tell us about your racist uncle or grandfather or sister or cousin. Don't try to unburden yourself of guilt that isn't yours to carry. Actively listen when marginalized people tell you about their oppression—don't offer your pity (which only helps you) and don't apologize. Listen and do your best to understand what it feels like to live with oppression as a constant. Speak up when you hear people making racist jokes. Speak up when you see injustice in action. Inform yourself about your local law enforcement and how they treat people of color. Vote. Take a stand instead of waiting for absolution from people of color. We don't have that kind of time. We're fighting for our lives.
---
Celebrity news, beauty, fashion advice, and fascinating features, delivered straight to your inbox!