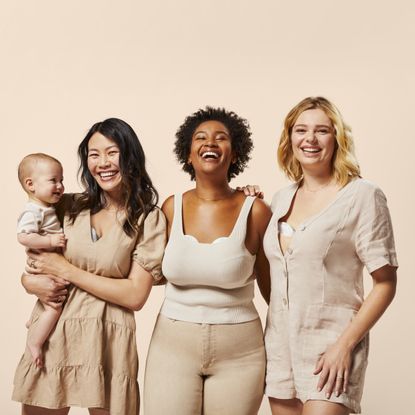 (Image credit: Willow)
Marie Claire Newsletter
Celebrity news, beauty, fashion advice, and fascinating features, delivered straight to your inbox!
Thank you for signing up to Marie Claire. You will receive a verification email shortly.
There was a problem. Please refresh the page and try again.
After my daughter was born, I pumped breast milk for the first months of her life. It was a long, mega-stressful road: My supply was low and she wouldn't breastfeed, but I was determined to give her as much as I could make. When you're in the early stages of pumping, establishing a milk supply—which could mean pumping 10 times a day—is a big investment of time and energy when your baby needs you most.
That's why the wearable, smart Willow breast pump was such a lifesaver for me. If there's a single word that describes the brand, it's freedom. Lots of pumps are big, bulky, loud, and need to be plugged into the wall. Not this one. For a nursing parent, the ability to do chores, take care of your baby, and even lay down while pumping is one of those things you never knew you needed—and makes your life so, so much easier once you have it. If you're choosing to pump, I promise: The Willow can help.
The brand has two different models: the Willow 3.0 and the Willow Go. Both are wearable, cordless, hand-free pumps with a sleek design that fit into a bra and offer hospital-grade suction. They're quiet and discreet, making pumping on the go uncomplicated, and easy to clean with dishwasher-safe parts. Both pumps are FDA-cleared and FSA/HSA-eligible. And Willow users say they actually pumped more milk when using Willow 3.0, compared to previous generations of the pump.¹
The Willow 3.0 has all the bells and whistles. It's the only wearable breast pump that offers 360° spill-proof mobility: you can literally use it while doing a headstand when you're pumping into a plastic bag. The Willow 3.0 pump kit comes with spill-proof disposable milk bags, which are perfect for storage. Or, you can purchase Willow's compatible reusable milk container set, sold separately for $49.99, which makes transferring milk easy. Plus, the smart-pump technology lets you track your output, choose your suction level, and view your session history all from your phone via the Willow 3.0 App. With those perks comes a higher price tag—$499.99. You'll also need to factor in buying extra spill-proof milk bags at $23.99.
Willow recently introduced the Willow Go wearable pump, which is less expensive at $329.99—or as low as $150 with most insurance. With Willow Go, you can still pump discreetly, but it's not completely leak-proof like Willow 3.0. It's still great for multitasking and moving around while you pump hands-free and cord-free. Unlike the premium pump, Willow Go is only compatible with the reusable milk containers that come with it. Willow Go is also the only in-bra wearable breast pump to offer up to 14 oz. capacity per session. For those who produce a higher capacity of milk, the Willow Go 7 oz. reusable milk container set is sold separately for $29.99.
Knowing that I could just pop on the two pumps and go about my work and home life, feeling comfortable with them tucked inside my nursing bra, meant that I had one less thing to worry about. Considering all the things on my to-do list in those first few weeks, it was a huge weight off my chest—pun intended.
If I were pumping now (or if I pump in the future with a second child), I'd likely choose the Willow Go: I love the ease of the containers, and I've never made enough milk to store ahead. But the Willow 3.0 I used for my first child was top-notch, and the extra app features were a pure delight: Which breast produced more? Which session gave me the most milk? How close was I to being done? Finding those answers made me feel like I was an expert in my own body, with all the right tools and data to optimize my own breast milk journey.
If you're wondering which pump is right for you, this handy comparison chart is a great way to compare features and envision what's best for your lifestyle #WithWillow. Or, check out Willow's resource center and get in touch.
¹ In testing, experienced Willow users who pumped with Generation 3 at least 20 times pumped 20 percent more milk on average than with prior generations.
Celebrity news, beauty, fashion advice, and fascinating features, delivered straight to your inbox!