Late Night at the Met: Scenes from the McQueen Closing
Our photographer took in the fashion, and the people-watching, as the Met stayed open until midnight.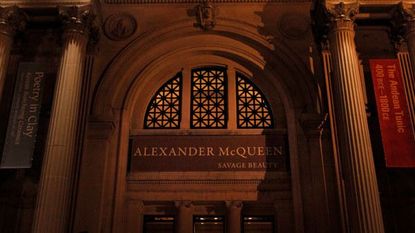 (Image credit: Elizabeth Griffin)
Last night the Metropolitan Museum of Art kept its doors open late for the final night of the crazily popular Alexander McQueen exhibit. The collection had such broad appeal outside of just the fashion world all summer long that its dates kept being extended and lines were often at three hours long to get in.
The final evening was no exception with people waiting up to four hours. Our photographer, Elizabeth Griffin, was on the scene and captured the very last woman let in (pictured below) at 11:59 pm. Lucky you, Sharon Davis—others were left outside never getting a chance to see the brilliance of the late designer's creations.
We love seeing how many fashion fans from all over embrace the exhibit! Check out more of the late-night madness at the Met below.
PHOTOS: ELIZABETH GRIFFIN