Q & A With Tammy Duckworth
On November 12, 2004, former Army Major Tammy Duckworth lost both her legs when Iraqi insurgents launched a grenade at the Black Hawk helicopter she was copiloting.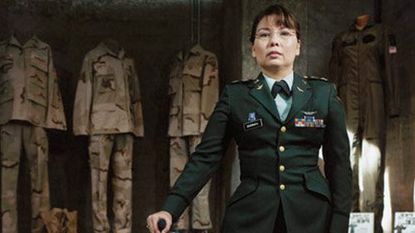 (Image credit: Alessandra Petlin)
On November 12, 2004, former Army Major Tammy Duckworth lost both her legs when Iraqi insurgents launched a grenade at the Black Hawk helicopter she was copiloting. During her 13-month recuperation, Illinois Democrats asked her to run for the Congressional seat Rep. Henry Hyde will give up this month. She said yes, and she won the primary. Lisa Henricksson caught up with the unstoppable Duckworth at a campaign event in Illinois.
Q: WHAT HAPPENED ON THE DAY YOU WERE ATTACKED IN IRAQ?

A: I was finished flying my mission for the day, and I started to hear this "taptap tap" on the side of the fuselage. I knew we'd been hit by small-arms fire. Then I saw a giant fireball in front of my face. I just focused on the controls, and I remember feeling really frustrated that the tail wasn't responding to my rudder inputs, which is what you do with your foot pedals. I never looked down, so I didn't even realize my legs were gone.
Q: IF YOU'D BEEN IN A POSITION TO, WOULD YOU HAVE VOTED TO INVADE IRAQ?

A: No, because I felt it was a mistake from the beginning. The right thing to do was to pursue those enemies who attacked us on 9/11. And that was already happening in Afghanistan, with Osama bin Laden and Al Qaeda.
Q: THE SITUATION IN IRAQ HAS DETERIORATED SIGNIFICANTLY SINCE YOU LEFT. DOES THAT SURPRISE YOU?

A: It doesn't, because of the complete lack of any type of a plan from this administration. It just boggles my mind that they ordered an invasion without a plan for how to occupy and how to bring people home. I want to hold Secretary Rumsfeld accountable. He had better be sitting in a chair once a month to report on where Iraqi security forces stand. First, you need to tell us how many have been trained up and are capable of acting independently; then let's deploy that many Americans home.
Q: RECENTLY YOU WERE BACK AT WALTER REED, WHERE YOU RECUPERATED.

A: Uh-huh. I was just there for a new pair of legs. They are fabulous! They're just like this pair [points to her microchip- operated metal prostheses] on the inside, and then they are carved out of foam by an artist. There's a latex skin that rolls over the top that's matched to my skin tone perfectly. They even matched my freckles! They have toenails that can be painted.
Q: HOW MANY PAIRS OF LEGS DO YOU HAVE?

A: A primary pair, a back up pair, and now I have the cosmetic legs. They're programming the right leg so I can fly again. And I'm going to get some swim legs that have fins instead of feet.
Q: WHAT ARE THE FASHION CHALLENGES?

A: Because I'm such a high amputee on my right side, I often have to buy skirts and pants one size too big. At least that's my excuse for having gone up a size. But now I can squeeze my "feet" into really pointy shoes, and they don't hurt anymore [laughs]. Are there times when I wish I had normal-looking, pretty legs? Yeah. And every time I read about the new high-wedge heels or whatever, it's a little sad. But what is that compared to being alive?
Q: IS THAT YOUR DOG TAG YOU'RE WEARING AROUND YOUR WRIST?

A: No, it's part of the Soldiers Creed. It says, "I will always place the mission first. I will never accept defeat. I will never quit. I will never leave a fallen comrade." It's got the Army values on the other side: "loyalty, duty, respect, selfless service, honor, integrity, personal courage." That's who I am. That's who my buddies were when they pulled me out of that field, because you don't leave a fallen comrade behind. And I think that applies to everyday life. We're becoming a country that says to people, "Too bad you weren't born into a family that can afford to write you a tuition check, too bad you can't afford health insurance; we're going to leave you to the wolves." And that's not the country that I love. The country that I love is for all of us.