How Entrepreneur Mei Xu Shares Her Light by Mentoring Other Women Business Owners
The founder of Chesapeake Bay Candle credits her company's success to her first Bank of America loan. Now she's helping other women, especially her fellow immigrants, shine too.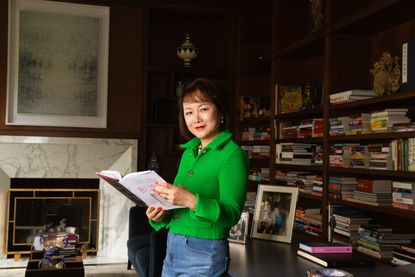 (Image credit: Bank of America)
When Mei Xu immigrated to the U.S. from China in 1991, she saw a chance to create an opportunity for herself. The founder of Chesapeake Bay Candle had trained as a diplomat for ten years, but knew that she wanted to start her own business—a choice that dismayed her father. "I had grown up in a country where it's very uniform," she says. "And I wanted to create the beauty that I didn't see." By seizing the risk and opportunity of becoming a small business owner—and by partnering with Bank of America from her company's earliest days—Xu found lasting success. Now, she's helping other women entrepreneurs, especially her fellow immigrants, follow the same path through her e-commerce site YesSheMay.com.
Xu's story is inspiring, but she's clear about the fact that she didn't do it alone. After her candles struck a nerve with American consumers, she knew that to keep growing she needed to prepare for the holiday season by creating more inventory. But inventory takes money—money that a newly-formed small business usually doesn't have lying around. That's when Xu turned to Bank of America for a $500,000 loan to help her company prepare for what could turn out to be a very important season for her business.
Partnering with a bank that understood the needs of a small business owner—and that viewed her as an individual, not a number—was crucial to Xu's early success. "The line of credit is really a lifeline," Xu says. "I feel we are growing with Bank of America. It feels like you're not working with a big institution, you're working with people just like you." She credits those beginnings—of her business and her working relationship with Bank of America—as the moment Chesapeake Bay Candle really took off.
And when a small business does well, it's not just the founder that succeeds—it lights a fire that can illuminate far beyond just one person. With her Bank of America loan, Xu was able to create good-paying factory jobs, where the women she employed could leave work at 4 p.m. to be home with their kids. And now, through the power of mentorship, Xu's light is going even further.
In 2020, at the peak of the pandemic, Xu started mentoring other women small business owners, particularly as their businesses were interrupted. That led her to launch Yes She May, a e-commerce site dedicated to connecting consumers with the best-in-class products from women-owned fashion brands around the world.
Xu speaks about a Buddhist saying that "when a candle lights another candle, it loses nothing, but the world gains even more light." Nearly 30 years ago, Bank of America provided the spark that helped ignite Xu's new business. Now, she's inviting more businesses to light the way for other women to follow.
Bank of America celebrates Women's Small Business Month and is featuring a video on Mei's journey, which you can watch here.