Harry Styles Made the Sweetest Phone Call to a Manchester Bombing Victim
14-year-old Freya Lewis was injured in the explosion.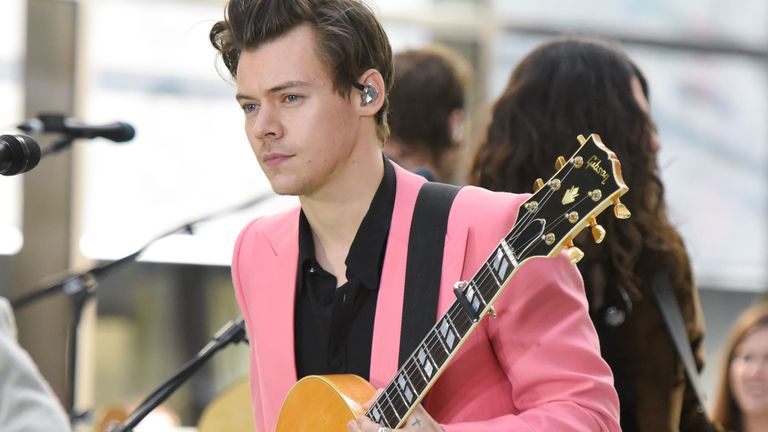 (Image credit: Getty Images)
Last week he dedicated his show in Mexico to the victims of the Ariana Grande concert bombing attack, and now Harry Styles has personally contacted a young fan of his, who was injured in the attack, to tell her that he "loves her".
The 22-year-old singer, who grew up in Holmes Chapel just outside of Manchester, last week said the bombing left a "hole in his heart". He chose to give back to those in the most personal way possible, by giving a young fan his time.
14-year-old Freya Lewis was left in hospital after the attack, and in her father's words, had to be "sewn, bolted, drilled and bandaged back together". The teen's parents shared the news of her phone call on her school's website, Holmes Chapel Comprehensive School and Sixth Form College in Cheshire. They wrote:
"Firstly, Freya came around enough from sedation to look at her Dad, blow him a kiss and smile. Then Dad cried... Secondly, the phone rang, and it was Harry Styles. Freya woke up, Harry said he loved her, she said she loved him, then Dad said he loved him!! The PICU unit at Manchester Childrens Hospital has just been given a lift like you cannot imagine!"
"Harry, we salute you sir, Holmes Chapel is very proud of you!!!!" they added.
Freya had been at the concert as a birthday present for her friend Nell Jones, who sadly died in the bombing.
The teen's family revealed Freya had given "very personal and harrowing recollections of the detonation of the bomb and the aftermath."
"We discussed the loss of her friend Nell, which she was unaware of up to this morning.
"Needless to say, these details and thoughts are Freya's and it is for her to decide in the future what, if anything, she shares with others," they added. "She understands, with absolute clarity, what happened on Monday night and what injuries she has sustained. Freya's response to all of this information has been incredible, beyond any words. Her strength is phenomenal and inspiring."
22 people died in the attack, and over 100 have been injured.
Follow Marie Claire on Facebook for the latest celeb news, beauty tips, fascinating reads, livestream video, and more.
Abbi is a freelance journalist for various magazines and websites. She writes about everything from fashion and beauty to travel and entertainment. In her spare time she loves to scroll endlessly on Instagram, plan holidays that she'll never go on and refresh the ASOS 'new in' page.