Episode 6 of Project Runway, Season 7
Recap of Episode 6, Project Runway Season 7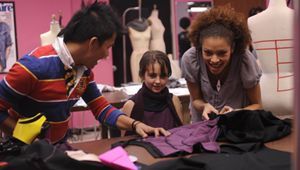 (Image credit: Courtesy of Lifetime Television)
Last night's episode of Project Runway featured the cast of hopefuls designing for a group of little girls, ages 5 to 8. As one of the designers pointed out early in the hour, not only is this a difficult challenge because of the dimensions and the question of age appropriate styling, but kids are just squirrelly and difficult. Regardless of the obstacles, last night's runway boasted some of the best designs yet from Season 7.
I find this season's cast to be the most pleasant and boring bunch of designers to ever stand on the PR runway. No matter what type of stressors, constraints, dilemmas or clients the producers throw at this group, instead of turning on each other they indulge in solitary bouts of insecurity or quiet mini-breakdowns. Last night was no different.
Anthony's non-stop chatter eventually un-nerved the rest of the group enough that they challenge him to stay quiet as long as he possibly could—he lasted just under 15 minutes. Everyone remained cordial.
These people have got to break sooner or later.
As for the fashions, halfway through the show, Tim threw in an unexpected (but totally predictable) additional adult look to be paired with their children's outfit. The children were adorable on the runway, and all schmaltz aside, there was some seriously good tailoring on display.
Seth Aaron and Jesse both landed in the top for outfits that included incredibly well made coats. Jesse's take on a French school uniform was matched by a tiny red wool coat and paired with a sleek, belted dress on his model. Seth Aaron took the win (and revealed himself as a father! Who knew?) with a punky little hound's-tooth dress with zipper detailing. His regular model's outfit was comprised of an intricately made black and white striped motorcycle-style jacket that was absolutely flawless. Jay rounded out the top three with a sophisticated maroon pairing.
The bottom three were: Amy, Jonathan and Janeane. Amy's children's outfit looked like a costume from a Peter Pan play. She also put her adult model in a pair of unfortunate pants; Jonathan's models looked like they were swathed in toilet paper and Janeane made her tiny model a pair of leggings and an ill fitting top. She got the boot.
Janeane had struggled throughout the show and had been unable to make an impression. By the time she was called out by the judges, the look on her face said she's already called home. She was incredibly tearful in her exit interview—it was difficult to watch. Sorry Janeane, your designs were bland and your skin is definitely not thick enough.
Ok, six down, nine to go.
Marie Claire email subscribers get intel on fashion and beauty trends, hot-off-the-press celebrity news, and more. Sign up here.