What I Wear to Work: Megha Rao
The designer sticks to a transitional wardrobe to juggle work and mom duties.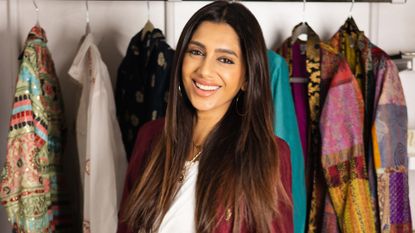 (Image credit: Julian Smith )
In our bi-weekly series, we highlight dynamic women—from entrepreneurs and small business founders to CEOs and celebrities—discussing their style ethos, the pieces that empower them, and how they balance life alongside whirlwind careers.
---
As the daughter of South Asian immigrants, designer Megha Rao felt pulled into two different worlds during her childhood: the Indian culture of her parents and the Western culture she experienced growing up in New York City. "At some point in my life, I felt like I was a little bit just confused: Who am I? What's my identity? Am I American? Am I Indian?" she recalls. At around 5 or 6 years old, she "unironically" began using fashion to express herself to the world. Rao's style evolved to encompass both cultures by mixing her mother's traditional saris with her own leather and denim pieces.
Fast forward about 25 years, and Rao's blended style is drawing attention. While out and about, she says strangers would approach her to ask about her outfit. "I began realizing that there was a need for this, and people wanted it," she details. "They probably had similar journeys to mine and felt this desire to want to dress to their identity."
That was the inspiration behind Rao's clothing line holiCHIC, which she founded in 2015 with her childhood friend Pooja Desai Shah. The brand combines traditional South Asian fashion, art, and design with a touch of Western flair—just like Rao's personal style. Think reimagined sari gowns, embellished cropped blouses with draping, blazers embroidered with Indian designs, and more traditional saris and lenghas.
While Rao says her upbringing inspires her statement-making designs, they are also very much influenced by her mom, who passed away in 2022. "She was a very confident woman," she says of her mom. "I want people to feel a sense of pride and power when they put on the clothes. And a lot of that for me came from her, so it emulates her and her personality."
This sense of power and culture draws people into her designs, but she also thinks it's her personal story that so many others can relate to. When she founded holiCHIC, she had just become a mother and was working a full-time corporate job. For six years, holiCHIC was Rao's side hustle—any moment she could spare from her career and raising her child, she would devote herself to growing her brand. Then the pandemic hit, prompting Rao to create facemasks from Indian fabrics and a loungewear line in collaboration with South Asian designers. This switch-up was a huge hit for her business, which has seen over 300 percent growth since 2021, allowing Rao to quit her corporate job and commit to holiCHIC full-time. Rao adds, "I want to show people you can pursue your wildest passion and your wildest dream even with responsibilities and even with all the other things we do as women."
Ahead, we spoke to the entrepreneur on the importance of getting dressed, her busy morning routine, her go-to uniform for juggling work and mom duties, and the piece she throws on to feel empowered.
---
On Her Morning Routine:
"I wake up, I shower, I get my kids ready, we have breakfast, I drop them to school, and I go to Starbucks, and then I go to gyms. That's my every single day routine—the gym sets the tone for my day. I know I'm going to go here, it's going to motivate me to get up, it's going to motivate me to get moving. And as soon as that's over, my day starts. I'm in my home office; I have calls throughout the day. I also shoot content because I am the face of the brand. So I'm on camera, I'm filming, I'm always doing something with the camera. So it's important for me to feel good and look good every single day."
On Getting Dressed:
"Because I'm moving around so much and my days can look so different, I would call my style versatile and transitional. You'll find me in, probably every single day, black leggings or a nice, clean pair of joggers with a tank or a crop top or something inside and it'll be easy for me to throw on a blazer. Often if I've got a Zoom call or if I have a video meeting, I'll throw on my blazer over whatever I'm wearing. So it just provides me with a transitional style where now I can take the blazer off, go run to [school] pickup, throw on a denim jacket… things that I can easily style in different ways to meet with my lifestyle and my routine."
On Her Work Uniform:
"Power blazer, clean joggers, leggings, a slip-on shoe, and a tank or crop top. And dainty gold jewelry! I love jewelry because I feel like it's a form of personality, and it just gives you another layer of character. My jewelry is very personal because a lot of it comes from my mom, from travel, there's a lot of journey and story behind a lot of the pieces that I wear. And so I like to always dress up whatever I'm wearing with dainty gold jewelry."
On The Piece That Empowers Her:
"A power blazer because it just signifies everything I am and every single aspect of my life. It makes me feel my most powerful and confident self every single time I put it on. Business meetings, Zoom calls, any panels that I would speak on as a woman founder, that's normally where I would wear them. I recently went to the White House for an AAPI heritage event and that was a perfect spot for it. Sometimes I wear them out too, like date night with my husband. I'll throw that on with jeans. You can dress them down also. So there's that aspect too."
Shop Megha's Favorite Pieces
Brooke Knappenberger is the Editorial Fellow at Marie Claire, where she writes across the board from fashion and beauty to books and celebrities. As a pop culture junkie, Brooke obsessively consumes and writes about the latest movie releases, streaming TV shows, and celebrity scandals. She has over three years of experience writing on fashion, beauty, and entertainment and her work has appeared on Looper, NickiSwift, The Sun US, and Vox Magazine of Columbia, Missouri. Brooke obtained her Bachelor's Degree in Journalism from the University of Missouri's School of Journalism with an emphasis on Magazine Editing and has a minor in Textile and Apparel Management.