How Much Time Do You *Actually* Have If You Want a Baby?
Even an expert can't tell you for sure, but the country's top fertility doctors offer their closest estimations.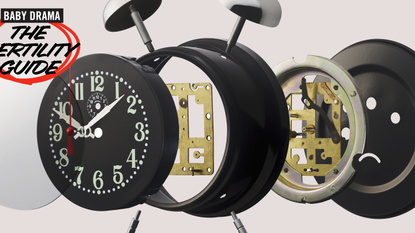 (Image credit: Archives)
According to Dr. Mark Perloe of Georgia Reproductive Specialists...
Ages 21 - 31: "Great fertility. Your chance of miscarriage is about 10 to 15 percent."
Early 30s: "Fertility starts to drop off; 15 to 20 percent of eggs may generate a pregnancy."
35: "Roughly 10 to 15 percent of your eggs are viable. We start patients on fertility meds."
38: "Now, 3 to 5 percent of your eggs are viable. Might consider a donor egg."
43: "Even with good hormone levels, you may need a donor egg or a previously frozen egg."
45+: "You can still get pregnant after menopause. You'll need a donor egg if you didn't freeze your own.
According to Dr. Maya Bledsoe of Austin Regional Clinic...
Age 18: "Your fertility peaks here, but women generally aren't ready for children."
Late 20s: "Your fertility starts a slow decline."
30: "Your fertility might be 20 to 50 percent less than it was at age 20."
40: "It will decline at a faster rate now, your fertility really slows down more by 42."
45+: "You could still get pregnant with your own egg—it just might take some help from meds."
This article appears in the July issue of Marie Claire, on newsstands now, and is a part of a week-long series on fertility. See the rest here.