The 32 Best Gifts for Tea Lovers
Have a tea connoisseur in your life? We've got you covered.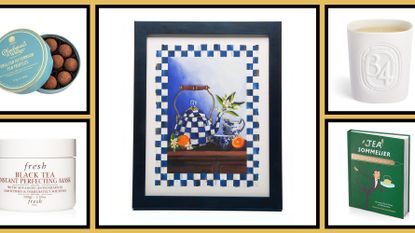 (Image credit: Susanna Hayward)
Marie Claire Newsletter
Celebrity news, beauty, fashion advice, and fascinating features, delivered straight to your inbox!
Thank you for signing up to Marie Claire. You will receive a verification email shortly.
There was a problem. Please refresh the page and try again.
When I think of tea enthusiasts, my dad comes to mind. He practically raised me on a mugs of black tea with lemon and honey, eagerly preparing his signature, scientific brew whenever I expressed the slightest interest in his drink of choice. As my siblings and I got old enough to purchase thoughtful gifts for our parents, we immediately identified tea-related gifts that he would obsess over and even managed to introduce him to all sorts of blends and tea-adjacent items that he loves. So, in the spirit of my dad, we've picked out the perfect gifts for every tea devotee. From loose leaf tea samplers to lovely kettles and artisanal honey, here's a selection of gifts for any tea evangelist.
1/32
MacKenzie-Childs Royal Check Tea Kettle
For your cottage-core glam friend/mom/partner, this hand painted and glazed teapot is perfect for anyone who likes to make a statement with housewares. Plus, it seems pretty well-made since it's crafted from bronzed stainless steel, ceramic, and brass hardware.
2/32
Charbonnel Et Walker English Afternoon Tea Truffles
If you're looking for an authentic British tea time snack, you're in the right place. These milk and white chocolate truffles are infused with bergamot and dusted with cocoa powder to complement afternoon tea.
3/32
Art of Tea Subscription Box
For three months, the Art of Tea will send between 2-4 ounces of expertly curated, seasonal tea or teabags to whomever you like. Choose between a few options–classics, caffeine free, explore, single origin, or pyramid teabags–for the tea lover in your life. The subscription also comes in 6 or 12 months.
4/32
Ladurée Paris L'incontournable Box of Macarons
One bite of Ladurée's macarons will whisk anyone away to the Avenue des Champs-Élysées where you can nibble on pastries and sip fruity tea (in a pre-quarantine world, that is).
5/32
MacKenzie-Childs Royal Check Tea Kettle Still Life Giclee Print
Okay, this is one for your cottage-core glam friend who's redecorating and just needs some still life prints for their kitchen.
6/32
Teabloom Celebration Tea Set
The flowering tea is truly an aesthetic triumph of nature, so therefore, it's also the perfect theme for a gift set. Complete with four double-walled teacups, a tea warmer, a removable infuser, and 12 flowering teas, this set has it all.
7/32
VAHDAM TEAS The India Tea Carnival Set
This gift set features a sampling of teas from India: Roasted Darjeeling Black Tea, Assam Exotic Second Flush Black Tea, Double Spice Masala Chai Tea, Turmeric Ashwagandha Herbal Tea Tisane, Earl Grey Masala Chai Tea, and High Mountain Darjeeling Second Flush Oolong Tea. Delicious.
8/32
Lush Matcha Roll Bubble Bar
My go-to gift is always Lush products because, for me at least, a well-scented bubble bath is the height of luxury. This is for all the matcha enthusiasts out there.
9/32
dior Thé Osmanthus Candle
Thé Osmanthus Candle purportedly evokes an ancestral tea ceremony with notes of apricot and rare flowers. One reviewer noted that it smells like a "light, fruity tea."
10/32
SUGARFINA Sereni Tea Chocolate Bar Set
Those who love chocolate and tea may be intrigued by this tea-flavored chocolate.
11/32
Detour Shirts Bes Teas T-Shirt
So true bestie.
12/32
Neiman Marcus Clover Honey Tea Spoons
For those who take honey with their tea, but would also like the convenience of a pre-measured amount.
13/32
Kusmi Tea Kusmi Tea Essentials
This set includes 24 different kinds of green, black, and herbal tea. I personally recommend starting with the Anastasia black tea, which is an aromatic mix of bergamot, lemon, and orange blossom–essentially, an upgraded Earl Grey.
14/32
Dammann Freres Coffret N°1 Tea Gift Set
Another Parisian tea brand that I can specifically attest to, Dammann Freres makes some of the most delicious, fragrant teas that I have ever had. Plus, their tea ball infusers always have cute little fobs–the one that comes with this set is a miniature Dammann teapot made from painted resin.
15/32
Palais des Thes 'Tea Sommelier: A Step-By-Step Guide' Book
Written by Palais des Thes founder Francois Xavier Delmas and creative director Mathias Minet, this book is perfect for both tea beginners and enthusiasts. Full of over 100 freestanding, illustrated tea lessons, you're bound to learn a little something new!
16/32
Locca DIY Boba Tea Kit
This boba tea set comes with organic loose leaf tea–matcha, lavender earl grey, and jasmine–plus vegan boba. The kit makes over 20 drinks
17/32
34 Boulevard Saint Germain Candle
This tea-adjacent scent is in the herbal family, made with a mix of damp mosses, crumpled blackcurrant leaves, sun-dried fig leaves. According to Diptyque, it's fresh, green, and spicy–perfect for anyone who loves a nice, herbal aroma.
18/32
GROSCHE Aberdeen Tea Steeper
Perfect for brewing loose leaf tea, this easy-to-use infuser would pair well with any loose leaf gift set. Plus, there's lots of room for the tea leaves to fully expand, deepening the flavor of the brew. Bonus–it's completely dishwasher safe!
19/32
PALAIS DES THES Palais des Thés Loose Leaf Tea Tasting Set
This is the right gift for anyone who would like to taste ten different teas from all over the world.
20/32
Jo Malone London Oolong Tea Eau de Parfum
Jo Malone's woody and smoky interpretation of tea is manufactured with powdery cocoa, almondy tonka, hay, and tobacco to create a textured, elegant fragrance.
21/32
Matcha Starter Kit
Know someone who loves matcha but hasn't yet committed to making it at home? Ippodo Tea, a family run company based in Kyoto with a three century history, has crafted this set with all the necessary tools to get anyone started.
22/32
BABA Matcha Chawan Tea Bowl
If you're looking to make an investment, then this Kettl matcha tea bowl is the ideal gift for anyone who indulges in the brew. Handcrafted by Katsufumi Baba in Kurume, Fukuoka, this Chawan bowl "allows for more lateral whisking while keeping a shallower profile," according to Kettl's website.
23/32
Patience Brewster Rabbit Embroidered Tea Towels
For the person in your life that adores cute embroidered things that are perhaps inspired by Beatrix Potter's Peter Rabbit. Plus, they're handmade!
24/32
Maison Kitsuné Café Kitsuné Cup Keyring
Who doesn't love a good key fob?
25/32
Coola White Tea Sunscreen
This top-rated, organic face sunscreen–crafted with white tea–is a must have year-round. This product is also a lightweight moisturizer and water resistant.
26/32
Snow Fox Skin Care Japanese Cherry Blossom & White Tea Mask
With active ingredients like white tea extract, Japanese cherry blossom extract, and hyaluronic acid, this set of five masks will make anyone's skin softer and smoother. Good for people with normal, dry, and sensitive skin!
27/32
MineQ Tea Socks
I do love passive aggressive socks. Or is this just aggressive?
28/32
BELLOCQ Sweet Blossom Honey & Morning Tea Gift Set
Bellocq is a Brooklyn-based tea shop–nay, atelier, according to their website–that specializes in delicious blends. This set includes their No. 1 Breakfast Tea, together with honey from Hawaii.
29/32
Aged & Infused Natural Liquor Infusion Kit
Okay, okay, this isn't necessarily tea, per say, but it does infuse all-natural fruits and spices in booze....same difference, really. Sustainably sourced and pre-measured, this infusion kit makes it extraordinarily easy to prep for any zoom happy hour or cocktail time.
30/32
AMOREPACIFIC Green Tea Anti-Aging Travel Set
Another skincare essential, this green tea based anti-aging set is designed to firm, hydrate, and brighten skin.
31/32
FRESH Black Tea Instant Perfecting Mask
Fresh's Black Tea Mask is a household name for good reason. With black tea ferment, black tea extract, blackberry leaf extract, and lychee seed extract, the mask is bound to hydrate skin and improve skin elasticity.
32/32
Versace Butterfly Garden Tea Cup & Saucer
It's a splurge, but it's so lovely that I had to include this porcelain teacup and saucer set. It's giving Hapsburg, it's giving royal, so I have no choice but to stan. Somehow it's dishwasher safe, allegedly?
Celebrity news, beauty, fashion advice, and fascinating features, delivered straight to your inbox!
Zoe Guy is the digital fellow at Marie Claire, where she covers pop culture, hot celebrity gossip, movies and TV. She's obsessed with Martin Scorsese's adaptation of The Age of Innocence, anything written by Jesmyn Ward and stan Twitter.