Suzanne DiBianca, Ellen Pao, and Ty Stiklorius On Why the Wage Gap Is Not Just a Woman's Problem, It's an Everyone Problem
"If you have an unfair pay system for gender, its probably even more unfair around race."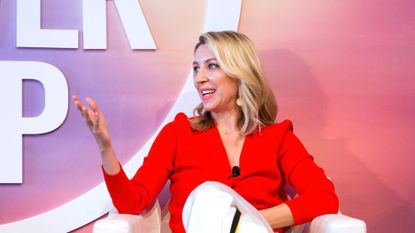 (Image credit: Kathryn Wirsing)
It's a commonly known (and a super frightening) fact that white women make 80 cents to the man's dollar. Black women make only 63 cents to the dollar. If you're Hispanic, that already low number drops to 54 cents.
Suzanne DiBianca of Salesforce, Ellen Pao of Project Include, and Ty Stiklorius of Friends at Work want you to speak out to help close the gap.
"I think we own this problem also a little bit ourselves," DiBianca said. "When I had a big giant team, every single one of the guys asked for more and every single one of the women said, 'Thank you.' I think that we need to stand for our own value."
The three #boss ladies agree that speaking up and vocalizing your worth is crucial to earn respect (and equal pay) in Silicon Valley and across industries. But the problem doesn't impact only those with the XX chromosome.
Pao notes that this inequality is a world-wide issue impacting everyone who is basically not a white male. While the discussion to equalize women is vital, it would be hypocritical to not include minorities (of any gender) in the conversation.
"If you have an unfair pay system for gender, it's probably unfair in many other ways, and its probably even more unfair around race. What we've seen with recent studies is race is a bigger factor in discrimination than gender, in many cases."
Pao, DiBianca, and Stiklorius agreed that women must come forward and speak out in order to address problems of non-inclusion for themselves and for all.
"Tracee Ellis Ross is somebody that I look up to so much and she said something like, 'When you're afraid, you stay small,'" Stiklorius said. "You need to own what you've done, be truthful."
For more from this year's Power Trip, click here.
Celebrity news, beauty, fashion advice, and fascinating features, delivered straight to your inbox!