10 Waterproof Foundations That Won't Look Streaking or Shiny
Mid-day reapplication? Not for you.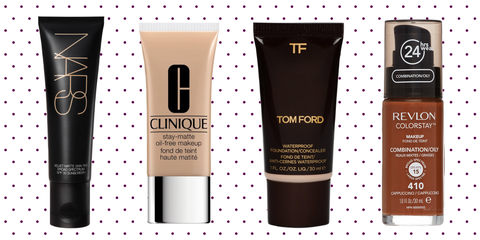 Design By Morgan McMullen
Waterproof foundation is a little bit of a wonder: It won't budge for rain, sleet, sweat, or snow—and yet, somehow, it doesn't look heavy or unnatural either. And even though one of the side effects of oily skin is slippery, sliding foundation, you won't ever cringe at your shiny T-zone again, thanks to these oil-absorbing formulas. Choose one of these waterproof foundations, below, to keep your skin looking shine- and streak-free but still radiant for hours on end. I know it's weird to do your makeup in the morning and not worry about it for the rest of the day, but trust us, you look amazing.
1
If You Like Lightweight, Buildable Coverage
MAC consistently comes through with long-lasting formulas that truly stay put. If you're looking for medium or full-coverage flawlessness, this lightweight foundation can do either since it offers a buildable finish. What's even cooler is the formula actually repels excessive shine off of your skin, so you'll never catch it slipping.
2
If You Can't Decide Whether You Love Foundation or Concealer More
Who says waterproof foundation can't also bring a radiant glow to your skin? If you aren't into super-matte finishes, this weightless foundation is for you. Although it's waterproof, your skin will still look incredibly luminous post-application. It also doubles as a good spot treatment concealer if certain areas of your face need more love than others. A two-in-one makeup product always wins in my book.
3
If You're All About Beauty on a Budget
If your skin gets a tad testy, flush with copious amounts of shine on your t-zone by noon, don't stress. Rely on this tried-and-true foundation from Revlon made specifically to stop shine and control excess oil production. And the formula is actually breathable and hydrating thanks to hyaluronic acid, which is the most moisturizing ingredient ever. Apparently you can wear it for 24 hours, but we hope you're washing your face before bed.
4
If You Prefer Powder Formulas
Urban Decay
Sephora
$34.00
Bless the makeup goddesses above for creating this innovative powder. You may already know about the miraculous powers of Urban Decay's All Nighter Setting Spray. Well, that genius product makes up this translucent powder, which will work on all skin tones. And since we're talking coverage, it's worth adding that this blurs imperfections and keeps shine at bay for up to 11 hours.
5
If You Want to Avoid That Cakey Feeling at All Costs
There is such a thing as a velvety-matte foundation that feels luxuriously soft on your skin. This is it—and offers your skin lightweight coverage that never feels cakey. If protection from harmful sun rays is important to you (and it should be!), you'll appreciate this SPF 3o-laced formula that is also 100-percent oil-free, and incredibly hydrating.
6
If You're Obsessed With Meghan Markle
Confirmed: Meghan Markle wore this foundation on her wedding day. Need we say more? The royal-approved formula is what kept her gorgeous freckles visible and her no-makeup makeup glow on 100 all day. (Plus, if she trusted it on a day she was sure to get teary-eyed, you know you can, too.) This foundation comes in an impressive lineup of 40 shades created with all undertones in mind. I can attest to the fact that it feels light and airy on the skin, so you'll forget it's there.
7
If You Want No-BS Coverage
This foundation is no joke when it comes to coverage. You literally only need the smallest drop to coat your skin with a full-coverage finish. It contains mattifying powders, which absorb oil as they settle onto your skin, so shine doesn't stand a chance. But it's not drying: glycerin will impart a hydrating glow onto your skin.
8
If You Hate Touching-Up Your Foundation
Estée Lauder
Sephora
$43.00
First off, two snaps for this foundation's 55-shade range, which illustrates skin tone inclusivity in the best way. It promises a non-budge and oil-free formula that won't slip or slide for a full 24 hours, so you'll never have to reapply. Dealing with dark spots or uneven areas? This foundation covers anything.
9
If You Want Something That Really Works
The brand went above and beyond to test this foundation's oil control powers and make skeptics happy. Shine, sweat, and oil were all considered when this matte foundation was created, and then the formula was tested for signs of streaking and fading at 88 degrees Fahrenheit under 80 percent humidity, and...it stays freshly put! Oh, and it feels light as air.
•••
For more celebrity news, beauty and fashion advice, savvy political commentary, and fascinating features, sign up for the Marie Claire newsletter.
L'Oreal
lorealparisusa.com
$12.99
This drugstore gem is a favorite of Beyoncé's makeup artist Sir John, so you know it must be the real deal if Queen Bey trusts it during concerts. According to the brand, you'll never need blotting papers again because this sweat- and shine-swallowing semi-matte formula is oil's worst nightmare. All that for only $13.
This content is created and maintained by a third party, and imported onto this page to help users provide their email addresses. You may be able to find more information about this and similar content at piano.io