The 15 Best Tinted Sunscreens for Face of 2023
Foundation? Don't know her.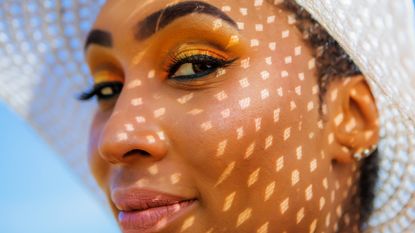 (Image credit: Lorado/Getty )
Marie Claire Newsletter
Celebrity news, beauty, fashion advice, and fascinating features, delivered straight to your inbox!
Thank you for signing up to Marie Claire. You will receive a verification email shortly.
There was a problem. Please refresh the page and try again.
So, you're on the hunt for the best sunscreen product—the miracle UVA and UVB protector that won't feel goopy or look chalky. It sounds easy, but if you've struggled with a white cast or battled to accept the thickness that typically accompanies zinc or titanium dioxide-based mineral formulas, you know the search is far from simple. The good news: One of the best tinted sunscreens will check every damn box…and then some. The color will cancel out any chance of a white cast (we dive into the science-y stuff below) and double as a lightweight foundation, while the star ingredient, zinc oxide, gives the added benefit of blue light protection, which isn't always guaranteed with a run-of-the-mill SPF.
Convinced? Not convinced? Keep reading. Here, board-certified dermatologist Dr. Lindsay Zubritsky helps us break down the many benefits that come with tinted sunscreens. Plus, we're sharing the editor-approved favorites that deserve a spot on your shelf. From matte finish SPFs that will replace your makeup altogether to glow-giving sunscreens with SPF 50+ protection, here are the best tinted sunscreens in the game.
The Benefits of Tinted Sunscreen
When it comes to the products Marie Claire recommends, we take your faith in us seriously. Every product that we feature comes recommended by a MC writer or editor, or by an expert we've spoken to. Learn more about how we review products.
While any good SPF is going to do the job, tinted sunscreens offer a special set of benefits—and it all boils down to the ingredient list. Tinted sunscreens contain something called iron oxide, which is what gives the SPF, and in a lot of cases makeup, its color. "Zinc oxide and titanium dioxide are the main ingredients in physical sunscreen and these minerals are white in nature. Combining iron oxides with zinc oxide helps to eliminate the white cast typically associated with mineral sunscreens," explains Dr. Zubritsky.
And leave it to iron oxides to go above and beyond. Dr. Zubritsky explains that they're also great at protecting against blue light, which is emitted from the sun and our electronic devices. "Blue light can contribute to aging, hyperpigmentation, and worsening of certain skin conditions like melasma." In fact, a handful of recent studies have found that tinted sunscreens containing zinc oxide are "beneficial for patients with hyperpigmentation disorders."
The Best Tinted Sunscreens
The Best Tinted Sunscreen for Dry Skin
Alastin Skincare HydraTint Pro Mineral Broad Spectrum SPF 36
For a lil' extra hydration this summer, consider adding this tinted mineral formula into your routine. Hydrating ingredients like glycerin will help your skin retain moisture on the hottest of days. I'm personally a huge fan of this SPF because of the way it layers under makeup. It doesn't pill, separate, or look cakey under foundation.
The Best Tinted Sunscreen for Uneven Skin Tone
Colorescience Sunforgettable Total Protection Face Shield Flex
"This one comes in several different shades, so there's an option for everyone," says Dr. Zubritsky. She adds that because the coverage is buildable, it's the *perfect* foundation substitute. A thin layer is going to instantly even out your skin tone, provide a blurring effect, and, most importantly, offer protection.
The Best Tinted Sunscreen for Glow
Sun Bum Original Glow SPF 30
Want a little glow? A little dewyness? Dr. Zubritsky recommends scooping up this Sun Bum SPF. The elegant chemical formula glides on like a second skin and sinks in nearly instantly. While this is going to check all the boxes of an A+ SPF, it goes the extra mile too. Thanks to kakadu plum, a fruit with high levels of vitamin C, this sunscreen is going to amp up your skin's natural radiance over time.
The Best Multi-Tasking Tinted Sunscreen
Live Tinted Hueguard 3-in-1 Mineral SPF 30
We love a multi-purpose product over at Marie Claire—and this product is one of our all-time faves. The vegan formula truly does it all: It offers UVA/UVB and blue light protection (thank you iron oxides), tints, moisturizes, and acts as a glowy primer.
The Best Tinted Sunscreen for Oily Skin
Nudeskin Nudescreen Daily Mineral Veil SPF 30
If you have acne-prone skin, an oil-free sunscreen is going to be your BFF, and it doesn't get much better than this Nudeskin mineral lotion. It's hydrating enough to keep skin nourished, but won't leave you looking shiny or greasy. Pro tip: If you're on the paler side and want to look a *little* tan, mix the "cool" shade with a dot of "warm" for a bronzed finish.
The Best Drugstore Tinted Sunscreen
CeraVe CeraVe Hydrating Sunscreen Face Sheer Tint SPF 30
CeraVe is loved by dermatologists for its no-fuss formulas that work well with sensitive skin. This particular tinted moisturizer with SPF is lightweight, non-greasy, and comes with a pretty tint to boot.
The Best Tinted Sunscreen for Sensitive Skin
EltaMD UV Physical Broad-Spectrum SPF 41 Sunscreen
Odds are, you've seen a celebrity whip this baby out in an Instagram video. This formula is great for anyone with sensitive skin, as it's fragrance-free and lightweight, which means no pore clogging.
The Best Lightweight Tinted Sunscreen
La Roche-Posay Anthelios Tinted Mineral Ultra-Light Fluid
All beauty lovers know that French drugstores are a treasure trove of skincare goodies, and that's because they stock brands like La Roche-Posay. Dr. Zubritsky loves this mineral SPF's "elegant and lightweight" texture because it's one of the easiest formulas to rub in.
The Best Tinted Sunscreen for Environmental Protection
Drunk Elephant Umbra Tinte™ Physical Daily Defense SPF 30
Not only does this mineral, zinc-based SPF protect against sun damage and pollutants, but it leaves a glowy finish behind. When it comes to application, we love to mix this in with our moisturizer to create subtle (and hydrating) skin tint.
The Best Tinted Sunscreen for Radiance
SkinCeuticals Physical Fusion UV Defense SPF 50
If your skin acts up from heat alone, don't sleep on this dermatologist-loved SPF. In addition to zinc and titatium dioxide, this formula is fortified with a plankton extract that helps calm the skin down the hot temps. An added bonus? The universal shade truly works for all skin tones.
The Best Luxe Tinted Sunscreen
Sisley Paris Tinted Sunscreen Cream SPF 30
Sisley knows a thing or two about skincare, and this tinted SPF proves it. It has a beautiful tint that leaves the skin looking refreshed and healthy, all while protecting it from sun damage.
The Best Sheer Tinted Sunscreen
PCA SKIN Sheer Tint Broad Spectrum SPF 45 Sunscreen
This dermatologist- and aesthetician-founded brand has created the ultimate tinted sunscreen. There's no white cast—ever. If you're a makeup lover, you'll be happy to hear that it won't disturb your base either.
The Best Tinted Sunscreen for Acne-Prone Skin
Juice Beauty Tinted Mineral Moisturizer SPF 30
If you're dealing with breakouts, this lightly tinted, full-spectrum mineral moisturizer should stay top of mind. The formula isn't sticky, won't clog pores, and helps heal current blemishes while preventing new ones.
For Uneven Skin Tone
Dr. Dennis Gross Skincare Instant Radiance Sun Defense Sunscreen Broad Spectrum SPF 40
Available in two blendable shades, this sunscreen will defend your skin from harmful rays while helping to even out your skin tone and cover redness. Apply this color-correcting formula in the morning to give yourself a dewy glow for the day ahead.
The Best Tinted Sunscreen for Mature Skin
Paula's Choice RESIST Super-Light Daily Wrinkle Defense SPF 30
Just applying sunscreen will help to prevent premature aging, but this sheer, subtle tint offers extra protections. It's packed with antioxidants to neutralizes damaging free radicals and boost collagen production.
Celebrity news, beauty, fashion advice, and fascinating features, delivered straight to your inbox!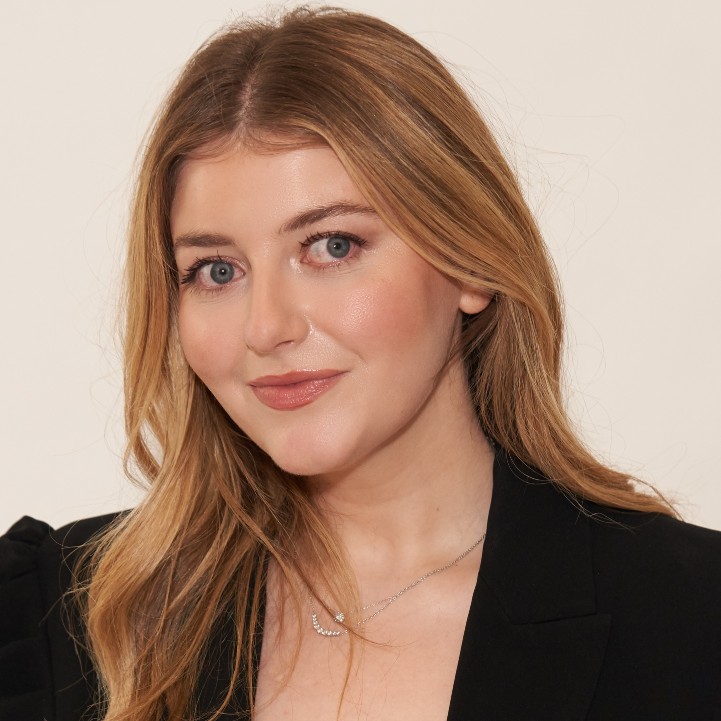 Samantha Holender is the Beauty Editor at Marie Claire, where she reports on the best new launches, dives into the science behind skincare, and keeps up with the latest trends in the beauty space. She has previously written for Us Weekly, Popsugar, Makeup.com, Skincare.com, and Philadelphia Wedding. Follow her on Instagram @samholender.