The 14 Best Waterproof Mascaras in 2023
Feel free to let the tears flow.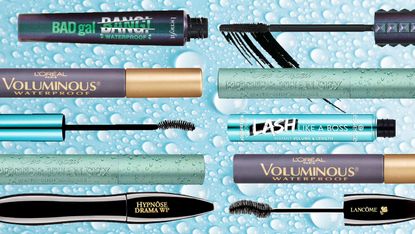 (Image credit: Future)
Marie Claire Newsletter
Celebrity news, beauty, fashion advice, and fascinating features, delivered straight to your inbox!
Thank you for signing up to Marie Claire. You will receive a verification email shortly.
There was a problem. Please refresh the page and try again.
If you've been burned by waterproof mascaras, you're not alone. When I tried my first waterproof mascara, I lost dozens of lashes as I tried to sweep away the crumbly, strangely tenacious pigment with oil-soaked cotton balls. And that's without even mentioning how the mascara actually worked, which was, um, not well. Dry, brittle, gunky, next. But since then, waterproof formulations have come a long way. In fact, some of the best mascaras out there are waterproof versions.
In some ways, "waterproof mascara" is a bit of a misnomer. While these formulations will stand up to rain showers and a dip in the pool, plenty of people prefer them over regular formulas for other reasons. "Some people like waterproof mascara because it does tend to stay on the lashes longer without having to worry about it coming off in water or humidity," explains pro makeup artist Lauren O'Leary. "I've also found that some do keep the lashes more curled than a regular mascara."
Just like regular mascara, waterproof formulations can also address other lash needs. With expert insight from O'Leary plus fellow pro makeup artist, Alexandria Gilleo, we've gathered the best waterproof mascaras to tackle whatever your needs may be. You'll find lengthening mascaras, volumizing mascara, mascaras that leave behind long-lasting pigment, and even ones from the drugstore that do all of the above.
What to Look For in Waterproof Mascara
In most cases, a mascara will advertise whether it's waterproof or not, but there is one ingredient that will let you know for sure. "Waterproof mascara contains a type of silicone called dimethicone copolol. This is the ingredient that helps water repel from the lashes or slide off without taking off the product," explains O'Leary.
And because waterproof mascara has such staying power, it can be a bit harsher on lashes so it may be a good idea to prioritize mascaras with nourishing ingredients. Ingredients such as hyaluronic acid and peptides will help to keep eyelashes conditioned. Gilleo also recommends looking for "natural yet effective ingredients, such as beeswax or coconut oil, as these ingredients can help nourish lashes while providing a waterproof barrier."
To put it simply, the brush or wand of a mascara plays a huge role in how your mascara comes out, says Gilleo. "Different mascaras can have brushes that are of all different shapes, sizes, and designs that impact the volume, length, curl, separation, and definition of lashes. To find the right mascara for you and your needs, you certainly need to take a look at the brush. O'Leary recommends a small brush for smaller eyes or short lashes to get the most definition, whereas if you have big eyes or longer lashes a larger brush will work better. The brushes' bristles also come into play, affecting lash definition, volume, and how much product comes out. Generally speaking, the more densely packed the bristles are, the more of a volumizing effect you're going to have. On the other hand, if bristles are separated, you'll achieve greater definition in your lashes.
The Best Waterproof Mascaras
Best Overall Waterproof Mascara
Too Faced Better Than Sex Waterproof Mascara
There's no doubt you haven't heard about this mascara. This sexy, fuzzy, hourglass-shaped brush is indeed better than sex, and so is the waterproof formula, which hugs the curves of your lashes in all the right ways and creates lush bedroom lashes. With just a swipe or two, lashes are insanely volumized with a curl that lasts all day. I'm personally a huge fan of this cult-favorite, and so is Gilleo, who says it "gives a natural look yet defining to the lash line. This mascara is smudge-proof and flake-free." If you want to bring the drama, we recommend two coats.
Pros: Editor- and pro-approved; Volumizing; Curling; Long-wearing; Smudge-free; Defining; Buildable.
Cons: Product may come out clumpy during the first few uses; Takes a while to dry.
Best Waterproof Mascara on Amazon
Essence Lash Princess False Lash Effect Waterproof Mascara
While the original formula is a well-known favorite, the waterproof version is just as good, if not better! This mascara boasts over 42,000 5-star reviews on Amazon, and it's not hard to see why. For just $5, this formula gives short and stumpy lashes noticeable sky-high length. It's also buildable, so whether you're going for a natural look or full glam, this affordable mascara has got you covered.
Pros: Under $10; Lengthening; Buildable volume; Defining; Ophthalmological-tested.
Cons: Takes a while to dry; May smudge and flake with wear.
Best Budget Waterproof Mascara
Covergirl Super Sizer Waterproof Mascara
This mascara will leave you with a flattering, extension-level finish, thanks to its inverted fanning wand, which lifts and coats each lash in rich, long-lasting pigment. This brush also works to separate and define every lash for a corner-to-corner fanned-out look. The teeny, tiny bristles mean you can reach every lash and build up the volume with every stroke. If you couldn't tell, the brush on this mascara makes it a true winner.
Pros: Under $10; Defining; Curling; Long-wearing; Volumizing; Ophthalmologist-tested.
Cons: Can be difficult to remove; May flake with wear.
Best Lengthening Waterproof Mascara
Maybelline Lash Sensational Sky High Waterproof Mascara
This pick from Maybelline went viral on TikTok, which led to it being sold out for months. If you can get your hands on it, your lashes will thank you. This mascara does exactly what the name suggests: makes your lashes sky-high. Reviewers also say this mascara is great for straight lashes. Just give your a few pumps of an eyelash curler and a coat or two of this mascara, and you have pretty, fluttery lashes that last all day.
Pros: Lengthening; Defining; Curling; Dermatologist- and ophthalmologist-tested.
Cons: Brush is a little flimsy; Can be difficult to remove.
Best Drugstore Waterproof Mascara
L'Oreal Paris Voluminous Lash Paradise Waterproof Mascara
Drugstore mascaras should not be slept on. Case in point: this pick from L'Oreal Paris. This mascara will give you the fluttery, fanned-out eyelashes of your dreams for just $13. For those on a budget, I've compared this mascara to a higher-priced mascara on this list with a suggestive name (*wink, wink*), and the two are very similar in terms of lengthening and volumizing. O'Leary is also a fan of this pick, along with the brand's Voluminous Mascara, because "they work, they keep lashes curled, they are long lasting and they're very affordable so you can get a new one more often."
Pros: Editor- and pro-approved; Lengthening; Volumizing; Curling; Long-wearing; Clump-free; Buildable; Available in four shades.
Cons: Dries out faster than others.
Best Volumizing Waterproof Mascara
Lancôme Monsieur Big Waterproof Mascara
Lancôme is beloved for its classic mascaras, but if you're looking for bold, bad lashes that stay put all day and all night, this is the one for you. When I'm heading on a night out, this is the mascara I reach for. It gives my lashes so much volume, that I'm pretty sure you can spot them from a mile away. And because it's so volumizing, you really only need a single coat for a dramatic effect. I can count on this mascara to last an entire night of sweaty dancing without smudging or flaking, too.
Pros: Editor-approved; Volumizing; Highly pigmented; Long-wearing; Smudge-proof; Ophthalmologist-tested.
Cons: Over $25; Can be difficult to remove.
Best Vegan Waterproof Mascara
Ere Perez Avocado Waterproof Mascara
Finding clean beauty products isn't always easy, but this vegan formula from Ere Perez saves the day. Packed with avocado and other natural oils (and free of chemicals!), this mascara delivers its promise on voluminous, long-lasting lashes. And because it's full of lash-loving ingredients, it even promotes growth over time. After I went a full day of running errands in 85-degree weather, this mascara stayed flawless—no smudging or transferring in sight! It's now my everyday mascara for extra-defined, lengthy lashes.
Pros: Editor-approved; Defining; Lengthening; Promotes growth; Long-wearing; Buildable volume; Vegan; Easy to remove; Clump-free; Smudge-proof.
Cons: Over $25.
Best Splurgeworthy Waterproof Mascara
Lancôme Hypnôse Waterproof Mascara
This pick comes vetted by both O'Leary and Gilleo so you know it's a real winner. O'Leary says this is a mascara she always goes back to, adding, "It has this unique curved wand that really lifts the lashes and coats them without having to apply many coats." Meanwhile, Gilleo says this pick doesn't smudge even when wet and says it "has a great lengthening and volumizing formula and the wand applicator provides a precision application." If this mascara is good enough for two professional makeup artists, then it's definitely good enough for me.
Pros: Pro-approved; Curling; Defining; Lengthing; Smudge-proof; Buildable volume; Long-wearing; Clump-free; Ophthalmologist-tested.
Cons: Over $25.
Essence Lash Like A Boss Instant Volume & Length Mascara Waterproof
While the Lash Princess might be the viral favorite from Essence, I actually prefer to use the brand's Lash Like a Boss mascara. I have pretty short, stubby natural lashes, but when I apply just a coat of this stuff, my lashes suddenly have drama. This mascara makes my lashes so thick and dark that I can easily forgo eyeliner, it's that good. It also adds a nice little bit of length, which I could always use. All of that for just $5 makes this mascara a win in my book.
Pros: Editor-approved; Under $5; Volumizing; Lengthening; Clump-free; Defining.
Cons: Can be difficult to remove.
Best Waterproof Mascara For Sensitive Eyes
Almay Multi-Benefit Waterproof Mascara
Almay's humble little offering isn't demure at all. Inside the clinical-looking package is actually a silky, va-va-voom mascara that won't irritate even the most sensitive peepers thanks to a hypoallergenic, fragrance-free, and ophthalmologist-tested formula. If you wear contact lenses, feel free to swipe on this mascara knowing it's specially formulated with you in mind. As for benefits, it delivers all you could want in a mascara: volume, definition, length, and conditioning.
Pros: Under $10; Great for sensitive eyes; Ophthalmologist-tested; Volumizing; Lengthening; Long-wearing; Conditioning.
Cons: Can be a bit clumpy; Can be difficult to remove.
Benefit Cosmetics BADgal BANG! Volumizing Waterproof Mascara
Another one of O'Leary's go-to waterproof picks is Benefit's Cosmetics BADgal BANG! mascara. She explains, "This is one I've used for years now, it has an angled silicone wand for great separation, provides dramatic lashes without applying too many coats, and is long-lasting." If you need another reason to try this pro-approved pick, it's been tested to last a whopping 36 hours (although, you probably don't want to wear it that long). If that's not enough to pick this mascara up, then I don't know what is.
Pros: Pro-approved; Defining; Volumizing; Long-wearing; Curling.
Cons: Over $25; Product may come out clumpy during the first few uses.
L'Oreal Paris Voluminous Volume Building Waterproof Mascara
Yes, this is the second L'Oreal mascara on this list, but this one is too good not to include. This mascara has been a standout in the market for years and years. In fact, it's the first mascara I stole from my mom when I was learning how to do my makeup in middle school and I'm still a fan. You can easily build up volume and length, and lashes stay clump-free. Gilleo is also among this mascara's fans and says it's "another great and affordable option as its lengthening and volumizing properties make lashes look longer and fuller."
Pros: Editor- and pro-approved; Buildable volume; Lengthening; Defining; Long-wearing; Highly pigmented; Comes in black and brown; Ophthalmologist-tested.
Cons: May flake with wear.
Best Multi-Benefit Waterproof Mascara
Tarte Lights, Camera, Splashes Waterproof Mascara
With a brush densely packed with short and long bristles, this mascara provides an instant lash lift while volumizing and curling at the same time, but the benefits don't stop there. This mascara also conditions and nourishes thanks to lash-loving ingredients like beeswax and mineral pigments. Tons of reviews say this mascara is definitely waterproof (one Sephora reviewer even went swimming and it didn't budge), plus you can build up the volume to your desired look.
Pros: Buildable volume; Lengthening; Curling; Conditioning.
Cons: Not highly pigmented.
Best Semi-Permanent Waterproof Mascara
Revlon So Fierce! Big Bad Lash Mascara Waterproof
Revlon has a handful of waterproof mascaras but this stout tube is the fan favorite, and for good reason—over the course of seven days, the formula leaves behind a darkening tint, for a semipermanent dye job, gratis. If you've always wanted to try a lash tint, why not give this semi-permanent a try first for just $11? Aside from its tinting powers, it also builds a crazy amount of volume and a fanned-out effect. Just use the curved size to volumize, then flip the brush over to fan out lashes with the flat side.
Pros: Volumizing; Tints lashes over time; Defining; Highly pigmented.
Cons: Dries out faster than others.
How to Remove Waterproof Mascara
Waterproof mascara is known for its staying powers, and consequently, it can be a bit tough to remove. But don't fret—it can be removed without ripping out a dozen or so of your lashes. Gilleo reveals that the best way to remove waterproof mascara is to turn to oil-based cleansers or cleansing balms. "Applying your cleanser straight to your face without wetting your face first really helps to break down any makeup product on your eyes and skin," she explains. "Once fully rubbed in, then rinse with water." She also recommends micellar water, adding, "Applying your product on a clean, reusable cotton pad and sweeping it over your lashes is another effective way to remove your mascara." And, of course, be gentle! You'll want to avoid any harsh tugging or pulling to prevent any damage to your lashes.
When to Toss Out Waterproof Mascara
Sadly, good things can't last forever, including waterproof mascara. And when it comes to the area around your eyes, you don't want to take any chances with expired or germy products. O'Leary recommends tossing out your waterproof mascara every three to six months, max. "If you notice it starting to smell weird, or getting extremely dry or clumpy, it's definitely time for a new one," she adds.
Meet the Experts
Lauren is a New York City/Minneapolis based makeup artist, men's groomer, and beauty expert. She grew up in Minnesota but had her heart set on living in New York City since she was very young. As a lifelong artist, she was always on top of the latest beauty trends. Lauren specializes in beauty, editorial, celebrity, commercial/print, film & TV work. A few of her clients include Guess, Maybelline, Saks Fifth Ave, Samsung, Conde Nast, and celebrities Niki Taylor, Kaia Gerber, Joey Fatone, Shaq, Charlotte Mckinney, Hannah Brown, James Van der Beek, and more.
Alexandria has always been captivated and inspired by the beauty that each individual possesses. Her goal is to make her clients look good and feel beautiful, and it is instantly identifiable in her signature makeup style: gorgeous, radiant faces that seem to glow from within. Whether the task is a commercial, advertising, video, interview, press, or print, she will adjust her technique to answer the demands of different lighting set ups, scenarios, and pressure-packed situations. Alexandria has appeared on the Tyra Banks show, has won several awards for her freelance work, and has raised over $35,000 for charities including St. Jude's Children's Hospital. Her work can be seen in Ulta, Sephora, Kohl's, and Philosophy stores globally, and has been seen on faces including Ali Krieger, Ashlyn Harris, Adriana Lima, Alexander Wang, Charlie Sheen, Camila Coelho, and Paul Rudd, to name a few.
Celebrity news, beauty, fashion advice, and fascinating features, delivered straight to your inbox!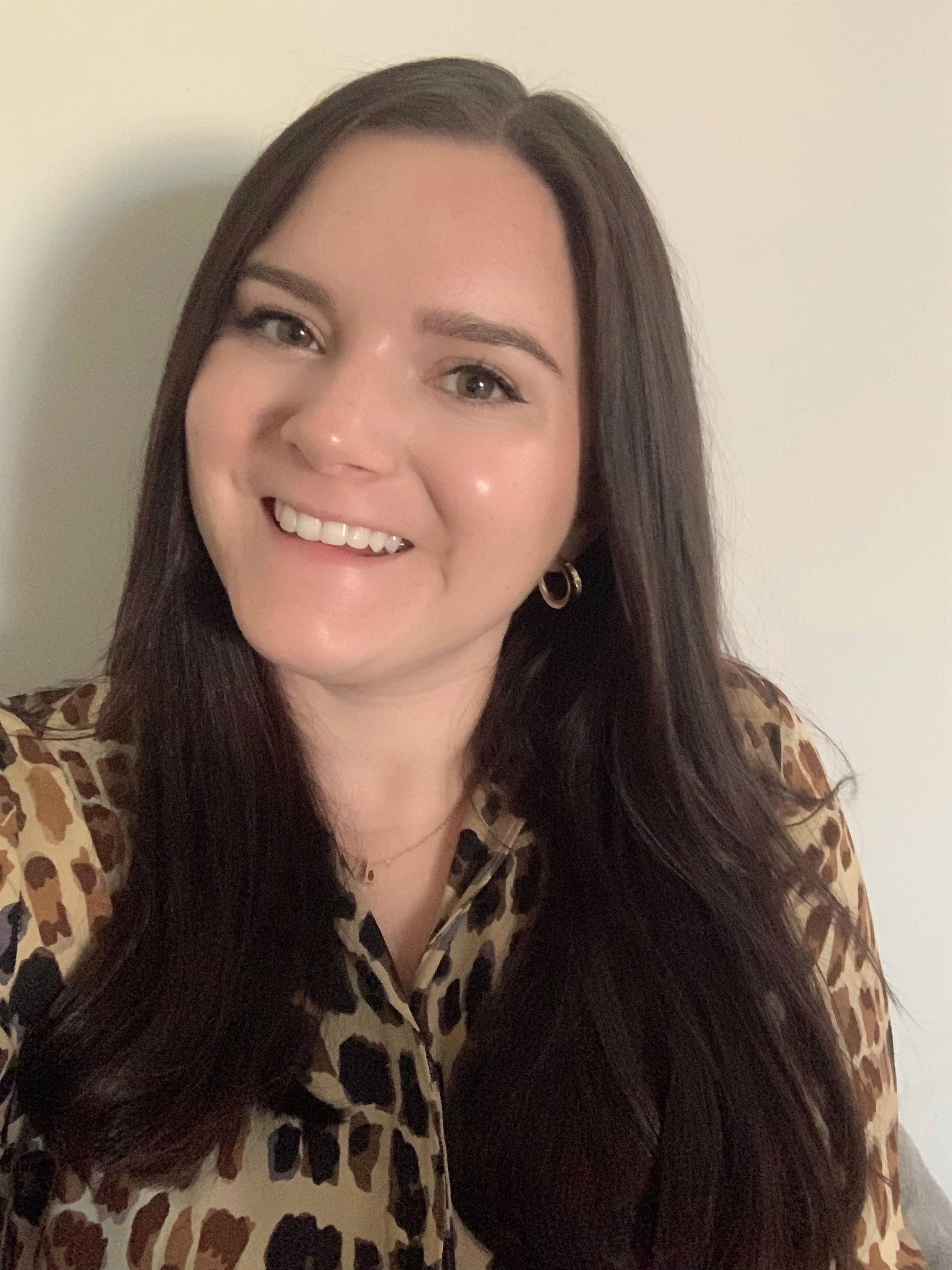 Brooke Knappenberger is Contributing Writer at Marie Claire, where she writes across the board from fashion and beauty to books and celebrities. As a pop culture junkie, Brooke obsessively consumes and writes about the latest movie releases, streaming TV shows, and celebrity scandals. She has over three years of experience writing on fashion, beauty, and entertainment and her work has appeared on Looper, NickiSwift, The Sun US, and Vox Magazine of Columbia, Missouri. Brooke obtained her Bachelor's Degree in Journalism from the University of Missouri's School of Journalism with an emphasis on Magazine Editing and has a minor in Textile and Apparel Management.