The 13 Best Waterproof Mascaras of 2022
Feel free to let the tears flow.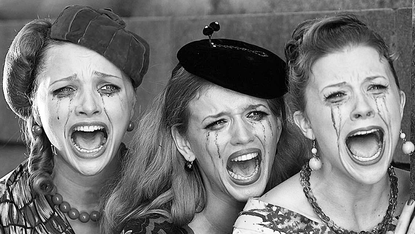 (Image credit: Shutterstock/Getty Images)
If you've been burned by waterproof mascaras, you're not alone. When I tried my first waterproof mascara, I lost dozens of lashes as I gently tried to sweep away the crumbly, strangely tenacious pigment with oil-soaked cotton balls. And that's without even mentioning how the mascara actually worked, which was, um, not well. Dry, brittle, gunky, next. But since then, waterproof formulations have come a long way. In fact, some of the best mascaras out there are waterproof versions.
In some ways, "waterproof mascara" is a bit of a misnomer. While these formulations will stand up to rain showers and a dip in the pool, they'll also stay put during the everyday business of daily life—like touching your face, eating, and living. On a molecular level, waterproof mascaras are formulated without water-soluble polymers, but those polymers also hang on better when faced with any adversity—not just hydration. Which is why a waterproof formula might be your best bet for everyday wear.
Just like regular mascara, waterproof formulations can address other lash needs. Ahead, we've gathered the best waterproof mascaras to tackle whatever your needs may be. You'll find lengthening mascaras, volumizing mascara, mascaras that leave behind long-lasting pigment, and even ones that do little more than just add definition, albeit perfectly. Ahead, are the best waterproof mascaras to shop right now.
Brooke Knappenberger is the Editorial Fellow at Marie Claire, where she writes across the board from books and celebrities to fashion and beauty. As a pop culture junkie, Brooke obsessively consumes and writes about the latest movie releases, streaming TV shows, and celebrity scandals. Brooke is a proud St. Louis native and is currently living in New York City. Outside of work, you can find her either jamming out to Drake, reading a Sarah J. Maas novel, or shamelessly online shopping.