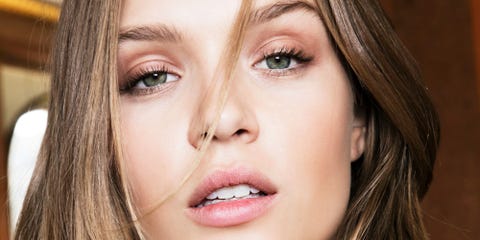 Historically, waterproof mascaras have gotten a pretty bad rap—and rightfully so. Not only do they require a power sander to fully remove, but it's almost a guarantee that they'll take out a few of your lashes in the process. Basically, unless you're getting married or going deep-sea diving, waterproof is almost never worth the hassle.
At least, that's what I used to think, before I discovered a new breed of budge-proof mascaras that wash off (relatively) easily and actually feel good on your eyes, thanks to formulas filled with lash-softening conditioners and water-soluble pigments. And through a ton of trial-and-error, I've found the best of the best long-wear mascaras you'll actually want to swipe on, no silent prayer to the beauty gods, required.

1
This Natural-Finish Formula
Clinique Lash Power Mascara Long-Wearing Formula, $17

Waterproof mascara is your best wingman until the point when you're forced to scrub it off your face at the end of the night. Luckily, Clinique's formula has enough staying power to hold its ground (and give your lashes subtle, natural-looking volume) on a sweaty evening out, but still rinse off cleanly with makeup remover when you get home.
2
This Lengthening Formula
CoverGirl The Super Sizer by Lash Blash Waterproof Mascara, $7

At best, most lengthening mascaras do approximately nothing. At worst, they leave you with a spider-leg effect that looks good on Twiggy and only Twiggy. But this drugstore formula really does give you a flattering, extension-level finish, thanks to its inverted fanning wand, which lifts and coats each lash in rich, long-lasting pigment.
Dior Diorshow Iconic Curl Collection Waterproof, $30

The combination of a thick, curved spoolie and Dior's classic, fast-dry formula turns this curling mascara into a magic wand for stick-straight lashes. For insane shapes that truly last all day and night, use a lash curler first, then immediately swipe on two coats of mascara.
4
This Thickening Formula
Maybelline New York Lash Sensational Mascara Waterproof, $7
I rarely like to use the word "sensational" to describe anything other than my in-shower singing, but this budge-proof mascara really does merit the compliment, thanks to its dual-sided brush. One end features curved, ultra-thick bristles that layer on the mascara for volume and curl, while the other has short, comb-like bristles to de-clump and separate. The result? Gorgeous, genuinely sensational lashes that rival a set of falsies—except they won't fall off halfway through dinner.
Bobbi Brown Intensifying Longwear Mascara, $30

Those who are easily emotional (what up, my brethren) and/or live in a literal rainforest will appreciate the outstanding moisture-proofing of this inky formula. And even if your lashes have never felt the touch of involuntary water, you'll still fall in love with the surprisingly skinny wand tip, which allows you to reach even the tiniest of lashes along the inner corners of your eyes.
6
This All-in-One Formula
Givenchy Noir Couture 4-in-1 Waterproof Mascara, $33

Givenchy's sound bite–shaped brush (yes, that's a thing) manages to do the seemingly impossible: separate, lengthen, curl, and thicken, all without leaving behind clumps. How? The weird shape of the spoolie perfectly cups each lash as you swipe through them, leaving you with a truly perfect-looking coat of mascara that won't flake or smudge.