Editors handpick every product that we feature. We may earn commission from the links on this page.
The 13 Best Waterproof Mascaras That Hold Up, No Matter What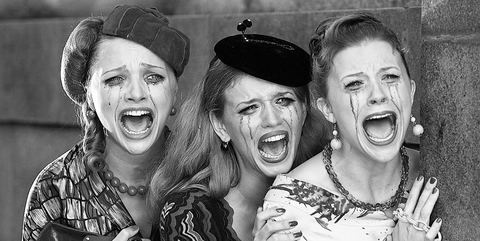 If you've been burned by waterproof mascaras, you're not alone. When I first tried one, I lost dozens of lashes as I gently tried to sweep away the crumbly, strangely tenacious pigment with oil-soaked cotton balls. And that's without even mentioning how the mascara actually worked, which was, um, not well. Dry, brittle, gunky, next. But I've since learned two tidbits about waterproof mascara: First, a good waterproof mascara is all celebrity makeup artists ever use, without exception; and second, the formulations have come a long way.
Waterproof mascara may actually be better than its non-waterproof counterparts.
In some ways, "waterproof mascara" is a bit of a misnomer. While these formulations will stand up to scuba diving and spring showers, they'll also stay put during the everyday business of daily life—like touching your face, eating, and living. On a molecular level, waterproof mascaras are formulated without water-soluble polymers, but those polymers also hang on better when faced with any adversity—not just hydration. Which is why a waterproof formula might be your best bet for everyday wear, especially as spring, summer, and sunshine approach.
Waterproof mascara can do everything your normal mascara does—and more.
Just like regular mascara, waterproof formulations can address other lash needs. Ahead, we've gathered ones that lengthen and curl, ones that build volume, leave behind long-lasting pigment, and even ones that do little more than just add definition, albeit perfectly. Ahead, the best waterproof mascaras available right now.
The Cult Favorite
Better Than Sex Waterproof Mascara
Too Faced
ulta.com
$27.00
This sexy, fuzzy, hourglass-shaped brush is indeed better than sex, and so is the waterproof formula, which hugs the curves of your lashes in all the right ways and creates lush bedroom lashes—we recommend two coats.
The Budget Pick
Super Sizer Waterproof Mascara
This mascara will leave you with a flattering, extension-level finish, thanks to its inverted fanning wand, which lifts and coats each lash in rich, long-lasting pigment.
The TikTok Favorite
Lash Sensational Sky High Waterproof Mascara
Maybelline
ulta.com
$11.49
TikTok made this mascara famous with results that seemed Photoshopped but weren't and it sold out at the beginning of the year. If you're lucky enough to cop some now, prepare to enjoy the stay-put formula with limitless layering potential.
Best Statement Maker
Lancôme Monsieur Big Mascara
Lancôme is beloved for its classic mascaras, but if you're looking for bold, bad lashes that stay put all day and all night, this is the one for you. It has the effect of false lashes and will never, ever smudge.
The Long-Lasting Hero
Lash Power Mascara Long-Wearing Formula
Clinique
sephora.com
$21.00
Clinique's formula has enough staying power to hold its ground—and give your lashes subtle, natural-looking volume—through workouts or beach days. What's even better is that it will rinse off cleanly with makeup remover.
The Splurge
Black Out Waterproof Mascara
Diorshow
sephora.com
$29.50
The waterproof sis of Dior's classic, fast-dry formula will keep your lashes separated and full. For insane shapes that truly last all day and night, use a lash curler first, then immediately swipe on two coats of mascara.
The Semi-Permanent Pick
So Fierce! Big Bad Lash Mascara
Revlon has a handful of waterproof mascaras but this stout tube is the fan favorite, and for good reason—over the course of seven days, the formula leaves behind a darkening tint, for a semipermanent dye job, gratis.
Most Nourishing
Perversion Waterproof Mascara
Urban Decay
sephora.com
$25.00
When it comes to Perversion, IYKYK. Creamy, lengthening, and volumizing, it's spiked with proteins and honey extract, meaning that your lashes get nourished as you serve face.
The Simple Favorite
Multi-Benefit Waterproof Mascara
Almay's humble little offering isn't demure at all. Inside the clinical-looking package is actually a silky, va-va-voom mascara that won't irritate even the most sensitive peepers.
Best for Sports
Sport Waterproof Mascara
Eyeko
dermstore.com
$26.00
This sporty little tube has made waves on the internet for its elegant results—lashes are defined and sophisticated, not clownish. And while the formula is A+ for Bikram or Peloton, it's also ideal for long days and hot nights alike.
Best Quality
Love At 1st Lash Waterproof Mascara
Avon celebrated its 135 anniversary this year and a few swipes of this fibrous, unsmudgy formulation could last all through the next century (jk). Seriously, though, it's deep black and satisfyingly lengthening, with extraordinary staying power.
The Splurge
Intensifying Long-Wear Mascara
An inky formula that's also waterproof? Prepare to fall in love with the surprisingly skinny wand tip, which allows you to reach even the tiniest of lashes along the inner corners of your eyes.
The Do-It-All Pick
Noir Couture Waterproof 4-in-1 Mascara
Givenchy
bloomingdales.com
$33.00
Givenchy's sound bite–shaped brush manages to do the seemingly impossible: separate, lengthen, curl, and thicken, all without leaving behind clumps. The weird shape of the spoolie perfectly cups each lash as you swipe through them, leaving you with a truly perfect-looking coat of mascara that won't flake or smudge.
This content is created and maintained by a third party, and imported onto this page to help users provide their email addresses. You may be able to find more information about this and similar content at piano.io