Sleeping Beauties
Make the most of your beauty sleep with these practical picks for p.m. pampering.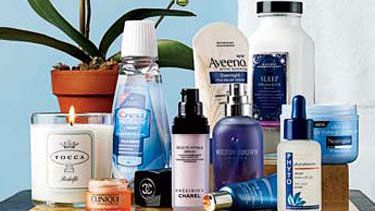 (Image credit: Jeff Harris)
1. TOOTH FAIRY: Thwart morning breath the night before with Crest Pro-Health Night oral rinse, 1.5 liters, $7.99.
2. SLEEP EASY: Don't let dry, itchy skin keep you up. Aveeno Overnight Itch Relief Cream, $5.99.
3. DREAMGIRLS: Ease into sleep with this chamomile and lavender soak. Bath & Body Works Aromatherapy Sleep Collection Dream Bath, $16.50.
4. NIGHT LIGHT: Inspire slumber with a soft tuberose scent. P.S.: Blow it out before drifting off. Tocca Rodolfo candle, $36.
5. MOISTUR-EYES: Ninety percent of adults suffer from dark circles and puffiness. Here's your advantage: Clinique All About Eyes Rich, $27.50.
6. MOONLIGHT MIRACLE: Since your skin absorbs moisture and nutrients best at night, that's when to load up on vitamins and antioxidants. Chanel Beaute; Initiale Energizing Multi-Protection Concentrate, $85.
7. WAITING TO INHALE: Spray the sleep-inducing lavender, bergamot, and ylang-ylang on your pillow to ensure some z's. Molton Brown Relaxing Yuan Zhi Sleep Mist, $37.
8. HANDY MASK: Give dry nails and cuticle beds a rich overnight moisture mask. Sally Hansen Nail Quencher Cuticle Crème, $6.25.
9. BED HEAD: Nourish dry, winter-parched hair with the botanical oils and fatty acids found in Phytodensium Anti-Aging Serum, $32.
10. SHUT-EYE: Say nighty-night to the day's mascara, liner, and shadows with Neutrogena Ultra-Soft Eye Makeup Remover Pads, $7.49.
Click here for More Tips on How to Get Your Beauty Rest (opens in new tab)