Exclusive Q&A: UN Whistleblower Kathryn Bolkovac
UN Whistleblower Kathryn Bolkovac Interview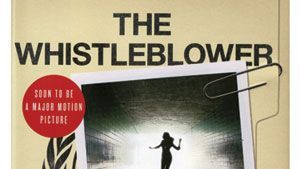 (Image credit: Courtesy of Palgrave Macmillan)
Marie Claire Newsletter
Celebrity news, beauty, fashion advice, and fascinating features, delivered straight to your inbox!
Thank you for signing up to Marie Claire. You will receive a verification email shortly.
There was a problem. Please refresh the page and try again.
In 1999, Nebraska police officer Kathryn Bolkovac noticed an ad for jobs with DynCorp, a government contractor that was setting up monitors in Bosnia to work with local police officers and United Nations peacekeepers. The money was good, and Bolkovac, a recently divorced mother of three, was looking for a change. Little did she know what she'd find in Bosnia: a widespread seedy underbelly of UN officers and American military men participating in the trafficking of Eastern European girls — some as young as 12. With the release of her new memoir, The Whistleblower (a movie based on it, starring Rachel Weisz, is out this summer), Bolkovac — now 48 and living in the Netherlands — talks trafficking, harassment, and what happens when you try to expose government-contracted Good Ol' Boys.
What was the job you were asked to do in Bosnia?

The job was described as a monitoring job, basically training and advising local Bosnian police officers on democratic principles and rebuilding the country after the war, which had ended in 1996. I wound up applying for and getting a position specifically in human rights investigations.



How did you first discover the sex-trafficking scandal?

It wasn't an overnight revelation — there were some hints from the beginning. One guy who'd worked with the program before told us during our training session that he knew where we could find some really nice 12- to 15-year-olds. But when I started working as a human rights investigator, women were coming into the International Police Task Force station reporting that they'd been beaten and raped and held captive at these nightclubs and bars with American-sounding names and UN vehicles frequenting the places, so it was pretty clear what was going on.
So it's not like you were doing a ton of digging.

Yeah, it was obvious. It was such a boys' club, and it was just accepted by all these organizations that this was going on. I just happened to be the one who became the outspoken one who wouldn't let it go.



What did you try to do about it?

I tried to investigate and sent my files through the proper channels, but they would systematically disappear, or I'd be told that there wasn't enough evidence. It became pretty clear that nothing was going to be done. So I composed an email to about 50 mission personnel about what I thought needed to change and hoped it would be used as an internal educational tool to turn this problem around. I never thought they would fire me.
The official reason you were fired was for "falsifying timesheets," which wasn't true. Did anyone ever come out and say, "You're going to be sorry you sent that email?"

Not in those words, but they actually did! I started planning my case against them even before I was fired. I continued to collect evidence and keep copies of everything. The moment they fired me, I got in contact with an attorney and spent a year building my case.
Did you eventually win your wrongful termination suit?

Yes, and the trial was quite emotional — I even cried during my testimony — but it was worth it. I did what my heart and mind were telling me I needed to do, and I brought this issue to light by holding DynCorp accountable for it.
Something you had to explain over and over is the difference between a prostitute and a trafficking victim. Why is that hard for people to understand?

There's a stigma about prostitutes, and what many people don't understand are the circumstances in which many women go into prostitution — this goes for U.S. prostitutes as well. I really believe the number of women who are doing this because they think it's fun is very small. And the idea that Eastern European girls or Filipino girls or anyone else is making it all the way to the U.S. via a trafficking organization to perform as a prostitute is beyond most people's realm of imagination.
Is this still a widespread problem? Can it be fixed?

It's definitely still a problem — there have been many, many, many case investigations going on. It's an ongoing phenomenon that DynCorp and many other contractors can't get through their thick heads — they just keep covering it up and trying to deny it. If they would just admit it's happening and prosecute these guys and set some examples, what's wrong with that? It seems like a never-ending battle, but I don't mind being part of it from this point on.
Celebrity news, beauty, fashion advice, and fascinating features, delivered straight to your inbox!
Anna Maltby is an award-winning journalist and editor and was most recently the executive editor of Elemental, Medium's in-house health and wellness publication. She was previously the deputy editor at Real Simple magazine and a deputy editor at Refinery29, and also held staff positions at Men's Health, Marie Claire, SELF, Fit Pregnancy, Natural Health and Condé Nast Traveler. Her writing has appeared in such outlets as The Wall Street Journal, Cosmopolitan, Glamour, O, Family Circle, Fitness, Redbook, Vogue.com, TeenVogue.com, MensJournal.com, CondeNastTraveler.com, FastCompany.com_ _and Brides.com. She received her BSJ and MSJ from the Medill School of Journalism at Northwestern University. Anna is also an American Council on Exercise–certified personal trainer and functional training specialist, a certified prenatal and postnatal exercise specialist, and a certified mat Pilates teacher. She lives in Brooklyn with her husband, two children, and two tuxedo cats.