Conan's First Lady of Comedy
In the boys' club of late-night shows — where male writers outnumber women by as many as 19 to 1 — Laurie Kilmartin scores as Conan's sole female writer.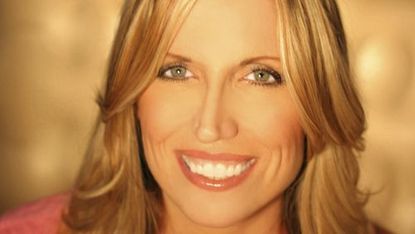 (Image credit: Archives)
Laurie Kilmartin was an aimless college dropout from UCLA when she went to a comedy club, had a laugh, and realized what she wanted to do with her life: be funny. Since then, she has "killed" in nightclubs across the country — as well as on Comedy Central, Showtime, and NBC's Last Comic Standing — cracking jokes about everything from abortion to race to religion. Now she has cracked the testosterone-soaked world of late-night television. The lone female writer on Conan O'Brien's team, Kilmartin describes how she penetrated the guy zone.
How'd you get the job?
It all started when I was on Last Comic Standing. I was getting slammed so hard on message boards, I got depressed. Someone wrote, "I don't like the shape of her face." I couldn't stop looking in the mirror for like six weeks. To get some positive feedback, I started writing jokes off the news and posting them on Facebook. You know you're desperate when you're going to Facebook friends you've never met for approval. At the same time, I heard Conan was hiring. I had about 200 jokes I'd just written, so I submitted my favorites. I have to thank Internet haters for helping me create a deep reservoir of jokes.
What was one of your favorites?
Frank Sinatra's grandson attempted suicide. Before you judge, remember there is no right way to react to season two of Jersey Shore.
Ha! Why do you think there are so few female writers on the late shows?
Coming from stand-up, I think female comics get on stage for a very different reason than male comics do. This is a huge generalization, but I think guys get on stage to get laid, and women get on stage to get heard. For female comics, it's such a personal thing. I hardly know any female stand-ups who talk about generic stuff: It's always really what happened to you. It is sort of a big switch to go from that to writing for someone else. And I think that that stops a lot of female comics from making that jump over.
What's your day like?
It's pretty solemn and monastic, at least in the early hours. I get in at 8:15 and go to my office. All the writers think up jokes in their offices till 11:30, then meet and read them out loud. Around 3:45, Conan picks the jokes he wants.
Was it scary when you first presented your jokes?
Terrifying. I'd think, Oh, my God, Conan O'Brien's going to read this joke in a few hours, and I would have a complete panic attack. Before this job, I had a more flexible schedule, writing jokes whenever I wanted — like at 1 or 2 in the morning. Just having my eyes open at 8:15 a.m. was shocking.
Do you have to think like a guy to write jokes for Conan?
Monologue jokes are pretty genderless. But sometimes my first instinct on a punch line will be a bit female-centric. So I'm like, "Let's try a different angle."
All-time favorite joke?
My favorite jokes are filthy, or unprintable, or highly offensive — that's why they're my favorites. When I do stand-up, my jokes often involve abortion, because half the room loves them and half the room is like, gasp.
Have you ever started a fight?
Almost. Once at a club, I made a joke about adoption, and a woman who was adopted got very upset and yelled at me outside the showroom. I said something like, "Well, now I know why your real mom gave you up." And that didn't make it better.
What do you think when you hear that women aren't funny?
You know, I never hear that in actual conversations. I think that's some meme that Christopher Hitchens started with that old Vanity Fair story. I guess there was that attitude when I first started, because there weren't many female comics, but that's not the case now.
Was it brutal when you first started out?
Actually, it was fun. I just did open mikes every night, driving around the country. I had a Blazer for like 15 years, and I ended up putting like more than 500,000 miles on it. I felt like a cowgirl, driving all over the Northwest, doing one-nighters and sleeping in my truck between shows. I'm sure I'm romantically forgetting the shitty pay and hecklers.
What's the hardest part of the job?
Gosh, two things. I'm a single mom, and I have to plan and think ahead and do stuff the night before so I can get my 4-year-old son out the door before work. I totally blame my son for this. The other thing that's hard is that you only feel as good as your submissions that day. If you get several jokes into the monologue, you feel like you frickin' own everything. The next day, you could have nothing, and you're like, "I'm going to get fired. I'll be homeless, and I'll have to prostitute my son for money."
Best advice for budding comics?
Watch monologues: There are 10 or 11 jokes — write them down. Deconstruct them; study them. Then start writing.

LATE NIGHT, BY THE NUMBERS:

The Tonight Show With Jay Leno
Male writers: 19
Female writers: 1
Conan
Male writers: 17
Female writers: 1
The Colbert Report
Male writers: 16
Female writers: 1
The Late Show With David Letterman
Male writers: 13
Female writers: 1
Lopez Tonight
Male writers: 12
Female writers: 1
Jimmy Kimmel Live!
Male writers: 10
Female writers: 1
The Late Late Show With Craig Ferguson
Male writers: 8
Female writers: 1
Late Night With Jimmy Fallon
Male writers: 16
Female writers: 2
The Daily Show With Jon Stewart
Male writers: 13
Female writers: 2
Chelsea Lately
Male writers: 5
Female writers: 5
Celebrity news, beauty, fashion advice, and fascinating features, delivered straight to your inbox!
Abigail Pesta is an award-winning investigative journalist who writes for major publications around the world. She is the author of The Girls: An All-American Town, a Predatory Doctor, and the Untold Story of the Gymnasts Who Brought Him Down.