Jessel Taank's 'Real Housewives of New York' Storyline May Be One of Its Most Important Yet
Taank is using her platform to get candid about fertility struggles and postpartum intimacy in ways the franchise and the South Asian community haven't seen before.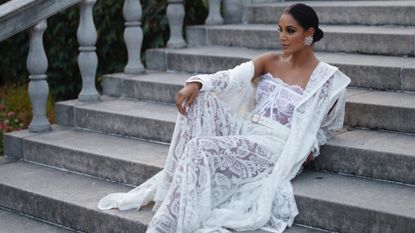 (Image credit: Farhat Sikder)
Marie Claire Newsletter
Celebrity news, beauty, fashion advice, and fascinating features, delivered straight to your inbox!
Thank you for signing up to Marie Claire. You will receive a verification email shortly.
There was a problem. Please refresh the page and try again.
When Jessel Taank signed up for the revamped version of the Bravo series The Real Housewives of New York, she saw it as an opportunity to reeducate America on what a "housewife" could look like.
"When I was having conversations with the team about what this actually was and what their vision was, it was very, very specific about making a change," says Taank. She's dressed in a denim-on-denim look, seated in a corner booth at Cecconi's in New York's Nomad neighborhood. It's a Wednesday afternoon, just a few days after the first episode of the rebooted reality show premiered. "The women before were so fabulous, and they had a 13-year-run, but it was a microcosm of what New York City is—it was the Upper East Side and it wasn't culturally diverse. When I think of New York City, it's such a melting pot of people from different walks of life. That was really the goal here: let's take one of the most beloved franchises, but make it relevant."

Taank, a former publicist for Michael Kors and the real estate development firm Westfield, is the first Indian housewife to join the broader Housewives series, which first debuted in 2006. She lives in Chelsea—not the Upper East Side like many previous cast members—and she is making sure to use her newfound visibility to bring topics like mental health and fertility struggles to the RHONY universe.

Here, the 40-year-old shares why it was scary but crucial for her to destigmatize IVF within her own family and publicly, how she and her husband are navigating putting their relationship under a microscope, and what she hopes to share if a second season of Real Housewives is in her future.
Marie Claire: You're a trained publicist, someone who is used to driving the narrative. Were you prepared to be so unfiltered while filming?
JT: As a publicist, you control results, you control what comes out, so it made me nervous. But putting yourself out there and being vulnerable is a big part of this. People told me not to do the show because of the edit—Twitter is already saying I'm a bitch and my husband and I are getting a divorce—but I came to New York in 2006 with this idea of building this life for myself, and I did it on my own. This show is a really cool window to show what we've achieved as a group of women.
MC: Were you surprised to be the first Indian housewife cast on the show?
JT: Yes and no. Yes, because there are 1.5 billion Indians in the world. How are we not represented in the media? We are seen as being a little bit more quiet and behind-the-scenes and we're the people that make things happen but are never at the forefront of it. That's changing.
MC: Your IVF journey is introduced in episode three and is a big part of the rest of the season. What was your thought process around being so open about it?

JT: I definitely had a very strong agenda with sharing my IVF journey because I went through it alone. My family wasn't close by geographically. My mom is so hands-on and so worrisome. She has a lot of anxiety about her kids, like every Indian parent does. So if I was going to tell her, 'Hey, I'm going through IVF,' I think she [wouldn't have] really fully understood or grasped what that meant. But also, she wouldn't have slept. She wouldn't have eaten. She would've been very, very, very upset. So I wanted to shield them from that, in a way.
But also, we don't talk about IVF. We don't talk about reproductive issues. I think people need to know that it's okay to normalize these types of topics, because if I had the strength to be able to be open about it [as it was happening], I think my experience would've been completely different. I told a select few friends, but also I internalized what that process was.
I was shocked when I started talking about it openly—the amount of people that told me, 'I had IVF. I also had a miscarriage.' I was like, imagine if I'm talking about this on national television and imagine they can actually relate to my journey. What can I do for that person? It was, yes, extremely nerve-wracking, but it was enough ammunition to want to make a difference in someone's life.
MC: How long did it take you to have children?
JT: It was a year of trying naturally and then two years of active IVF, failed cycles again and again and again—six in total. It's emotionally so taxing. Coming from an Indian background is hard because you're supposed to be a feminine goddess and it's seen as a big flaw if you aren't. The perception of what an Indian woman is [that] we're born to reproduce, be mothers, be wives, and almost be timid. That's a stereotype of what Indian women typically have been in the media, and the fact that I'm not that person, I really think it was important to share [on RHONY].
MC: What was it like finally sharing that with your family and what was their reaction?
JT: My family was incredibly supportive once I shared my experience with them. To some degree, they were disappointed that I didn't feel I could be open about the struggles, but they understood that it came from a place of trying to shield them from the reality of it all. I did end up telling my family [while] filming for the show. It was emotional, but also I felt it was an important conversation to share because these topics are so taboo in our culture.
MC: In the second episode of the series, you share that you hadn't had sex with your husband, Pavit, since having your twins, Kai and Rio.
JT: There was a lot going on in my body at the time. With hormones, how your body changes, putting on weight, I was feeling very self-conscious. I just didn't feel emotionally strong and physically strong, to be honest. [Pavit] was unreal throughout the whole process. There's something to say about a man that stands by someone and doesn't need that physical reinforcement. He was just a pillar, a rock of strength for me.
MC: Do you think the show fully captured the nuance of what you were sharing?
JT: I think the audience will see the journey of me trying to get strong again, everything from physically, emotionally, all of those things. You do see those conversations happening and you're along the ride.
I think it's important to say to moms who are new moms, that conversation of what postpartum looks like, it's not easy. You don't just snap back into it and be like, 'Okay, let me just get on with my life.' Your body changes. You're tired all the time. You are trying to figure out what's next for you career-wise or otherwise, and your relationship with your spouse changes because there's another element that's introduced to it. It affects how you are. You're not the same. I said bye to the girl that I was pre-kids. I had a funeral for her.
MC: Have you gotten backlash from discussing sex and fertility so publicly on television or have you received support?
JT: For the most part, there has been an astounding amount of support from women of all cultures and backgrounds. I received several calls from close friends who confidently admitted they were going through a similar journey and didn't have the strength to share [their stories] with family and even friends. It's really sad that so many feel they have to tackle fertility struggles alone. It can be very isolating. I think anyone going through this should feel supported. That being said, there has also been a small percentage of people who have clouded my openness with negativity and allud[ed] to things like, '[Mine and Pavit's] marriage can't be strong enough to sustain these issues.' It's so easy to gravitate towards these stigmas instead of positive affirmations such as, 'Wow, her husband supported and stood by her through all of this,' which is actually the truth.
MC: How is your husband handling all the public scrutiny into your relationship?
JT: It's hard for a husband, I think. I can't speak for every husband on the show, but you're this counterpart to this machine. I think that relationships in the media are always under a microscope and everyone's always watching your moods and how you are together and like, 'Oh, because she said this, they're going to get a divorce.' It's very shocking to me. It makes you question yourself. But we also just have a very jokey relationship. He calls me out on my stuff. I call him out on his stuff. We were best friends before we got married, so we have that almost Monica and Chandler rapport with each other.
MC: Do you want to have more children?
JT: I always wanted three. I started this journey at 35. I didn't know it was going to take this long. If I have a second chance at this, I might as well try.

MC: If the show gets picked up for another season and you're a part of it, would you consider sharing that IVF journey on camera?
JT: It's not pretty but 100 percent yes [I would] because the reality of what it is absolutely should be shared. It's not like you just pop an embryo in and, hurrah, you're pregnant! There is a lot that goes into that process. It's the highs and lows of it.
This interview was edited and condensed for clarity.
Celebrity news, beauty, fashion advice, and fascinating features, delivered straight to your inbox!