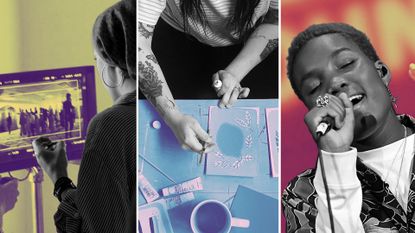 (Image credit: Courtesy)
In times of upheaval or uncertainty, inspiration can be a guiding force that navigates rough waters and brings us to totally new destinations. That's why Marie Claire, in partnership with Adobe, wants to celebrate the women and nonbinary folks who are harnessing their inspiration and using it to change the world. The 21 creators selected for this inaugural list are diverse, both in backgrounds and chosen media: Some of them are founders and influencers who are making room for more voices in the marketplace. Others are directors and designers, creating new worlds or shining a light on our own. Some are activists, challenging the status quo and fighting to make the world more equitable and beautiful. All of these creators are proof that everyone has a unique story to tell and with the right tools and inspiration, anyone can be a driver of change. Keep these 21 creators on your radar in 2022—they're about to be big.
You've likely seen Jess Bird's illustrations on your timeline: Bright but minimalist, with phrases and graphics that speak to the genuine, the imperfect, and the often magical moments of everyday life. Rochester, NY-based Bird is self-taught, and makes art that speaks to viewers like a best friend—offering commiseration and encouragement for anyone looking to better their world. Luna Cooperative, Bird's studio, also offers coworking space, classes, and a safe and relaxing place for members of the LGBTQIA+ community and anyone seeking "rest, healing, and love." Bird's work reflects her inclusive worldview, and in doing so helps to further the promise of belonging, understanding, acceptance, and joy shown in her illustrations.
2. Ali Bonar, Founder of Oat Haus / @alibonar
Eating well doesn't have to mean being boring. That's what Ali Bonar, founder and CEO of the delicious Oat Haus spreadable granola brand wants to make perfectly clear. While studying nutrition at UC Berkeley, Bonar developed disordered eating habits, including orthorexia—an unhealthy focus on eating foods deemed "clean." Through her recovery, she discovered that an oat spread was gentle on her body, had ingredients she could actually pronounce, and tasted amazing. (Oat Haus describes its flavor as "like liquid Teddy Grahams.") With her brand created and Oat Haus shared with the world, Bonar is focused on bringing fun back into eating—especially in a culture that so often opts for trendy food fads rather than actual enjoyment. And she brings that mentality to the airwaves as the host of Alicast, the podcast in which Bonar discusses body image, entrepreneurship and, of course, delicious food.
3. Sherry Cola, Comedian and Actress / @shrrycola
Sherry Cola can do it all. As an actress, she plays hilarious building manager Alice, a first-generation Asian American on the Freeform series Good Trouble, now going into its fourth season. As a comedian, she keeps audiences riveted with her witty and extremely relatable standup, and was named a Fresh Face at the world-famous Laugh Factory comedy club in L.A. And she's an outspoken advocate for Asian American Pacific Islander (AAPI) visibility, speaking and writing on the subject for places like CNN and Good Morning America. Next up, you can see Sherry Cola star alongside Ashley Park in an as-yet-untitled feature film directed by Crazy Rich Asians writer Adele Lim.
4. Karina Dandashi, Writer, Actress, and Director / @karinadandashi
Equipped with her own experience as a Syrian-American Muslim, Karina Dandashi's work uncovers nuances about identity in ways both tender and revelatory. A Brooklyn-based writer, director, and actress, Dandashi's work explores family, religion, and culture in the Southwest Asian and North African (SWANA) and Muslim communities in America. In 2021, Dandashi was selected as the Silver Sun Diverse Voices Filmmaker Fellow at the Jacob Burns Film Center, as well as an Adobe x Sundance Ignite Fellow. She recently released the short film Dress Up, in which she also stars alongside her real-life sister, Nadia Dandashi. In 2022, she will continue working on her first feature film.
5. Megan Ellaby, Designer and Blogger / @meganellaby
Fashion can be downright intimidating to get into, and influencers often aren't helping that appearance. But Megan Ellaby is changing that. Sure, she's impeccably dressed, has an adorable family, and seems to lead an impossibly exciting life. But what sets Ellaby apart is that she's also so down-to-earth about it all—her outfits are bright and bubbly, and her posts are genuinely inspiring when it comes to clothes. In short, Ellaby makes fashion seem accessible and fun. And that upbeat ethos is reflected in her independent label, Saturday by Megan Ellaby, which features bold prints in classic silhouettes with a retro nod. Because in 2022, fashion should be fun—and Ellaby is lighting the way.
6. Jera Foster-Fell, Social Media Educator / @jera.bean
Social media sometimes feels like the wild west—a place where fortunes can be made, or reputations destroyed. But Jera Foster-Fell is helping the internet feel more civilized with her approach to social media education. Foster-Fell is the founder of The Social Media Saloon, a 12-week course for anyone looking to harness the power of Instagram to build their businesses, activist network, or creative portfolio, so that she can show others the way to social media success. With over 1 million TikTok followers and 180k+ Instagram followers, she's shown that being a social media sherpa is more in-demand than ever.
7. Brittney Janae, Photographer, Filmmaker, Co-Founder of Lor'eneJanae / @brittney.janae
Brittney Janae, a Los Angeles-based photographer and documentary filmmaker, found her footing in Hollywood by creating digital video content alongside heavy-hitters like Yara Shahidi, Common, and Tiffany Haddish. And now she's helping others—especially other Black women—find their own place in the creative arts. Co-founding the agency Lor'eneJanae with Erica Lorene, Janae uses her talent and platform to amplify the contributions of women of color in the fields of photography, makeup, and film—and its Instagram is like a bright and beautiful inspiration board. This year, Janae intends to focus even more on personal projects, like a recent documentary about Cape Town, South Africa that she shot on Super 8 film.
8. Emily Mariko, Video Creator and Influencer / @emilymariko
Emily Mariko went viral halfway through 2021 for her strangely satisfying food prep videos, featuring her clean and tidy kitchen and ingenious tricks for reappropriating leftovers into entirely new dishes. The practically silent videos, save for some ASMR-worthy clinks from dishes and ingredient bottles, nevertheless launches a thousand thinkpieces on what exactly the appeal is of Mariko's videos. But where most viral videos are quickly forgotten in the fast-moving sands of the internet, Mariko's audience has stayed with her. Perhaps it's her seeming rejection of the trappings of other celebrity cooks, who offer a lot of personal info and tend to focus on particular types of cuisine. In contrast, Mariko's embrace of intuitive eating, her lack of pretension, and the only occasional glimpses into her life that she offers in her otherwise silent videos have made Mariko an entirely new kind of food star—one that will continue blazing a trail into 2022.
9. Maliyamungu Muhande, Artist and Director / @congolesetraveler
Sometimes the most important part about having inspiration is sharing it. A New York City-based Congolese artist and documentary director, Maliyamungu Muhande not only makes films herself, but also helps others make them. Her documentary short 'Nine Days a Week,' about the New York City street photographer Louis Mendes, screened at the 2020 Doc NYC festival and was selected by the National Board of Review. She is currently working to turn it into a full-length feature documentary. Also in 2020, Muhande led a six-week program for underrepresented teenagers in Monticello, NY, where she worked with them to create a documentary about their economically repressed town and the current state of the U.S. more broadly. The result of the collaboration, a documentary called 'Near Broadway,' helped earn Muhande a spot in the Adobe x Sundance Ignite 2021 Fellowship. Whether working on her own or alongside her talented students, Muhande has already shown herself to be a bold new voice in documentary filmmaking.
10. Alexis Nikole Nelson, Forager and Environmentalist / @blackforager
Denizens of TikTok would be hard-pressed to find a more enthusiastic finder of mushrooms than Alexis Nikole Nelson. The Ohio-based influencer first made a name for herself on the platform by showing her followers how they can forage for edible plants in their own neighborhoods, and her contagious enthusiasm for environmental science and food brought her 6.1 million followers to date. Now, she's using that platform to share important messages of environmental sustainability and justice. Videos of her cooking, foraging, and deep-diving on hot topics make eating local and vegan seem not just doable, but downright exhilarating. And by making environmentalism actually accessible to all, Nelson is helping to create real change.
11. Charlotte Palermino, Entrepreneur, Influencer, and Co-Founder of Dieux / @charlotteparler
Charlotte Palermino's Instagram bio includes the sassy descriptor "Your skincare fairy godmother." But for her hundreds of thousands of followers on Instagram and TikTok, that's exactly what she is. During the pandemic, as many retreated into beauty regimes as a sort of self-care escape, Palermino's straight-talking, Tiktok-length nuggets of wisdom and guidance—on everything from which affordable skincare brands to embrace to how "slugging" works—made her a one-stop shop for all things skincare. It's a role she fits into particularly well, as the co-founder of Dieux Skin, a beauty brand founded on price and ingredient transparency and sustainability. This year, expect Palermino to dish out more break-the-internet advice, radical honesty about the beauty industry, and simple answers to your trickiest skincare questions.
12. Arlo Parks, Singer-Songwriter, Poet / @arlo.parks
Arlo Parks had a big 2021. The British singer-songwriter and poet released her debut album, Collapsed in Sunbeams, to critical acclaim, peaking at Number 3 on the British charts. The album itself is a triumph of clever, poignant lyricism and lush, laidback instrumentalism that sounds nostalgic even as it treads entirely novel musical territory. The 21-year-old's style is hard to pin down, somewhere between swaying R&B and melancholy indie folk. But her outlook is all self-love and acceptance. Entering 2022 on a wave of momentum, expect to hear Arlo Parks everywhere in 2022.
13. Babba Rivera, CEO and Founder of Ceremonia / @babba
As a Latinx woman who grew up in Sweden, Babba Rivera has many wells of creativity from which to draw. As an entrepreneur, she helped launch Uber in Sweden, founded her own branding agency, and was Director of Brand Marketing at covetable luggage startup Away. But after all of that success, Rivera has now turned her attention to the beauty industry. As the founder of Ceremonia, a clean hair care line derived from Latin American ingredients, Rivera's heritage is at the heart of the operation.
14. Destinee Ross-Sutton, Art Curator and Gallerist / @desti.knee
The art world may, from the outside, seem like an impenetrable fortress for new voices, but 26-year-old gallerist, art advisor, and curator Destinee Ross-Sutton, owner of the Ross-Sutton Gallery in New York, has been navigating it splendidly. At her gallery, she elevates and showcases the work of new artists, particularly those of the African diaspora. Through her work as an advisor, Ross-Sutton empowers BIPOC, LGBTQIA+, and women artists to have more agency over their outputs and contracts. And as a curator, she is changing the landscape of the art world through shows like her recent exhibition at Miami's Art Basel, titled "Black Excellence / Black Elegance," which showcased original works by 11 Black artists from around the globe and was one of the most lauded events at the festival. Ross-Sutton is a champion for artists, and while her impact on the art world has already been huge, there appears to be far more where that came from.
15. Shayla Oulette Stonechild, Host and Founder of Matriarch Movement / @shayla0h
As a Mètis and Nehiyaw Iskwew woman from Canada's First Nations, Shayla Oulette Stonechild knows that amplifying the voices of Indigenous women also requires a focus on mind and body wellness. Through her trauma-informed yoga practice, Stonechild founded Matriarch Movement, a nonprofit that both highlights the work and experience of Indigenous women and offers wellness workshops to BIPOC across Canada. Stonechild also hosts the Matriarch Movement podcast, telling the stories of how Indigenous women reclaim their power, and bringing difficult but important conversations to the fore. By creating a mainstream avenue to bring together the world of wellness with the unique and personal experiences of BIPOC, Stonechild is facilitating necessary change within her own community and beyond it.
16. Lolo Spencer, Actress and Activist / @itslololove
If you, like us, can't get enough of the addictively funny and surprisingly real HBO Max series The Sex Lives of College Girls, then you already know Lolo Spencer, who plays the role of the roommates' hilarious (but supportive!) friend Joceleyn. Unsurprisingly, in real-life Spencer is also extremely fun, as evidenced by her good-natured, extremely chic Instagram. What's more, Spencer is a disability rights activist and founder of Sitting Pretty Productions, a production company that aims to showcase authentic stories of those living with disabilities and combat ableism. As the host of the podcast "Sitting Pretty: The New Narrative" and with The Sex Lives of College Girls renewed for a second season, expect to see, and hear, a lot more from Lolo Spencer in 2022.
17. Cami Téllez, Founder of Parade / @cami.tellez
As the founder of Parade, the cult-favorite sustainable underwear brand, Cami Téllez makes doing the impossible look easy. She was still in undergrad when she co-founded the company, which makes size-inclusive, recycled, ultra chic undergarments at affordable price points. In a market where supermodel-branded, mass produced underwear had become ubiquitous, Parade opted for comfortable styles, inclusive marketing, and sustainability. In so doing, the company appeals to pretty much everyone: The brand has sold over 2 million pairs of underwear since its launch, has a dedicated online follower base, and shows no sign of slowing down. And as a Latinx female founder in a rapidly changing industry, Téllez isn't slowing down either.
18. Leah Thomas, Writer, Activist, and Founder of Intersectional Environmentalist / @greengirlleah
Environmentalism is as much about protecting people as it is about protecting the planet. Showing that these two goals are intertwined is at the core of Intersectional Environmentalist, the nonprofit community founded by writer and activist Leah Thomas in June 2020. Inspired by the Black Lives Matter movement, Thomas's work centers BIPOC voices within the environmental and climate justice movement, and offers resources and support to those who are trying to create change in their own communities. The Southern California-based Thomas has been a vocal advocate and author on topics of environmental justice, race, and sustainability, and her first book, The Intersectional Environmentalist: How to Dismantle Systems of Oppression and Protect People + Planet comes out on March 8, 2022.
19. Shaandiin Tome, Director and Cinematographer / @shaandiin
Cinematographer and director Shaandiin Tome can hear stories that others might ignore, and then tells them with grace and humanity. Based in Albuquerque, New Mexico, Tome's work captures the often unseen moments of indigenous communities throughout the U.S. Drawing from her perspective as a Diné woman, Tome's films have already established a stark, resonating iconography for her cinematographic talents. Her short narrative film 'Mud (Hashtł'ishnii)' premiered at the Sundance Film Festival in 2018, and she was a 2021 Women at Sundance Adobe Fellow. In 2022, Tome and her co-director Rayka Zehtabchi will premiere their short film Long Line of Ladies, which follows the story of a girl preparing for her coming-of-age ceremony in the Yurok and Karuk tribes of Northern California, at the Sundance Film Festival.
Anyone who's lived in a big city can relate to the dread that comes with realizing you need to do laundry. Most city-dwellers don't have a washer and dryer in their homes, and that means a schlep to the nearest laundromat, where it's like Russian Roulette to see whether your clothes will actually get clean, or whether they'll come out with mystery stains or smells or, worse yet, be outright taken if you should leave them unattended. Sisters Corinna and Theresa Williams had experienced this, and decided to find another way. They founded Celsious, a Brooklyn-based reinvention of the community laundromat that does so much more than just cleaning clothes. The sisters created a bright, airy space that prioritizes eco-friendly laundry services, ranging from do-it-yourself to expert stain-removal. Celsious also offers spaces to mingle, work on a laptop, or just have a cup of coffee as your clothes dry. Their modern, thoughtful touches make laundry less of a chore, and much more of a fun, social activity to eagerly anticipate.
21. Raquel Willis, Writer, Editor, and Activist / @raquel_willis
Already a widely-respected writer, editor, and thought leader on issues of race and gender, Raquel Willis is just getting started. Formerly the national organizer for the Transgender Law Center and executive editor for Out magazine, and currently the director of communications for the Ms. Foundation for Women, Willis uses her platform to uplift the voices of transgender women. She founded Black Trans Circles, a program with the Soros Equity Fellowship and the Transgender Law Center that seeks to develop the leadership of Black trans women in the South and Midwest and facilitate community organizing and healing. And in 2022, Willis will continue her work as an activist, an advocate, and a powerful voice for change.
Click here to read the full Creators Issue.
Letter From the Editor
---
Marie Claire email subscribers get intel on fashion and beauty trends, hot-off-the-press celebrity news, and more. Sign up here.