10 Non-Models Try "Sexy" Halloween Costumes
You, too, can be a Sexy Pizza. 🍕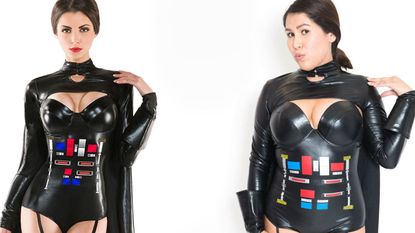 (Image credit: Yandy / Kathleen Kamphausen)
Cosmopolitan.com asked 10 women to try on "sexy" Halloween costumes and strike their best "sexy" Halloween costume modeling poses. The results were, in a word, amazing. Sexy costumes, it turns out, look great on absolutely everyone.
"I found the idea of this costume so wonderfully hilarious that I wasn't even that nervous about having my boobs out for the first time in 30 Halloweens. It was basically just a surprisingly supportive bathing suit with googly eyes."
Sexy Jellyfish Costume, YANDY, $130
"I felt like I was wearing hardly anything, but I was confident. Well, as much as anyone who is perpetually awkward can be."
Sexy Olaf Costume, YANDY, $37
"Wearing that Darth Vader costume made me feel kind of like a badass. I felt good, which I didn't think would be the case since it looked ridiculous on the site."
Sexy Darth Vader Costume, YANDY, $57
"I have never worn a sexy costume before because the women in the ads seem to take themselves too seriously and I like to have fun, but anything can be fun if you want it to be."
Sexy Shark Costume, YANDY, $120
"That costume was so silly that I didn't feel any pressure to look sexy, so, if I did look sexy, it was purely by accident."
Sexy Taco Costume, HALLOWEENCOSTUMES.COM, $45
"The huge hood made it hard to see."
Sexy Goldfish Costume, HALLOWEENCOSTUMES.COM, $39
"It was warm. I liked that."
Sexy Patrick Star Costume, YANDY, $95
"Talk about a hot slice! I'm just a sexy piece of pizza, looking for my New York subway rat."
Sexy Pizza Costume, YANDY, $70
"At least I could wear my bra underneath this one!"
Sexy French Fries Costume, YANDY, $48
"My Halloween costumes are always handmade and un-sexy, so I was nervous that this experiment would require me to put on spandex and pose with sexy-face — two things that fill me with dread. But I loved being a sexy piñata. You can tell I'm having fun wearing it, and I think that's what makes it sexy, even if it's not sexy sexy."
Sexy Piñata Costume, HALLOWEENCOSTUMES.COM, $39
"I literally couldn't stop making terrible puns about how I felt so hot I could pop. And what's sexier than a lame sense of humor?!"
Sexy Popcorn Costume, YANDY, $45
"Believe it or not, this was my first time dressing as a lobster."
Sexy Lobster Costume, HALLOWEENCOSTUMES.COM, $65
"Chance of me wearing this out? Zero percent. Chance of me wearing this robe on my couch? One hundred percent."
Sexy Yoda Costume, YANDY, $170
"If the shorts zipped up far enough to cover my butt crack, I might actually wear this on Halloween just so I could run around calling all my enemies losers."
Sexy Donald Trump Costume, YANDY, $70
"Never in a million years would I wear this. I fell down while putting this on and taking it off, and while trying to pose in it. The hat was cozy though."
Sexy Minion Costume, YANDY, $60
"I felt like a sausage. A hot sausage who makes eggs taste really good, but still a sausage. I did text a photo of myself in this to my boyfriend, who told me I looked hot. Not sure if he meant hot like sexy or hot like a bad pun about hot sauce, but I'll take it either way."
Sexy Sriracha Costume, YANDY, $30
Marie Claire email subscribers get intel on fashion and beauty trends, hot-off-the-press celebrity news, and more. Sign up here.
I'm 30 percent bunnies, 40 percent of the time.