Dressed to Thrill: Elle Fanning in D&G
Our chic celebrity outfit of the day.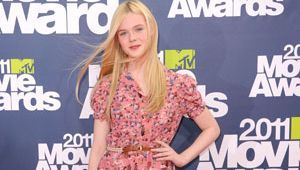 (Image credit: Jason Merritt/Getty Images Entertainment)
With a leading role in J.J. Abrams' much-anticipated Super 8, enviable designer connections (Rodarte's Mulleavy sisters love her!), and a definite in with the Coppola clan (will she be at Sofia's upcoming nuptials?), everything's coming up roses for Elle Fanning.
Appropriately, Dakota's little sis chose a colorful floral romper from D&G's Spring 2011 collection for the MTV Movie Awards, which she belted at the waist for an age-appropriate, summery ensemble. While stilettos would have looked a bit risqué here (Elle's only 13, people!), the Somewhere star's printed platform wedges are spot-on.