New Study: Women Are No Longer Afraid of Fashion
Dr. Hazel Clark reveals how shoppers aren't concerned with getting trends right or fitting in.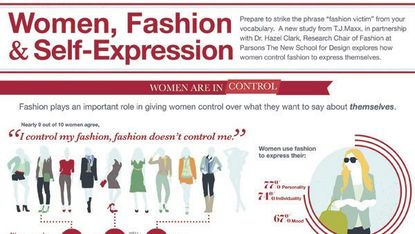 (Image credit: Archives)
According to a new study, most women — a staggering 87 percent — feel in control of fashion. No, it's not a mind-blowing breakthrough, but it definitely showcases a shift in power. In decades past, trends ruled the world, and women felt silted by style profiles. They could be classic or trendy, but not both. And they definitely consulted their closets every morning with the express purpose of "fitting in."
Now, the study — which was released this morning by off-price retailer T.J.Maxx in partnership with Dr. Hazel Clark, the research chair of fashion at Parsons the New School for Design — reveals that most American women dress for themselves and more than half are interpreting trends in their own way and are constantly evolving their personal style. In fact, nearly two-thirds of women who described themselves as "classic" also considered themselves to be "trendy."
We asked Clark to elaborate on the results (see the infographic above for even more stats) and share just how a woman's need for self-expression is changing the way we interpret style.
What's the big takeaway from this study?
The findings clearly show that women are feeling empowered by fashion, not confined by it. They see it as a creative outlet that allows them to express who they are, not what's on the runway or a mannequin. They aren't looking for some cookie-cutter approach to shopping or to copy a head-to-toe look.
So, you're finding that women are less fearful of "Fashion with a Capital F" — that they aren't as concerned with getting a trend right and more interested in dressing how they want?
The development of personal style has always been important — as a key to dressing well and confidently. Today there are so many more fashion choices and resources, which give women more freedom to make a look their own. The study clearly shows that women are feeling in control of their fashion and interpreting trends, which was true across the country. It's fashionable to be an individual, and real women are being elevated and celebrated for their personal style. That's why we see them moving away from formulaic shopping experiences to those which give them the freedom to make the trends their own with more possibilities to self-express.
You mention "across the country." Here in New York, we've always been at the forefront of the latest fashion trends, but our friends in the middle of the nation used to always have to wait months for a trend to make its way to them. Has that playing field been equalized?
Absolutely. The internet has made trends so much more accessible to women across the country in real time. There's been a surge of industry influencers, from designers to fashion bloggers to style experts that are sharing a variety of ways to interpret a trend, mixing high and low fashion. The resources are infinite and stores like T.J.Maxx make these sought-after designer items accessible to all women. It's the combination of on-trend, quality, and value that can turn aspirational fashion into attainable wardrobes.
With this newfound fashion freedom, is there any cause for concern? If we're no longer concerned with what's "on-trend" will we potentially fall into some style pitfalls and fashion faux pas?
Women — and men! — do not dress in a vacuum. They know they are going to be seen by others, in a given context, and will be aware of what's appropriate based on the occasion, who they're seeing, and what they want to portray. We found that this provides a guide for decision-making when getting dressed.
Marie Claire email subscribers get intel on fashion and beauty trends, hot-off-the-press celebrity news, and more. Sign up here.