4 Women Open Up About Living With Chronic Pain
We all experience aches and discomfort from time to time. But what's it like to be in agony every single day? Learn how these individuals cope.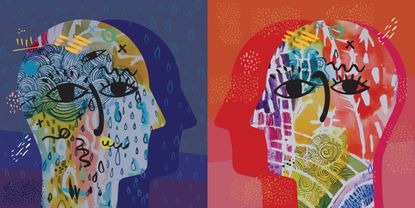 (Image credit: Contributor Content)
One in five. That's the number of adults in the U.S. who live with chronic pain, according to the Centers for Disease Control and Prevention (CDC). Unlike acute pain—which comes on suddenly and is triggered by something specific like, say, a cavity, a broken bone, a burn, or a cut—chronic pain is ongoing. And it can be caused by a number of conditions, from migraines, and arthritis to multiple sclerosis and even cancer. The women below offer a glimpse into what it's like living with chronic pain day in and day out. Read their stories to realize you don't have to suffer alone.
"I had to make some profound changes to cope."
Radiologic technologist, Macy Owen, was only 22 when she was diagnosed with rheumatoid arthritis (RA), an autoimmune disease in which the immune system attacks healthy cells in your body, causing painful swelling wherever it strikes (usually in the joints and, often, many at once). Knowing that lifestyle plays a part in helping to manage and minimize flares, she overhauled her diet, exercise, and sleep regimens. She now gets at least seven and a half hours of shut-eye a night; focuses on activities like yoga or Pilates that she enjoys so exercise is more of a like-to-do rather than a have-to-do; and she follows a nutrient-dense plant-based diet.
The incentive to stay on track is powerful for the now 27-year-old, living in Knoxville, TN. "When I have an off day and go crazy on chocolate, the joint pain can be so intense that it wakes me from a dead sleep," says Owen. "I also notice it first thing in the morning. My stiffness lasts double the amount of time it normally does."
Granted, she has to work a little harder to do some of the things she used to do without hesitation—whether it's opening a jar or running a mile—but she reminds herself of all the things her body does allow her to do. "RA may be chasing me," she says. "But it will have to catch me first."
"I ground myself in rituals like journaling, meditation, and reading."
Shivika Sinha, 36, of San Francisco, CA, spent the early days of the pandemic bedridden, but not for reasons having to do with COVID-19. She was in the final trimester of her first pregnancy, and was experiencing intense pain—the result of what she learned was pubis symphysis dysfunction. This condition occurs when the pelvic joints become stiff or move unevenly causing pain that can affect your mobility. Therefore her doctors ordered bed rest for her final weeks. To make matters worse, she was simultaneously trying to keep her just-launched business afloat. (She's the founder of Veneka, a sustainable, ethical, and cruelty-free wardrobe styling service.)
Even after giving birth, Sinha's discomfort persisted. "I was in chronic pain my first year postpartum. My pelvic issues caused constant sciatic pain, lower backaches, and more, "she says. Nursing both a newborn baby and a business in its infant stages didn't automatically take her mind off the shooting pain that radiates through her body with even the slightest movement. So she put into practice a simple, but effective strategy. "Each day, I made it my intention to be present with joy, love, and stillness," says Sinha. "From my baby's giggles to small wins at work, I savored such moments as a reminder that daily life is magical and more beautiful than pain."
"I've learned to become a medical detective, tracking symptoms and my behaviors."
Sonia Frontera, a 57-year-old attorney in Lambertville, NJ doesn't have just one chronic condition; she has several. These include a rare autoimmune disorder called relapsing polychondritis that causes pain and swelling of the ear, nausea, and dizziness; chronic migraines; and myofascial pain syndrome that causes tinnitus, or TMJ, and neck and wrist pain. Imagine having "a head full of crickets while your eyeballs are being pierced with an ice pick" and you've got an idea of the pain Frontera experiences on a regular basis.
Yet as bad as the physical symptoms are, it's the emotional aspects of living with chronic pain that she finds most difficult. "When your condition is 'invisible,' people often dismiss your symptoms as hypochondria," she says. "Being misunderstood and judged can be devastating." Over the years, she's learned to be her own healthcare advocate. Her advice to others experiencing chronic pain? "Be a medical detective," she says. "Keep track of your symptoms and try to correlate the symptoms with your food intake, activities, or moods." Then share that info with your healthcare team.
"It's hard for others to understand what it's like to live with pain every day."
For 20-plus years, chronic pain has been Lacy Smith's constant companion. The wife and mother of two, based in Phoenix, AZ, was diagnosed with psoriasis, a skin disease that causes red, itchy scaly patches, and interstitial cystitis, a painful bladder condition. To help the people in her life understand what that's like, she uses what's known as the spoon theory. "I have only a certain number of spoons each day—each spoon represents a certain amount of energy or mobility," explains Smith, who is now 39 and works as a physical therapy assistant. "Some days I wake up with one spoon; some days I wake up with 15. I have to divvy those up each day depending on what I wish to accomplish." For instance, "if I have something important to do with my family, I need to make sure I save all my spoons for that event or the rest of my day could be shot." Structure and schedules are key. "It took me years to figure out that trying to keep my schedule completely open left me more opportunity to overdo things," she says.
Celebrity news, beauty, fashion advice, and fascinating features, delivered straight to your inbox!