My Work Was Sidelined By Rheumatoid Arthritis—So I Reimagined My Career
When her rheumatoid arthritis forced Kat Elton, 52, to quit the work she loved, she found a new calling. Here's her story.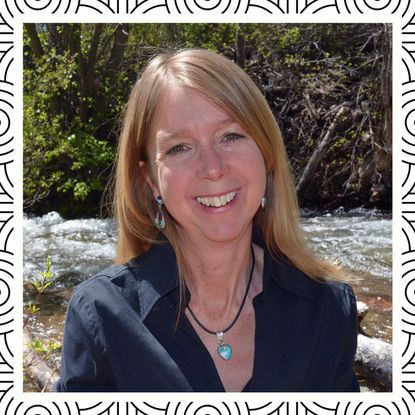 (Image credit: Contributor Content)
Marie Claire Newsletter
Celebrity news, beauty, fashion advice, and fascinating features, delivered straight to your inbox!
Thank you for signing up to Marie Claire. You will receive a verification email shortly.
There was a problem. Please refresh the page and try again.
I'll always remember the moment I knew I'd become an occupational therapist. I was a senior in college and had signed up for a program that allowed me to shadow a handful of occupational therapists at Rusk Rehabilitation Institute in New York City. I immediately fell in love with the thought of helping people in this way.
It's not so surprising when you consider that I've been seeing physical therapists and occupational therapists for as long as I can remember. I was diagnosed with juvenile rheumatoid arthritis, or RA, when I was just two years old, which means I don't remember a time when the struggles that come along with an RA diagnosis weren't a part of my life. Rheumatoid arthritis is a chronic inflammatory disorder affecting many joints, including those in the hands and feet, and it can cause painful swelling, and in severe cases it even can attack internal organs.
As anyone with RA will tell you, the disease will humble you. I dealt with bouts of intense pain that made it hard to find any semblance of normalcy throughout my childhood and young adult life. I really struggled socially in college, because my symptoms sidelined me from much of what my peers were doing. So when I found my calling as an occupational therapist and pursued that path, it was a game changer. I realized that I could do something that would help other people who were struggling with similar challenges to my own.
The pain becomes debilitating
For 10 years, I worked as an occupational therapist in an outpatient setting at a nursing home. I truly loved every minute of my job. I was in remission at the time, and I was young and healthy enough that my RA never got in the way of my work.
But like most people with this chronic condition, the medication that had helped me get into remission stopped working as effectively. Over time, my symptoms started to creep back with a vengeance. I'm talking about extreme swelling in my joints, to the point where it looked like there were two grapefruits under my skin where my knee bones should've been. And along with debilitating pain came extreme fatigue—a combination that didn't exactly make my hands-on job easy. I even had a colleague suggest I use a walker to get around because I was struggling so much.
A few days later, I had a doctor's appointment and I mentioned to my doctor that it was becoming really challenging to work. Her mouth gaped open. "You're working?" she asked. "No. You can't work right now."
And she was right—soon after, my RA became too much. I had to give notice at my job and I went on disability.
While being forced to take a break from work may sound great, it's not. I was devastated. When you have a job to go to every day that fulfills you, it adds so much to your life—even if that job isn't perfect. So when that's taken away from you, it's like you have this hole you're constantly trying to fill. I've come to learn that there are lots of misnomers around people on disability; the truth is that many of us who are disabled really do want to work.
Figuring out a way to pivot
In the moments when I had a reprieve from my pain, I did a lot of thinking about what I loved most about being an occupational therapist What I realized was that education was a big part of it, and helping people help themselves— even if I couldn't work in a therapeutic setting. What's more, the most meaningful interactions I had with my patients almost always happened when I shared with them that I too live in pain, and understood what it was like to walk in their shoes.
I discovered that I could still do this work and take care of my body by writing about my illness. I started freelancing for RheumatoidArthritis.net—an online community for RA patients and caregivers to learn, educate, and connect with peers and healthcare professionals—and used the experiences I had as an RA patient to help others by giving them tips and tricks that worked for me along the way. I also wrote two books: A Resilient Life: Learning to Thrive, Not Just Survive, With Rheumatoid Arthritis and True Health: The Inside Job.
My advice for those derailed by a chronic illness
Having to give up the career I loved so much and pivot to a completely new one wasn't easy, and I learned some hard-won lessons along the way. When people ask me for advice on managing RA in the workplace, here's what I tell them.
Learn how to advocate for yourself.

The fact is that when you have RA or another chronic condition, you will very likely need some special accommodations to tee yourself up for success. And the more you're able to acknowledge this and be up front about your physical needs with your manager, boss, and coworkers, the more sustainable your career can be.

Remember that flexibility is helpful.

I often tell people that RA is always one step ahead of you, which means you not only have to ask yourself how your body is doing today but also anticipate how you will feel tomorrow, and the next day. If you have a job that offers some flexibility, you'll be better able to adjust your work and schedule as needed.

Prepare yourself for some trial and error.

In an ideal world, you'd know exactly the kind of work and work setting that would help you shine. But in reality, living with RA means there will likely be a bit of a learning curve. So ask yourself some questions: Do you need to work from home part-time? Would having every Friday off give your body the extra recuperation time it needs? I've learned I need what I call a "speed bump" in the middle of every day, when I lie down for an hour. This took me a while to figure out—and the aha moment came after years of pushing myself too hard and dealing with more pain as a result. But now that I know it's what I need to do to thrive, I make sure to take that speed bump break every day.
Rheumatoid arthritis is the kind of disease that takes so much from you. But it's amazing when you find a way to give back to yourself. And what I know for sure is that pursuing your passions and doing work you truly care about can do that, even if it has to shape-shift over the years.
Celebrity news, beauty, fashion advice, and fascinating features, delivered straight to your inbox!