Kick It
Terri Trespicio goes toe-to-toe with the Radio City Rockettes to see what it takes to survive the ranks of America's most famous dance troupe.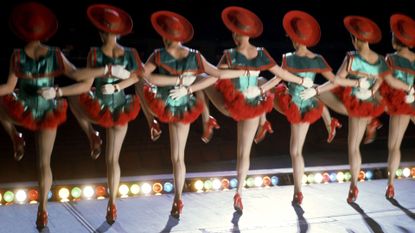 (Image credit: NBC/Getty Images)
For some, the smell of a classroom or a newly waxed basketball court triggers a queasy adolescent memory. For me, it's the scent of a dance studio — the complex aroma of wood floors and distilled sweat, which hits me square in the face as I enter the rehearsal area backstage at Radio City Music Hall. Suddenly I'm 18 again, auditioning for my school's dance group and not making the cut, wishing I had a bendier body, pointier toes. Yet, given the current dance fitness craze — from ballet-barre conditioning to pole-dancing mania — I've decided to take on the mother of all of those workouts combined: a real-life Christmas Spectacular rehearsal with New York City's very own Rockettes.
I'm in a large studio surrounded by lithe, leggy women who look like they've never even once succumbed to a pint of Chunky Monkey. After sliding on a pair of standard-issue silver character shoes (very Dancing With the Stars!), I stand self-consciously beside them, peering into the wall of huge mirrors, singing Sesame Street's "Which one of these is not like the others?" to myself. The girls are sweet and smiling — yet they've eaten other dancers for breakfast, beating out the more than 500 who audition each season for their own spot in the cast of 80. It's more than a bit intimidating.
I observe the warm-up, which seems to vary according to individual dancer. Planks and crunches are popular — "they fire up your core," one dancer explains, which is key to staying balanced when one leg is straight up in the air. There are also neck stretches and shoulder rolls, hip and knee rotations, and the "bottoms up," where you hang forward with legs together, then bend and straighten your knees, raising your butt into the air in rhythmic fashion to prep your hamstrings. I try to mimic the motion but manage to look more ugly duckling than swan.
Once the blood is flowing, we plunge right into "Let Christmas Shine," the Rockettes' finale. An instructor calls out the moves: "Step, swivel, shoulder-shoulder-shoulder, step, piqué, turn ... " I feel the sweat blooming along my brow — and we've only just begun. Then we practice the same steps to music, which, by the way, is a total game changer — the moment I think I've got it, the soundtrack jacks us up to hyper-speed. Suddenly, we break into the trademark kick line. I take my place in the row as they breeze and I stumble through the waist-highs and eye-highs for which they're famous. It's been nearly 15 years since I've attempted such an outrageous thing, but I soldier on. The repetition and sheer force of these moves help explain the dancers' insane leg muscles, which somehow remain long and sleek, with nary a bulky thigh among them.
It quickly becomes apparent that this is also a brain workout: As if learning the steps isn't enough, each Rockette has to memorize her place onstage at each point in every routine in the show, marked by numbers along the front of the stage that correspond with the Rockette formations. So what seems to effortlessly flow across the stage is in fact a series of plotted points on an x/y graph — which brings me closer to math than I care to get. As I fall in and out of various plot points, my head is throbbing and my muscles are starting to fail. After a few hours of this nonsense, we mercifully break for the day.
Once practice is over, I quiz the dancers, curious to know more about their demanding schedules. These athletes have a training schedule that would make Tracy Anderson curl up into a ball and weep. For the duration of the eight-week performance season, the Rockettes do up to five 90-minute shows per day for six straight days, with an average of 17 to 25 shows per week. Oh, and during the six weeks prior to showtime, they rehearse for six hours a day — in those shoes, no less. Ice baths and injuries are extremely common. In between rehearsals and shows, they fuel up on PB&Js, thanks to the one-two punch of protein and carbs for energy, which they wash down with gallons of coconut water (the high potassium content helps prevent dehydration and muscle cramps) and, of all things, candy, for the occasional quick energy boost. "Greens make you bloat," one dancer warns.
But despite the blistered toes, stiff necks, and shin splints, the Rockettes remain ruthlessly cheerful, emitting an otherworldly glow, as if they weren't raised in Oneonta and Richmond, as they claim, but shipped in straight from the North Pole. Before I limp away, I have to know how they keep those 80-watt smiles going for hours on end. Vaseline on the teeth? Collagen injections? It's far simpler: practice. "It's a muscle," says one dancer. "You have to train it." If there were an Olympics for beaming, these girls would take the gold.
Celebrity news, beauty, fashion advice, and fascinating features, delivered straight to your inbox!