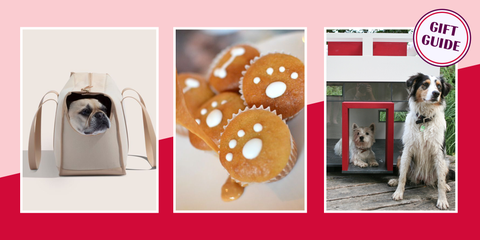 I have a theory that buying presents for your dog is an act of self-care. Hear me out: Nothing beats the naked glee on a dog's face when you unwrap a new toy and present it to him or her with a flourish. Better yet, you get to bask in the smug feeling that you are the cause of that much joy. Which makes me the perfect person to talk about the best gifts to buy for your dog, in my biased opinion, because I've long been hooked on the high of buying presents for my dog for no reason at all. Hi, my name is Jenny, and I have a problem.
Sure, your dog doesn't really understand what a present is. (Or, your friend's dog, your grand-dog, your god-dog-son, your friendly neighborhood dog—there are lots of good boys and girls out there to buy gifts for.) But you do, just like you know that this dog deserves the whole world and then some. Whether you're buying a gift for your dog, or for your own self-care and using your dog as a proxy (I repeat: totally a thing), or a combination of the two, here are some tried-and-tested products your pup will love.
K&H Pet Products
amazon.com
This is a heated dog bed. A heated. dog. bed. The in-built heater (which you can remove in the summer) keeps the bed cozy for your pup all day long, but only really warms up (enough to match your dog's body temperature) when he or she gets in. If your dog is a little older and suffers from joint problems or other chronic pain, the warmth might be especially soothing.
P.L.A.Y. Pet Lifestyle and You
chewy.com
$47.41
Look me in the eye and tell me this collection isn't the cutest thing you've ever seen. Imagine the Instagram opportunities! (I see you hitting that SHOP IT button. It's fine.)
Fable
fablepets.com
$60.00
What to give the dog that has everything? A rose gold leash made of lightweight leather sourced from Spain, that's what. This Fable leash (which you can get as part of a matching walking set if you so please) is designed with a "no-pain" philosophy: it helps curb bad behaviors without hurting or choking your pup.
4
A Personalized Prayer Candle
GoSaintYourself
etsy.com
$27.00
This GoSaintYourself prayer candle, featuring my dog Skipper, is everything I could have dreamed and then some. I got to pick from a variety of prayer candles, inscribe his name in religious-looking script at the bottom—that part isn't shown in the photo, but it's fantastic—and they did such a great Photoshop job that I could hardly tell between my dog and an actual monk. And it was less than $30!
I'm low-key obsessed with Wild One, a new pet apparel line that prides itself on being simple, well-built, and gorgeous. Dog basics tend to fall into two categories: Cheap and kitschy, or completely out of your price range (a $1,700 Gucci dog bag, anyone?). Wild One is a mid-market label that sells only nine products—one harness, one leash, one poop bag carrier, etc.—but every item is aesthetically stunning and built to last. If this dog carrier is too small to house your pup, I also love Wild One's chunky flex-poly collar.
6
Breath Freshening Bones
I and Love and You
iandloveandyou.com
$5.99
When your dog has a hot date, or you're just really tired of stinky breath, try these I and Love and You bones. They'll give your pup something to chew on (quite literally), and leave him or her with minty-fresh breath. Something to prep your dog with before you introducing him or her to your partner's parents, for example—nobody wants to be that smelly dog's owner, amiright?
Shed Defender
Amazon
$39.99
I first spotted the Shed Defender on Shark Tank, but I don't know whether its founders got a deal or not because I was too busy buying one on my phone. Originally designed to stop your dog from shedding in the car, on the couch, and, well, everywhere else, the Shed Defender people quickly learned that dogs also love the feel of it. The snug fit is thought to reduce your dog's anxiety—like the ThunderShirt, but cuter. My dog wears it to sleep, like adorable doggie pajamas. The onesie comes in nine colors and an impressive range of sizes. Bonus: My lint roller and vacuum cleaner are well-rested.
The iFetch is designed to play "fetch" with your dog so you don't have to get up from the couch, which makes it a gift for your dog and for yourself! The kettle-shaped gadget spits out tiny tennis-like balls to a distance of up to 30 feet, or as close as 10 feet if you're playing indoors. If your dog has a thing for digging, there's also an iDig.
Sure, you could buy an $180+ camera specifically designed to monitor your dog while you're at work...or (life hack alert!) you could just use the "Drop In" feature on Echo Spot. With "Drop In," you can video-chat your dog while you're at work, brunch, etc. (Word to the wise: Your dog will not get over how weird it is when your face and voice suddenly appears on this spherical screen, screeching, "I'll be home soon!")
If you opt to buy an Echo Spot for this use, you also get all the benefits of having an Echo Spot. I use mine as a speaker to play Spotify; a virtual calendar that can tell me what I'm doing that day; and a super-lazy way to check the weather/time/whether I can actually feed my dog that part of my meal.
Whether after the rain (bad), the bath (worse), or rolling in the mud (all-time worst!!), this lovely "dog robe" will keep your pet cozy while he or she dries off. Also, your damp pup won't leave dog butt–shaped wet patches everywhere.
If you rescued or adopted your dog, you probably don't know exactly what breed he or she is. Annoying, since a stranger asks you what kind of dog you have every single time you're walking him. (Brooklyn, I'm looking at you.) The Embark DNA test is on my Christmas list both for myself and for everyone I know with a dog, because I can't imagine a better gift than having a firm answer for these well-meaning passers-by. You just swab the inside of your dog's cheek and send the sample off for testing; you'll get your digital DNA results (complete with a dog family tree!) just a couple weeks later.
The moment I felt a chill in the air, I took to Amazon to find a top-rated jacket for my pup (I didn't have a winter coat for myself at the time, but, you know, priorities). This cute fleece-lined shirt comes with a detachable hood, just in case you have the kind of dog that tolerates wearing a hood (if so, I'm super jealous). It's cozy, machine-washable, and will match your own outfit if you're into buffalo check. Need I say more?
It's freezing cold out, but your dog loves to sniff and dig things up. What to do? May I present: the Snuffle Mat. You can even serve your dog its food via tossing it in, and your dog can "sniff out" its food and get a nice dose of mental exercise that way. Plus, it has an adorable name.
Boomer & George
Amazon
$370.00
If you have the square-footage, you can get a dog house so your pup (or pups) have a space to call their own. Many dogs like a small, dark, cuddly space to spend their downtime in—it's a holdover from their time as wild animals, and also why crate training is so effective—so why not gift them, you know, an actual mini-home?
PetSafe
chewy.com
$154.95
Okay, this isn't a gift for your dog—your dog will hate this—but it is the best present you can get yourself if your dog has a tendency to behave badly. The collar is billed as the humane alternative to a shock collar (which zaps your dog with a low-level electric shock), because it sprays citronella or water in your dog's face instead. Fun fact: Dogs hate being sprayed in the face.I recommend this version, which comes with a remote you can use to either spray your dog (very bad!) or beep your dog (don't make me spray you!). It is incredibly effective. When my dog hears the beep, he jumps away from whatever he's doing or eating (oh, God, please not the spray!). Thank you, citronella collar gods.
Why shouldn't your dog get to enjoy the CBD boom, too? These treats are packed with phytocannabinoid-filled hemp oil, which will help relieve any pain your dog has, and also will make him or her feel really...really...relaxed.
I have spent more money on dog toys of the "please stop bugging me so I can take a nap" variety than I care to admit. This one keeps my high-energy pup occupied the longest. You just toss some good-smelling snacks into the toy, twist it closed, and hand it over to your dog, who will spend the next God-knows-how-many-hours trying to twist it open. Dogs don't have opposable thumbs (ha!), so this is hard to do, meaning you can get plenty of good nap time in.
18
A Dog Stroller to Attach to Your Bike
If you're a cyclist, you know that it's tricky to take your dog for a spin with you unless he or she fits in a small backpack. Which is why you should get a dog stroller. You can attach it to any bike, and bring your pup along for the ride wherever you go. Because what are you if not your dog's full-time chauffeur?
19
A Peanut Butter Cupcake
PupCakes
The Dog Express
$15.50
It feels deeply unfair that such a delicious-looking cupcake was formulated specifically for dogs and not for humans, but if you can stand the jealousy, it might be the prettiest thing your pup ever eats.
20
A Really, Really Extravagant Dog Home
Best Friend's Home
$3,995.00
This modern dog house is utterly ridiculous, and I love it. Crafted in Germany and inspired by Bauhaus architecture (lol), it's made from varnished wood and glass panels. Did I mention it'll set you back a casual $4,000?
California Costumes
Amazon
$12.45
Hi? Hello? Anyone home? I'd like to drop off a gift for a very good boy, please.
•••
For more stories like this, including celebrity news, beauty and fashion advice, savvy political commentary, and fascinating features, sign up for the Marie Claire newsletter.