Roborock's Dyad Wet-Dry Vacuum Is a Total Game-Changer
It's a sleek, super powerful solution to all your emergency mess situations.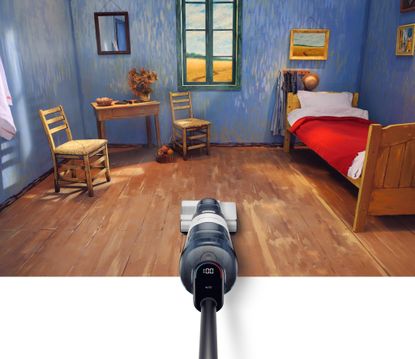 (Image credit: Roborock)
Marie Claire Newsletter
Celebrity news, beauty, fashion advice, and fascinating features, delivered straight to your inbox!
Thank you for signing up to Marie Claire. You will receive a verification email shortly.
There was a problem. Please refresh the page and try again.
Why is it that living a fun and fulfilling life and having a clean house tend to feel mutually exclusive? Obviously the joy that comes from having friends, kids, and pets in your space outweighs any mess, no matter the size, that those folks might make. But that doesn't make cleaning up any more fun.
Fortunately, Roborock has created a novel solution that makes cleaning pretty much any mess that life can throw at you in a fast, efficient, and—dare we say it?—even fun way. Meet Dyad, the wet and dry vacuum that's unlike any cleaning device you've seen before.
Now, if your immediate thought upon hearing the phrase "wet-dry vacuum" is a giant, clunky, and super loud machine that barely fits in your closet, Dyad will be a real wake-up call. Remember that Roborock is the company that brought to market some of the cleverest robotic vacuums ever, and that "thought of everything" ethos is definitely at play in Dyad.
First, the sheer range of Dyad's capabilities are astonishing, especially considering how it all comes in such an elegant and sleek package. With Dyad's dual-roller motor and multi-roller wet/dry vacuum, there is no mess it can't tackle. Even things that used to take several different cleaning techniques—say, a dropped bowl of cereal, or a pet mess—can be handled with just the Dyad. It can even clean up water that got onto the floor post-shower, no need to get your towel dirty.
Second, and speaking of dirt, another downside of wet-dry vacuums is cleaning up the grimy water that gets left behind after you've used them. No one wants to deal with that. So, of course, the geniuses at Roborock handled that aspect too—Dyad sucks the dirty water up and away at the push of a button without the need to "clean after cleaning." Dyad is a one-and-done machine.
Of course, Dyad's design deserves a serious shout-out. It's sleeker than other vacuums that do far less than Dyad does. It can move in 180 degrees, so getting into small spaces is a piece of cake (which is, incidentally, another mess Dyad could totally clean up if it fell on the floor). It's lightweight, easy to maneuver, and small enough to fit in a broom closet without taking up more space than the rest of your appliances combined.
And since it's rechargeable, you can bring it anywhere in your home without having to worry about proximity to a plug. Roborock specifically designed Dyad to be easy to handle so that popping it out in an emergency mess scenario is a breeze.
And best of all, to celebrate Roborock's 8th anniversary, there are some serious discounts on Dyad and other Roborock models. Dyad was always a totally worthwhile investment, but at its current price it's even more of a no-brainer to bring into your home.
Like all of Roborock's products, Dyad makes cleaning so effortlessly easy that you don't have to take your focus off the fun. Because your home should be for enjoying life, not stressing about what a mess it makes.
Check out Roborock's website for purchasing options, and follow them on Instagram and Facebook to stay up to date.
Celebrity news, beauty, fashion advice, and fascinating features, delivered straight to your inbox!