The 6 Best Electric Razors for Women in 2023
For your closest, most seamless shave yet.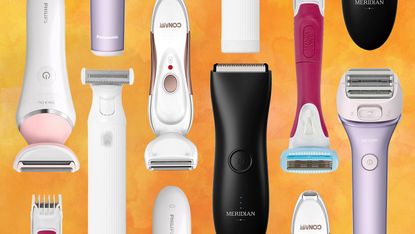 (Image credit: Future; Britanny Holloway-Brown)
Let's talk about hair removal. While you certainly don't need to remove the hair that naturally grows on your body, there are plenty of ways to maintain or remove it if you choose to do so. Some options are more permanent (think: using an at-home laser hair removal device), while others are easy to do on your own, like using a regular old razor the next time you shower.
To that effect, you probably already have what you consider to be the best-ever razor that you love to use on a regular basis. Still—allow me to convince you that you need to pick up an electric razor, too. And no, they're not just meant to be used by men to shave their faces: electric razors can be used to get a closer shave than a traditional razor will, so they're great to have on hand. But don't just trust me—I spoke to Dr. Rachel Nazarian, a New York City-based dermatologist at the Schweiger Dermatology Group, about why electric razors are great tools to keep in your shaving arsenal, as well as how to use them and her favorite picks.
Why to Use an Electric Razor
Before you buy an electric razor and start using it for yourself, it's important to know why and when you may want to use one over a traditional manual razor. Ultimately, it depends on the finished look you're after. "Electric razors tend to pull hair up before cutting, making them a little bit more efficient than manual razors, and require less additional tools, such as shaving cream," says Dr. Nazarian, noting that they might be better for those with sensitive skin because they "don't have as close of a shave as a manual razor," and that manual razors can cause irritation because the blade is in direct contact with the skin.
Think of it this way: If you're trimming or shaving an area on your body (Think: shaving your bikini line or your underarm area if you don't normally shave there), an electric razor is your best bet. However, if you're maintaining a close, smooth shave on your legs, for example, a traditional razor may work better for you.
When to Use an Electric Razor
Dr. Nazarian says that electric razors "can be used on either dry or wet skin, allowing for more flexibility in your routine," she says. However, it's important to note that you'll get a closer shave with manual razors—Dr. Nazarian says that this is because they "have more surface tension as they glide across the skin," while electric razors don't cause the same surface tension.
But how did we choose these very products, you ask? Well, the below electric razors come editor-approved in some cases—I love mine—and top-rated, with hundreds of glowing reviews, in others.
The Best Electric Razors for Women
Best Double-Sided Electric Razor
Schick Hydro Silk 5 TrimStyle Women's Razor and Bikini Trimmer
"This is the electric razor that I keep in my shower at all times. It's double-sided, so it's really the only shaving tool I use in a pinch. It's waterproof which is a huge bonus, and comes with one re-fill of the blade so I don't need to run out to buy a new one once I feel the blade getting dull. I'm a bit forgetful when it comes to using shaving cream, so the hydrating serum in the head of the razor is a godsend, especially in the chilly winter months when my skin is on the dryer side. The electric side also provides a close shave, so all I need to do is one pass with the traditional razor head for a smooth finished result." — Julia Marzovilla, E-Commerce Editor
Pros: Double-sided; Costs less than $20; Waterproof; Editor-recommended.
Cons: Can't replace the battery; Can't be charged.
Customer Review: "The only razor I use. The five blades give you a close shave, without any nicks or cuts even possible. Absolutely the best razor on the market!" — Target
Best Electric Razor With Attachments.
Philips SatinShave Advanced Wet & Dry Women's Rechargeable Electric Shaver
This electric razor from Philips can be used wet or dry, has a rechargeable battery, and comes with four accessories so you can customize your shaving experience, including a trimming comb, a so-called "soft glide cap" for a closer shave. Reviewers say that it has a long battery life, but others say that it doesn't provide a super close shave when compared to a traditional handheld razor, and they recommend that you would need to follow up with a manual razor if your hair is coarser or thicker.
Pros: Rechargeable; Comes with several accessories; Costs less than $40.
Cons: Works better on wet skin than on dry skin.
Customer Review: "Good razor that holds charge well. Says wet or dry but it works much better on thin, sensitive skin when dry (Underarm and bikini areas)." — Target
Best Expert-Recommended Electric Razor
Conair Ladies All-In-One Shave & Trim System
Dr. Nazarian recommends this electric razor from Conair because "the hypoallergenic foils are great for sensitive skin, and it has several different trimmers to pretreat even small areas, like upper lip or bikini." Given the over 1,500 five-star reviews on Amazon, it's clear that shoppers agree. It's battery-operated, comes with several attachments, reviewers say it's painless, and that it causes fewer nicks and bumps. They also note that it doesn't catch your hair as you move over the skin. The brand recommends exfoliating before you go to get the best result.
Pros: Painless to use; Causes fewer nicks and bumps compared to a regular razor; Comes with attachments; Costs less than $40.
Cons: Some reviewers say that it's flimsy.
Customer Review: "Ive owned many trimmers like this over the years and this is by far the best. It operates so smoothly and does NOT catch and pull hairs pr cut you. Excellent value for the money." — Amazon
Best Irritation-Free Electric Razor
This $65 trimmer from FUR (which also makes the best-selling FUR oil for sensitive skin) is wireless, waterproof, and has three blade lengths so you can personalize your shaving experience. "The fur gets very close and I have zero skin irritation," says one five-star reviewer. The blades are actually rounded which minimizes the amounts of small cuts and nicks and is equipped with an LED so you can see where you're going and to reduce the onset of bumps from going over the same area more than once.
Pros: Cordless; Waterproof; Has rounded edges for less nicks and cuts; Has 3 blades.
Cons: Costs over $20.
Customer Review: "This is the best trimmer I've ever used. I love the guards that let you customize the length you can trim too. It works so well and it's great that it can be used in the shower." — FUR
Panasonic Close Curves Electric Shaver
This 4-blade shaver from Panasonic can be used wet or dry, can remove hair in both directions, and is waterproof. With over 41,000 five-star reviews on Amazon, it's clearly a best-seller for a reason. Reviewers note that it's better used on dry skin rather than on wet skin, and that you have to go over the same area more than once to get the best result if you have thicker hair. "This razor DRAMATICALLY reduces the amount of ingrown hairs I get," wrote one glowing review.
Pros: Has four blades; Can be used wet or dry; Waterproof; Can be used in both directions.
Cons: Costs more than $20; You have to go over the same area more than once if you have thicker hair.
Customer Review: "Truly wireless, battery lasted over a month before I needed to recharge it. Love the convenience of no plug because my little one love to pull on wires/chords. Good picture quality, motion alerts and audio. Already ordered another one." — Best Buy
Best Electric Razor for Thick or Coarse Hair
This is me saying that spending $74 on an electric razor (might) be worth it. Available in three colors, this bestseller is made with ceramic blades to handle all types of hair all over the body—but it's especially helpful for coarse or curly hair. It comes with two guides measuring 3-6mm and 9-12mm, and is waterproof for wet or dry shaving. It's cordless and rechargeable, with one charge lasting you 90 minutes of use. The ceramic blades are meant to be safer on the skin and lead to less nicks and cuts.
Pros: Made with ceramic blades that are better for your skin; Waterproof; Rechargeable; Cordless; Ergonomic design.
Cons: Costs more than $30.
Customer Review: "Great trimmer with multiple trimming length options. Easy to maneuver and rechargeable!" — Meridian
Meet The Expert
Rachel Nazarian, M.D., F.A.A.D.
Dr. Rachel Nazarian joins Schweiger Dermatology after years of practicing various aspects of dermatology, including cosmetic treatments, skin cancer, general dermatology and dermatologic surgery.Dr. Nazarian has written many published articles in medical journals as well as widely respected dermatology textbooks, such as Treatment of Skin Disease. Dr. Nazarian serves as a faculty member at Mount Sinai Medical Center's Department of Dermatology, where she completed her dermatology residency. While completing her medical degree at Tulane University School of Medicine, Dr. Nazarian was awarded a grant from the Women's Dermatology Society. Dr. Nazarian is a board-certified dermatologist and Fellow of the American Academy of Dermatology.
Julia Marzovilla is the E-Commerce Editor at Marie Claire, where she covers everything from the latest beauty and fashion launches and sales to celebrity outfits and news. She also creates shopping guides that span every vertical on the site. Prior to joining the Marie Claire team, she contributed similar shopping stories to sites such as Bustle, InStyle, The Zoe Report, Who What Wear, and STYLECASTER. In her spare time, Julia can be found creating shopping guides for all of her friends, spending too much money on yet another pair of black boots, and cooking in her far-too-small kitchen.