Electric Razors Worth the Hype
For your closest, most seamless shave yet.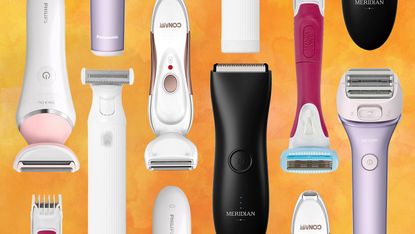 (Image credit: Future; Britanny Holloway-Brown)
Let's talk about hair removal. While you certainly don't need to remove the hair that naturally grows on your body, there are plenty of ways to maintain or remove it if you choose to do so. Some options are more permanent (think: using an at-home laser hair removal device), while others are easy to do on your own, like using a regular old razor the next time you shower.
To that effect, you probably already have what you consider to be the best-ever razor that you love to use on a regular basis. Still—allow me to convince you that you need to pick up an electric razor, too. And no, they're not just meant to be used by men to shave their faces: electric razors can be used to get a closer shave than a traditional razor will, so they're great to have on hand. But don't just trust me—I spoke to Dr. Rachel Nazarian, a New York City-based dermatologist at the Schweiger Dermatology Group, and Caitlin Orszulak, Senior Scientist P&G Grooming—the company behind shaving brands like Gillette—about why electric razors are great tools to keep in your shaving arsenal, as well as how to use them and her favorite picks.
Overview
Why to Use an Electric Razor
Before you buy an electric razor and start using it for yourself, it's important to know why and when you may want to use one over a traditional manual razor. Ultimately, it depends on the finished look you're after and the type of electric razor that's available to you. "Electric razors tend to pull hair up before cutting, making them a little bit more efficient than manual razors, and require fewer additional tools, such as shaving cream," says Dr. Nazarian, noting that they might be better for those with sensitive skin because they "don't have as close of a shave as a manual razor," and that manual razors can cause irritation because the blade is in direct contact with the skin.
Think of it this way: If you're trimming or shaving an area on your body (Think: shaving your bikini line with a dedicated bikini line trimmer or your underarm area if you don't normally shave there), an electric razor is your best bet. However, if you're maintaining a close, smooth shave on your legs, for example, a traditional razor may work better for you.
Where to Use an Electric Razor
"For women, using an electric razor on the pubic area tends to be a popular choice due to the hair in that region being thicker than other places," says Orszulak. This is because the hair in your pubic area tends to be thicker, coarser, and follow a different curl pattern or texture compared to other hair on your body. Electric razors can reduce the risk of ingrown hairs in that area because the hair isn't cut as close to the skin.
"An electric razor also can be easier to control the amount of hair you want to remove, which can differ from person to person—some may opt to only trim around the "bikini line" and keep hair everywhere else, in which case an electric razor is a great choice for," she continues.
Electric razors also are a great option for women who do choose to shave their face and who may not be as comfortable using a traditional razor blade on delicate skin there. "An electric razor is a great solve here [on the face], as it can feel less invasive due to it not having an exposed sharp edge," says Orszulak, who specifically recommends the Gillette Venus for Facial Hair & Skin Mini Hair Remover for the area thanks to its rotary blade design that leaves your skin feeling smooth and irritation-free," she says.
When to Use an Electric Razor
Dr. Nazarian says that electric razors "can be used on either dry or wet skin, allowing for more flexibility in your routine," she says. However, it's important to note that you'll get a closer shave with manual razors—Dr. Nazarian says that this is because they "have more surface tension as they glide across the skin," while electric razors don't cause the same surface tension. If you're planning on using an electric razor in the shower, make sure that you buy one that is waterproof.
Keep scrolling to shop for the best electric razors for women. But how did we choose these very products, you ask? Well, the below electric razors come editor-approved in some cases—I love mine—and top-rated, with hundreds of glowing reviews, in others.
Deals on Electric Razors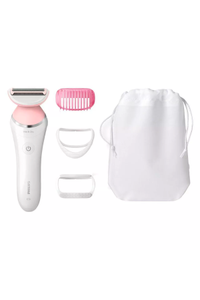 Philips SatinShave Advanced Wet & Dry Women's Rechargeable Electric Shaver, $45 $35 at Target
One of the best-rated electric razors is currently on sale for just $35 down from $45. right now at Target. As one reviewer put it, "The shaver is so easy to use and fits perfectly in my hand."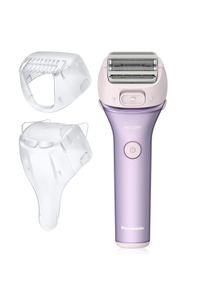 Panasonic Close Curves Electric Shaver, $40 $26 at Amazon
Reviewers love this shaver from Panasonic because it gives a great close shave. "I read some reviews before this purchase and many claim it's the closest shave from a women's electric razor. I must agree, it's quick and easy, shaves close," wrote one reviewer. Shop it now for $26 on Amazon.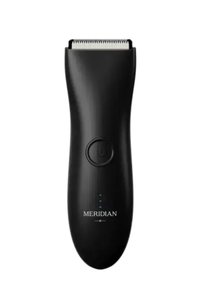 Meridian The Trimmer, $74 $59 at Amazon
This splurge-worthy trimmer is on major sale right now at Amazon for Black Friday. One of the (many) five-star reviews noted that "The trimmer is soft to the touch, feels nice, looks nice, battery last a long time, and most importantly does a fantastic nick free, job even in the hardest to reach places and at weird angles and with lots of skin. 10/10 would recommend and buy again."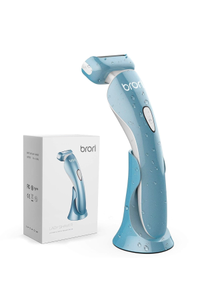 Brori Electric Razor for Women, $36 $29 at Amazon
This electric razor is also on sale for Black Friday right now at Amazon. Shop it for less than $30.

The Best Electric Razors for Women
Best Overall Electric Razor
Conair Ladies All-In-One Shave & Trim System
Dr. Nazarian recommends this electric razor from Conair because "the hypoallergenic foils are great for sensitive skin, and it has several different trimmers to pretreat even small areas, like upper lip or bikini." Given the over 1,500 five-star reviews on Amazon, it's clear that shoppers agree. It's battery-operated, comes with several attachments, reviewers say it's painless, and that it causes fewer nicks and bumps. They also note that it doesn't catch your hair as you move over the skin. The brand recommends exfoliating before you go to get the best result.
Pros: Painless to use; Causes fewer nicks and bumps compared to a regular razor; Comes with attachments; Costs less than $40.
Cons: Some reviewers say that it's flimsy.
Customer Review: "Ive owned many trimmers like this over the years and this is by far the best. It operates so smoothly and does NOT catch and pull hairs pr cut you. Excellent value for the money." — Amazon
Best Wet-or-Dry Electric Razor
Panasonic Close Curves Electric Shaver
This 4-blade shaver from Panasonic can be used wet or dry, can remove hair in both directions, and is waterproof. With nearly 1,000 five-star reviews on Amazon, it's clearly a best-seller for a reason. Reviewers note that it's better used on dry skin rather than on wet skin, and that you have to go over the same area more than once to get the best result if you have thicker hair. "This razor DRAMATICALLY reduces the amount of ingrown hairs I get," wrote one glowing review.
Pros: Has four blades; Can be used wet or dry; Waterproof; Can be used in both directions.
Cons: Costs more than $20; You have to go over the same area more than once if you have thicker hair.
Customer Review: "Truly wireless, battery lasted over a month before I needed to recharge it. Love the convenience of no plug because my little one love to pull on wires/chords. Good picture quality, motion alerts and audio. Already ordered another one." — Best Buy
Best Splurge-Worthy Electric Razor:
This is me saying that spending $74 on an electric razor (might) be worth it. Available in three colors, this bestseller is made with ceramic blades to handle all types of hair all over the body—but it's especially helpful for coarse or curly hair. It comes with two guides measuring 3-6mm and 9-12mm, and is waterproof for wet or dry shaving. It's cordless and rechargeable, with one charge lasting you 90 minutes of use. The ceramic blades are meant to be safer on the skin and lead to less nicks and cuts.
Pros: Made with ceramic blades that are better for your skin; Waterproof; Rechargeable; Cordless; Ergonomic design.
Cons: Costs more than $30.
Customer Review: "Great trimmer with multiple trimming length options. Easy to maneuver and rechargeable!" — Meridian
Best Electric Razor for Your Legs
Finishing Touch Flawless Legs
The name of this product from Finishing Touch says it all: It's made to be used on your legs and does a damn good job of it. The smaller shape fits in the palm of your hand (also making it great for travel) and it's outfitted with an LED light for precise use. Reviewers say that it charges quickly and removes leg hair quickly. They note that it doesn't tug or pull on the hair and have fewer instances of knicking the skin as they go.
Pros: Quiet; Long-lasting battery; Travel-friendly shape; Charges quickly; Reviewers said using this tool was relatively painless.
Cons: Reviewers noted that using it on the parts of the body were more painful than using it on the legs.
Customer Review: : "I didn't expect this to work as well as it does. I have pretty thick hairs, and this gives me nearly a smooth close shave every time.It is easy to hold in your hand and I haven't dropped it once, which is great for hard to reach spots like the back of your legs or thighs.You can charge it too so that is definitely a huge plus side." — Amazon
Best Dermatologist-Recommended Electric Razor
Philips SatinShave Advanced Wet & Dry Women's Rechargeable Electric Shaver
This electric razor from Philips can be used wet or dry, has a rechargeable battery, and comes with four accessories so you can customize your shaving experience, including a trimming comb, a so-called "soft glide cap" for a closer shave. Reviewers say that it has a long battery life, but others say that it doesn't provide a super close shave when compared to a traditional handheld razor, and they recommend that you would need to follow up with a manual razor if your hair is coarser or thicker.
Pros: Rechargeable; Comes with several accessories; Costs less than $40.
Cons: Works better on wet skin than on dry skin.
Customer Review: "Good razor that holds charge well. Says wet or dry but it works much better on thin, sensitive skin when dry (Underarm and bikini areas)." — Target
Best Electric Razor for Facial Hair
Gillette Venus Mini Facial Hair Remover for Women
Orszulak approves of this versatile little device from Gillette Venus because "you can use it anywhere," she says. "Since you don't need to use water or shave cream, this is a great product to throw in your bag and use anytime, anywhere." It's also outfitted with a small light on the top that will help you spot and remove even the smallest, finest hairs on your face, and it's small enough to keep in your makeup bag for on-the-go care.
Pros: Small size; Has a light for precise use; Painless to use; Suitable for use on the face.
Cons: Battery-operated.
Customer Review: "This is a very practical device for you. Easy to carry and use." — Amazon
Best Electric Razor for the Bikini Line
Gillette Venus for Pubic Hair & Skin Gentle Trimmer
This trimmer from Gillette Venus is great because it "protects the skin from tug and pull so there is less irritation," says Orszulak. It's designed to specifically fit into the grooves and curves of the bikini line, avoiding nicks, cuts, or burn. It can be used either wet or dry, and has a chordless design for easy use. While gentle on the skin, the blades are specifically designed to work with coarse hair that's common in that area of the body.
Pros: Chordless; Gentle on skin; Good for coarse hair.
Cons: Battery-powered; Not rechargeable.
Customer Review: "This trimmer is a godsend! It's easy to use, lightweight, and doesn't tug at hair. Perfect for the bikini area and delivers a pretty close shave for a trimmer. Definitely recommend!!" — Target
Best Electric Razor With Floating Cutters
Conair Dual Foil Wet/Dry Rechargeable Shaver
A set of floating, independent cutters and foils make this rechargeable shaver from Conair a lifesaver for hard-to-reach spots like your bikini line or under your arms. Plus, one of the blades pops up for easier bikini line shaving. It can be used both wet and dry, has a chordless design, and comes with an additional cleaning brush so you can get the most out of it. The razor is also ergonomically designed to let you get the closest possible shave.
Pros: Rechargeable, Cordless; Comes with a cleaning brush; Ergonomic design.
Cons: Some reviewers say the battery doesn't last very long per charge.
Customer Review: "This electric wet/dry shaver does a great job shaving legs. Smooth and close with or with out shaving cream. I use it in and out of the shower. Works great! I would buy it again or get it for a gift for a friend." — Walmart