How #TeamMilk Is Sponsoring This Year's Marathon Runners to Inspire The Next Generation of Women
MilkPEP's 26.2 program recognizes the importance of empowerment. That's why they invite every woman running the NYC Marathon to join #TeamMilk and support Girls on the Run.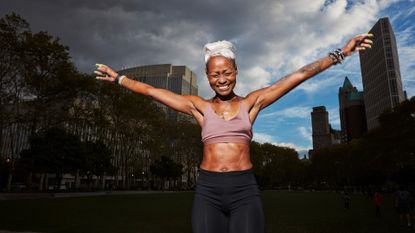 (Image credit: MilkPep)
Marie Claire Newsletter
Celebrity news, beauty, fashion advice, and fascinating features, delivered straight to your inbox!
Thank you for signing up to Marie Claire. You will receive a verification email shortly.
There was a problem. Please refresh the page and try again.
Running all 26.2 miles of the NYC Marathon—or, let's be honest, any marathon—is not for the faint of heart. It takes months of training, plus dedication, stamina, and mental strength to even get into the race, and more women than ever are registering to run it each year. MilkPEP CEO Yin Woon Rani has made it her mission to support women running their own metaphorical races through her advocacy for women in leadership, and now MilkPEP is helping women run literal races with the 26.2 Program.
"Milk has had a long history of supporting athletes—in some ways we say we're the OG sports drink, because we've been supporting athletes for 7,000 years," says Rani. "But it was amazing for me to discover that only 7 percent of global sports sponsorships go to female athletes—7 percent of a $30 billion pool. They put in the same effort, they have to run 26.2 miles just like everybody else, but their odds of being sponsored by a major brand or any financial sponsorship is much lower. We really wanted to support their journey."
Through 26.2, everyone who identifies as a woman that will be running the next NYC Marathon is invited to join #TeamMilk and be a part of something big. Running with #TeamMilk means getting world class training advice from the pros, essential gear for race day, and support in post-race recovery. Plus, it gives runners the chance to connect with other women in the #TeamMilk community, who will be cheering each other on during the race.
But what makes 26.2 really special is that every woman who joins #TeamMilk will see their registration fee matched—up to $600,000—in aid of Girls on the Run, a nonprofit that offers athletic youth development programming to girls of all backgrounds and abilities. 26.2 isn't just supporting the women who will be out there on race day, but ensuring that girls everywhere are equipped with the resources they need to succeed in the future. "As we know, running the marathon isn't something where you just show up and do it," says Rani. "We want to use our dollars to shine a light on them, feature them in our advertising, and then additionally help encourage young runners through our donation to Girls on the Run."
The opportunity to support women inspires Rani, both in her personal life and as MilkPEP's CEO. As a mother and an advocate for the Asian American Pacific Islander (AAPI) community, Rani is keenly aware of how important it is for girls to see other women in positions of leadership. "When I would speak at events, invariably at every single event there would be a young Asian American woman or two that would come up to me after and say, 'It's so amazing to see someone like you,'" she says. "I just started to feel like I had to do something to help those young women—be more of a role model and be more active."
Her efforts to get involved ramped up during the pandemic, which saw a spike in racism toward the AAPI community. Rani joined a group of senior Asian American marketing professionals, who not only provide mentorship to the next generation but form a support system for one another as well. "For me, an empowered community has been super helpful. I always encourage people to find a community they can attach to, [like] this group I joined during the pandemic," says Rani. "I always say about it—and it's a little heartbreaking in some ways—that I didn't realize I was lonely until I wasn't alone anymore."
That multigenerational support is also why choosing the 26.2 Program to sponsor Girls on the Run was a natural fit. "Girls fall out of sports," says Rani. "More and more of them fall out of it younger and younger, and by high school the drop-off is really very frightening compared to boys, for all kinds of reasons. So every little bit we can do to keep a girl active and athletic in whatever she chooses to be is just good for mankind, frankly."
And like the runners who inspire her, Rani is no stranger to a challenge. As the CEO of MilkPEP, Rani is propelling the complex and dynamic milk industry forward by speaking to what modern moms like her actually care about. Rani recognized that milk's immune system boosting properties, its ability to hydrate better than water, and its essential nutrients, could position it as the ideal performance beverage. Plus, the learning experience that has come from her work in a once-unfamiliar industry has been a fulfilling journey all its own. "I was super impressed with the people I met in the milk business," she says. "I'm a total city girl—I'm from Singapore, I lived in New York City. I am not from the agricultural sector at all. And I was just so amazed by the farmers and the milk companies themselves, what good people they were, trying to do the right thing by the customer and the stakeholder. This was the kind of environment I wanted to operate in."
From there, it was clear to Rani that the NYC Marathon was the perfect place for MilkPEP to showcase their commitment to supporting and empowering women now and in the next generation. "We really believe in action—not just ads," she says. "It's been a nice additional layer to some really powerful advertising to help an organization like Girls on the Run that is changing young girl's lives."
To learn more about MilkPEP's 26.2 initiative and to join #TeamMilk visit gonnaneedmilk.com/26.2 and visit their Facebook.
Celebrity news, beauty, fashion advice, and fascinating features, delivered straight to your inbox!