In Navajo Nation, Women Are on the Front Lines of COVID-19
Navajo Nation, a Native American Reservation spanning three states, has the highest amount of COVID-19 cases per capita in the U.S. With little federal assistance and a vulnerable population, the women of this matriarchal society are leading the fight.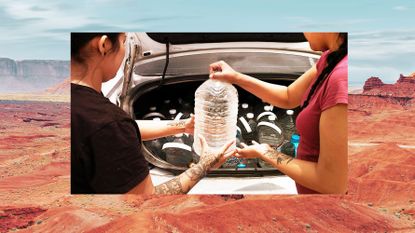 (Image credit: Future)
When the first whisperings of the coronavirus started to travel across Navajo Nation in mid-March, Sheila B., a 33-year-old Navajo woman, was at her parents' home in Blue Canyon, an off-the-grid, mountainous area of the reservation near Fort Defiance, Arizona. It was Friday, and they were celebrating Sheila's 11-year-old daughter's coming-of-age with a traditional four-day Navajo ceremony called Kinaaldá. It's an important milestone in which the entire community unites to prepare the young woman to accept the privileges and responsibilities of Navajo womanhood, which, in this matriarchal society, are many.
To get more intel on what was going on in the outside world, Sheila searched for cell service at the end of her parents' dirt road; then she headed 40 miles to the nearest city, Gallup, New Mexico, where she was able to check her Facebook timeline. Finally, she learned of the gravity of the situation unraveling within Navajo Nation and across America: COVID-19 was spreading fast.
Though Sheila lives off the reservation in Tempe, Arizona, it's customary in Navajo Nation for women to care for their elders; usually they even live together. Sheila makes frequent trips back home to ensure that her parents have everything they need. Because her parents don't have access to running water (more than 30 percent of the Navajo Nation population does not), she knew they faced an uphill battle. Without clean water, her parents wouldn't be able to wash their hands, a crucial step in stopping the spread of COVID-19.
Since many Navajo people were rushing to the 13 grocery stores that service the 27,000 square miles of land on the reservation, getting the necessary items for the recommended two-week stock was a challenge. Sheila drove around for hours, cobbling together the items on her parents' list: canned foods, over-the-counter medications, and of course toilet paper. After visiting six grocery stores around Gallup and Vanderwagen, New Mexico, and Window Rock, Arizona, securing enough bottled water to sustain her parents for nearly a month and most of the items on the grocery list, she headed back home. (She would repeat that same trip again the next day, and again the day after that, to get the items that were out of stock on Friday.)
Sheila's journey began long before the Indian Health Service, the federal health program for American Indians, started issuing stay-at-home orders at the end of March and instituted a 57-hour weekend curfew starting April 5. (Navajo people cannot leave their homes, even for food, from Friday evenings at 8 p.m. to Monday mornings at 5 a.m. to minimize public travel and overcrowding of stores and takeout counters; anyone who violates the curfew could face a $1,000 fine or jail time.) Curfew orders have made getting out to the stores, which people would typically do over the weekend, a mad dash, especially for those who work an essential job during the week. Tiayrra C., a Navajo woman from Ganado, Arizona, who is employed by one of the six Indian Health Service hospitals on the reservation, had to take time off to get groceries for her family of seven. Sheila and Tiayrra are just two of the many Navajo women carrying the needs of their families on their backs during the COVID-19 crisis. They're proof that to weather the pandemic in this matriarchal society, women have no choice but to step up.
---
The Navajo reservation, the largest Native American reservation in the country, spans three states (Arizona, New Mexico, and Utah) and is home to about 175,000 residents—more than 3,000 of whom, as of the beginning of May, had tested positive for COVID-19. Since the first case popped up on the reservation in mid-March in a tiny town called Chilchinbeto, Arizona, the numbers have quickly soared.
Across the country, people of color are being hit particularly hard by the virus. The CDC's breakdown shows that indigenous people account for 1.2 percent of the total number of cases of COVID-19, but looking at the numbers more closely shows they are steeply disproportionate. American Indians make up 9 percent of New Mexico's population but a whopping 37 percent of the state's COVID-19 cases. In Arizona, it's estimated that 21 percent of the state's deaths have been Native American people. The Navajo people are the largest Native American tribe in the U.S. and have been the worst hit by the virus. According to NPR, Navajo Nation has the highest amount of COVID-19 cases per capita in the country (they surpassed New York on May 16). There are 1,798 reported cases for every 100,000 people on the reservation. Of the 96 deaths Navajo Nation has suffered as of May 8, 56 have been men, leaving many women to pick up the pieces of their families.
A Kaiser Family Foundation article suggests even these numbers might be deceiving, arguing that many Native American cases are not being recorded, especially because many people are unable to access testing or medical care. Native American people are predisposed to health conditions such as heart disease and diabetes, and other socioeconomic factors at play also make them more vulnerable than other populations.
Tina O.*, a Navajo woman who is a medical-laboratory technologist at Fort Defiance Indian Hospital in Window Rock, Arizona, says that in late February hospitals were starting to prepare for the probability of the pandemic hitting. Certain hospitals were even sending staff, who tend to be female nurses, from home to home to inform people who didn't have internet or cable access about the virus and its dangers, especially to those who were elderly or had pre-existing health conditions. However, many Navajo people did not want to deviate from their normal routine, even after cases were confirmed nearby. "There's a Navajo taboo that if you talk about something bad, you're bringing it near you," says Tina.
But inside Navajo hospitals, it has been impossible to brush aside the crisis at hand. Tina and her colleagues have been reusing their PPE daily, even while handling COVID-19 tests. They use the same N95 masks for weeks, spraying alcohol on them to sanitize them. They wash off their foot coverings with soap and water. Her hospital, in the capital of Navajo Nation, was sent only a few hundred COVID-19 rapid tests from the Indian Health Service. It has been turning away hundreds of tribe members in the past few weeks due to the lack of supplies. Tina's husband became ill in the beginning of April but was not given a test because he didn't exhibit shortness of breath or high fever, even though Tina accompanied him and explained that she was a hospital employee. They told her to take a few days off from work and return to the ER if either of them developed shortness of breath. "A lot of people on the reservation were saying, 'You're [living] in the capital, but your numbers are one of the lowest of positives,'" Tina says. "It's because people can't get tested."
To make matters worse, Navajo government leaders have been repeatedly jilted by the federal government. Many Navajo citizens finally received stimulus checks near the end of April, but plenty of others are still waiting for their money to arrive. The CARES Act, which put the federal Coronavirus Relief Fund in place, promised $8 billion in aid to federal tribes across the U.S. to fight coronavirus; more than a month since the act was passed, the money still hasn't been released to the individual tribes, according to a statement from the Navajo Nation's president's office. Navajo Nation Council delegate Amber Kanazbah Crotty explains that resources are often diverted to other places: White House coronavirus coordinator Dr. Deborah Birx promised in early April that the Indian Health Service would be prioritized with a supply of rapid test kits, but that test supply was delayed and many kits were instead sent to more populous areas like New York State and Los Angeles first. "Even through this pandemic, when funding is there, our Navajo lives are still expendable," Crotty says. The six Indian Health Service hospitals across the Navajo reservation have since received 20 rapid test analyzer systems so they can ramp up testing across the reservation—but that is not adequate to address the dire need.

---
With little federal support, Navajo Nation—with its women leading the charge—has had to take matters into its own hands. The Navajo Water Project, run by director Emma Robbins (a member of the Navajo Nation member who splits her time between the reservation and L.A.), has been focused on getting potable tap water into Navajo homes since 2014. Due to stay-at-home orders, the organization is not able to do installations; instead, both volunteers and Navajo Water Project staff are working to deliver bottled drinking water to tribe members. (Nestle Waters, makers of Nestle Pure Life and Poland Springs water, donated 248,000 gallons of bottled water to the effort.) "I'd say one of the largest things that's been pretty difficult and also really eye-opening is going from doing long-term water access projects to becoming a relief and mutual-aid group overnight," Robbins says. In New Mexico, staff led by project managers, many of whom are female, are distributing water to families, and in Arizona, the virus's Navajo Nation epicenter, there are public-health-care workers distributing water to COVID-19 patients and families who are quarantined. The efforts help many but by their very nature put the women themselves at greater risk.
Other groups have been virtually supporting Navajo Nation. Because the tribes have yet to see the promised federal funding, there's an urgent need to raise outside money. Former Navajo attorney general Ethel Branch has assembled a fundraising team, collecting more than $1 million for the Navajo and Hopi Families COVID-19 Relief Fund. Chantel Yazzie, a Navajo Nation resident and social-media specialist in her local Navajo government in Tuba City, Arizona, has been hosting daily briefings on Facebook to update residents on curfews and business closings and share health advice. Allie Young, who grew up on the reservation but now works in L.A., started her relief organization, Protect the Sacred, on March 29 to encourage young people to respect their elders (and keep them safe) by staying home. Her hashtag #protectthesacred (an homage to the Standing Rock hashtag #defendthesacred) has been used more than 31,000 times on Instagram.
Young has also been doing advocacy work in collaboration with celebrities, including Paul Rudd and Mark Ruffalo, forging a partnership with the New York State governor's office—an unexpected ally in lieu of the federal government. Governor Andrew Cuomo announced he'd send some of the state's surplus protective equipment, and he connected Navajo Nation president Johnathan Nez to his brother, CNN anchor Chris Cuomo, to boost awareness of the Navajo struggles on his show. Protect the Sacred is the link between the state of New York and those on the ground in Navajo Nation, partnering with Navajo doctor Michelle Tom, who's currently fighting to get more PPE to health-care workers at Winslow Indian Health Care Center in Winslow, Arizona.
Women are standing on the front lines of their homes too: grocery shopping and caring for elders and children. COVID-19 might be a new situation, but women fighting for their families in Navajo Nation is not. "We're a matriarchal culture," Robbins says, "so it's literally what we do: Step up and help our communities." Sheila B. has been caring for her parents for years; they have always lived without running water. They're not alone, Robbins says. "It took a pandemic to pay attention to things like the lack of running water and sanitation. This is something that goes on every day, and this is not happening all of a sudden," she says. It's tough to say how much worse the COVID-19 crisis would be for the Navajo people without so many of its women leading the relief efforts. It won't get better until other Americans step up too.
*Name has been changed.
This piece has been updated to show that Navajo Nation has surpassed NY as the place with the highest number of COVID-19 cases per capita in the U.S.
---
For more stories like this, including celebrity news, beauty and fashion advice, savvy political commentary, and fascinating features, sign up for the Marie Claire newsletter.
Related Stories
Celebrity news, beauty, fashion advice, and fascinating features, delivered straight to your inbox!
Mara is a freelance writer and editor specializing in culture, politics, wellness, and the intersection between them, whose print and digital work has appeared in Marie Claire, Women's Health, Cosmopolitan, Airbnb Mag, Prevention, and more. She's a Fordham University graduate who also has a degree in Italian Studies, so naturally she's always daydreaming about focaccia.