There's No Such Thing as the "Latino Vote"
Surprised so many Latinos voted for Trump? You wouldn't be if you understood that the group is an artificial construct that shares little more than language.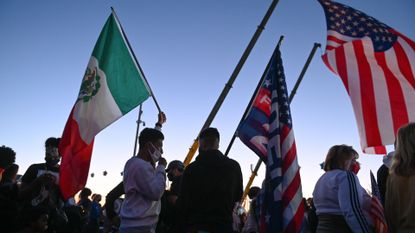 (Image credit: ROBERTO SCHMIDT)
After Election Day 2020, across all forms of the media, we saw political pundits—generally white "non-Latino"—perplexed by the "Latino vote," scrambling to understand and explain the not-insignificant amount of support for Donald Trump among this voting bloc.
The problem is, it isn't a voting bloc. I repeat: There is no Latino voting bloc. There's no such thing as the Latino vote.
The terms Hispanic and Latino are often used without any real understanding of their meanings. Hispanic was adopted in the 1970s by the U.S. Census Bureau as an attempt to track people directly from, or descended from, Spanish-speaking countries, including 20 nations from Latin America and Spain itself, but not Portugal or Portuguese-speaking Brazil. In 2000 the terms began to appear together on the census, and they are often used interchangeably. Latinx has become a popular alternative to Latino among many members of the LGBTQ+ community and academics, among others, as a way to be inclusive of all gender identities. The use of Latine as an inclusive term is also growing in popularity, in part because it is more adaptable to the Spanish language than Latinx.
But regardless of one's preferred term, it's an artificial category that lumps together people of all kinds of racial backgrounds and diverse national origins, ones with distinct cultural norms and political histories.
The use of Latino echoes and reinforces ideas of mestizaje—miscegenation—a concept that in Latin America has been used to perpetuate myths of harmonious societies void of racism, where the majority of people are "mixed." Similarly—and I was recently discussing this with the excellent Philadelphia Inquirer columnist Helen Ubiñas—the term Latino erases race and national origins in an attempt to homogenize incredibly diverse peoples, denying discussion of their unique experiences and circumstances.
Furthermore, Latino is often discussed as if it were a race. To be clear: It is not. And not all Latinos are from marginalized racial groups. White Latinos, for example, do not experience systemic racism. As the Afro-Caribbean historian and media scholar Annis R. Sands recently noted, while white Latinos may experience xenophobia or linguistic discrimination, they do not experience the racism that Black, Indigenous, and Asian Latinos do, by simple virtue of their appearance.
And while the census may limit its use of Latino to those from Spanish-speaking backgrounds, that's not necessarily how the term is used in society at large. Sands has noted that there are people from non-Hispanophone parts of Latin America, such as Brazil and some Caribbean nations, who wish to be included in discussions of what it means to be "Latino." Moreover, Natalie Belisle of the University of Southern California notes that recent media focus on the "Latino vote" erases not only Black Latinos, but also draws attention away from non-Latino Black voters. She explains that the preoccupation with the idea of a Latino vote is often rooted in a "deep undercurrent of anti-Blackness," which leads to treating Black voters as "less important and disposable." This dynamic was on full display over the weekend when Eva Longoria told MSNBC, "Women of color showed up in big ways. Of course, you saw in Georgia what Black women have done, but Latina women are the real heroines here," a comment she later apologized for.
In addition to the erasure of race and national origin, mainstream media pundits appear to have little or no knowledge of Latin American cultures, and appear to have done little research on religious practices. If they had, then support for Trump by some Latinos would not seem so perplexing. Historically—and I'm generalizing—Latin American societies have had strong currents of machismo, defined gender roles, and a lack of openness to members of LGBTQ+ communities. Moreover, Catholicism is deeply embedded in Latin America, and the Evangelical church has been growing in popularity. In the United States, according to the Pew Research Center, 48 percent of Latinos are Catholic and 19 percent Evangelical Protestant.
So I will pose the question: When the media discusses the Catholic and the Evangelical votes, are they including Latinos? If not, why not?
I have only scratched the surface here. In addition to matters of race, religion, and national origin, socio-economic factors are also essential. Then there are regional differences—in the Miami area, the most prominent groups are Cubans and South Americans. The vote of those in the Miami-Dade region, especially that of Cuban Americans, is often reduced to soundbites about socialism. And while I do not deny that this may be one concern, to reduce discussions of voting patterns to one issue is overly simplistic. Miami-based journalist Lizette Alvarez notes that 90 percent of Latinos in the Miami-Dade area identify as White. She adds that over the summer when there were Black Lives Matter protests, Miami was one of the few places "Cubans for Trump" counterprotests were regularly held. In Texas the largest groups are Mexican and Central Americans. A recent article in The Dallas Morning News describes the lack of unity among Latinos along the border regarding immigration and other issues. In fact, the article points out that many Latinos on the border work for the federal sector, including as agents for ICE. In Philadelphia the largest groups are Puerto Ricans and Dominicans, and national polls have shown that Puerto Ricans and Dominicans strongly favored Biden.
It's time the media stops reducing Latinos to clever soundbites at election time. There's a world of scholars, activists, and community members waiting to be heard. Let's hope our recent election is the much-needed wake-up call that begins a change.
Luisa Marcela Ossa is an associate professor of Spanish at La Salle University.
Related Stories
Celebrity news, beauty, fashion advice, and fascinating features, delivered straight to your inbox!
Luisa Marcela Ossa is an associate professor of Spanish at La Salle University, where her research interests include Afro-Hispanic Literatures and Cultures, the Chinese presence in Latin America, and connections between racism and anti-Blackness in Latin America and the U.S. For six years she served as the President of the Afro Latin/American Research Association (ALARA), an international scholarly organization devoted to the study of the African Diaspora in the Americas, and she continues to serve on its executive committee. Her recent edited volume, Afro-Asian Connections in Latin America in the Caribbean (Lexington Books, November 2018), co-edited with Dr. Debbie Lee-DiStefano, explores historical, cultural, and social ties between people of African and Asian descent in Latin America and the Caribbean. In 2020, she published "Catholicism, Racism, and Social Justice: Historical Realities and Lasallian Visions for the Future" and also participated in the panel, "Responding to Racism: A Lasallian Dialogue" which was hosted by the Lasallian Association of Colleges and Universities (LACU) and three districts in the Lasallian region of North American (RELAN). Dr. Ossa is currently examining issues of racism and ableism in Colombia and the Americas via the work of Edelma Zapata Pérez.