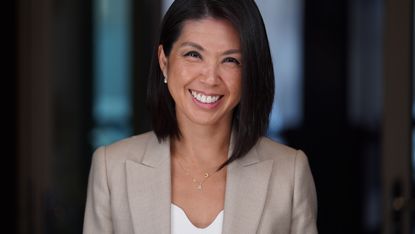 (Image credit: Bank of America / Angela Antonio)
Marie Claire Newsletter
Celebrity news, beauty, fashion advice, and fascinating features, delivered straight to your inbox!
Thank you for signing up to Marie Claire. You will receive a verification email shortly.
There was a problem. Please refresh the page and try again.
Being a leader is a coveted role, but it comes with major responsibilities and often no road map. Throughout my career, my leadership journey has come with ups and downs, including a fair share of difficult conversations. But what sticks with me the most are the pivotal moments from which my colleagues and I emerged with lessons learned and a path forward.
For business owners, great leadership can lead to stronger relationships with customers and employees, new opportunities, and a healthier and more stable business environment—ultimately, leadership can tilt the scale toward success or failure. For women who face unique challenges and barriers in the workplace, the stakes of leadership are even higher.
There's no one-size-fits-all approach to leadership—in my role, I've been fortunate to experience a wide range of effective leadership styles—but the key elements of being a great leader never go out of style. As we head into Women's History Month, I'm proud to share my four essential leadership tips for women business owners:
Develop a vision with one common goal that everyone on the team can follow.
When I came to Bank of America in Los Angeles and became the small business region executive, the first thing I did was chat with each of my team members individually. This allowed me to get to know them on a personal level and understand what their expectations were of me as their leader.
While it's important for you to set clear goals and expectations for your employees, it should also be a two-way street. The expectations they have of you are equally as important, and I'd encourage you to engage in honest, open communication with every person on your team. Once those expectations are clearly set, together you can develop a vision for the team to all work toward.
Inspire commitment and followership.
Every day, I set aside time to call associates on my team to chat with no agenda, so they know they're cared about and their opinions are valued. This connection is great for all of us—my teammates and I gain greater insight into the ebbs and flows of our day-to-days, and as a result, they're committed to providing their best work to reach the goals we've created together.
With every team you manage, it's important to create a culture of caring, where they know their feedback is important to you. It's easy to say their feedback matters, but it's another thing to make them feel like they can approach you with questions or concerns. Your people are your most important asset, so make the effort to foster that connection.
Lead by example and remember to teach, not give orders.
I've always kept this quote in mind: "The speed of the leader determines the rate of the pack." As women leaders, we cannot be afraid to lead by example. If I'm hesitant to jump in and try something new, my team matches that energy. But if I demonstrate confidence in my decision-making, my team tends to follow my lead.
While it could be an easier choice to forget your mistakes and try to move on, it's beneficial to share your pitfalls with your team and teach them how to learn from your mistakes. Sharing moments of weakness is just as important as sharing wins and best practices.
Find a support system.
Although I'm supporting a full team, leadership can often feel lonely. That's why it's so important for me to have a group of people, personally and professionally, that I can count on during difficult times. I sit on the board of the National Association of Women Business Owners (NAWBO) in Los Angeles and have made invaluable connections at the various events and annual galas they host. I'm proud to be part of an organization that prioritizes resources for women business owners, such as the Bank of America Institute for Women Entrepreneurship at Cornell, an online program designed to help women entrepreneurs develop their leadership skills. Organizations like these provide great opportunities to share with and learn from other like-minded women to informally broaden your network.
Mentorship is one of the top components of success for women in business. Research shows 80% of CEOs have had a mentor. Additionally, the Small Business Administration cites 70% of mentored businesses stay in business for more than five years. To help connect women small business leaders with mentors, Bank of America partners with the Cherie Blair Foundation and has matched over 1,000 employees with mentees in developing and emerging countries. Women face unique challenges in the workplace, so finding a support system or mentor is especially important for those on the path to leadership.
Putting yourself out there can feel intimidating, or maybe you don't know where to start. Next time you're at an event or in a meeting and someone makes a comment that catches your attention or resonates with you, introduce yourself. Let them know you'd love to chat further, and follow up on that introduction with a meeting. Most importantly, come prepared. I'd recommend bringing an agenda of topics you want to discuss and learn more about. It doesn't need to be formal or lengthy, but coming to the table with two or three ideas can help your conversation flourish, leading to a more meaningful relationship.
Becoming a strong leader is not accomplished overnight and can feel overwhelming when you're starting out, so remember to be kind to yourself. Be patient, lean on your support network and be vocal with your team about your concerns and celebrations.
Resources for Women Looking to Grow Their Leadership Skills
For more inspiration, you can read the stories of successful women entrepreneurs here.
Celebrity news, beauty, fashion advice, and fascinating features, delivered straight to your inbox!