The 5 Most Insanely Useful Makeup Tricks for Transgender Women
If facial feminization is what you're after.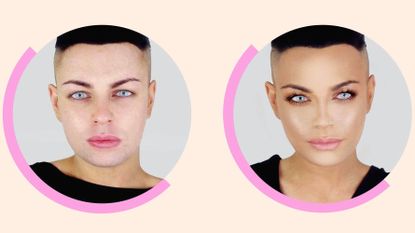 (Image credit: Joseph Harwood/YouTube)
Marie Claire Newsletter
Celebrity news, beauty, fashion advice, and fascinating features, delivered straight to your inbox!
Thank you for signing up to Marie Claire. You will receive a verification email shortly.
There was a problem. Please refresh the page and try again.
Ask most makeup artists, and they'll probably say that the beauty industry is officially super inclusive, because look! There are male beauty ambassadors! And look! We have some dark…ish…foundation shades! And though, yes, the industry has come a significantly long way in the last few years, there are still some noticeable gaps, namely in that of transgender beauty.
RELATED STORIES
"If you're just at the start of your transition, it can be quite difficult to navigate makeup and beauty tutorials online, since the majority aren't really created with a masculine face in mind," says YouTube vlogger Joseph Harwood, a two-spirited, transgender makeup artist who's known for transforming himself into celebrities using only makeup, while also acting as a voice for the transgender community and documenting his own personal journey through feminization surgeries.
"If you're not on hormones, and you haven't had facial feminization, which is when a doctor uses hydrophilic fillers to build female fat pads in your face, then your makeup process will be focused more on downplaying your masculine features, which isn't as obvious as you might think," he says. "Aside from obvious bone structure differences, even fat is in a different distribution pattern in women than in men, so there are so many facets that come into play when you're doing your makeup." But rather than leave you to your own devices to hunt through a billion YouTube videos, we got Harwood to break down the five most helpful makeup tips for transitioning women, ahead.
1. DITCH THE CONTOUR
"Many transitioning women believe that the most feminizing thing they can do is a fully extravagant contour, but if you haven't already softened into your features through hormones or fillers, then a contour will actually highlight the male bone structure more visibly," says Harwood. The goal, here, is actually to give the illusion of a softer, plumper face—"it's automatically more feminizing"—which Harwood achieves by using highlighter, yes, highlighter, in place of his contour.
"I like to start my cream highlighter just beneath the inner eyebrows, filling in the inner corners of the eyes to soften the brow ridge" he says. "Then, instead of drawing brown lines down the sides of your nose like you see in every makeup video, I line the sides with highlighter, which gives the face a softer, brighter dimension, without any harsh lines," he says.
Of course, we're not talking about using a super-glittery, Studio 54-level highlighter, here—just something creamy, blendable, and a few shades lighter than your natural skin tone, like Harwood's favorite, Kryolan DermaColor Camouflage Cream BUY IT. And yes, you'll want to apply your highlighter before your foundation, so you get a super-natural, lit-from-within glow.
2. DON'T FEAR THE CONCEALER
"If you're working with a more masculine starting point, I recommend using a concealer with a peach or orange undertone, because you have the double benefit of being able to use it to color-correct your beard and neutralize any under-eye circles," says Harwood, who suggests tapping a layer of concealer in a triangle beneath your eyes, in the space between your lips and your nose, and across your beard line with your finger. "The warmth from your finger helps blend the concealer out more realistically," he says.
One of Harwood's favorite formulas? The Bobbi Brown Corrector creams BUY IT, which come in virtually every undertone shade. For fair skin tones, look for light-pink shades; for tan skin tones, try light, peach-based shades; for olive skin tones, go for deeper peach shades; for dark skin, look for tangerine shades; and for deep skin, try red (yes, red) shades of concealer.
3. LOOK FOR MATTE FORMULAS
"If you're still working on the process of getting laser hair removal, you need to be conscientious of the texture of your skin, especially around your beard, which means you should avoid dewy foundations," says Harwood, noting that not only will sheer, glow-y formulas slide off your face by noon ("men naturally sweat more on the face than woman do"), but they'll also draw attention to every nook and cranny on your skin. "It's like painting gloss over an unfinished wooden wall," he says.
Instead, Harwood suggests finding a matte, full-coverage foundation that you can press and stipple into your beard line without it looking cakey.
"It doesn't necessarily matter how you apply the foundation—though I like to do it with the flat side of a sponge—it just matters that, after applying it, you press setting powder into your skin with an old-fashioned powder puff, which will help you get the smoothest texture possible," he says. His favorites? Urban Decay All-Nighter Foundation BUY IT as a base, and Kryolan Setting Powder BUY IT.
4. BUT STILL EMBRACE THE GLOW
Just because you're using matte formulas, it doesn't mean you're now relegated to a life of matte, flat skin until you finish transitioning. But rather than grabbing a strobing powder and slathering it across your face like a disco ball, stick to a blush with a bit of iridescence.
"I love using MAC Skinfinish Natural powders BUY IT as blush, since they're not pink or rosy—they're just baked, satin-y powders that can give you a soft, feminine glow that doesn't look dewy," says Harwood. "Just pick a formula that matches your skin tone and swirl it around your cheeks and the temples to brighten up the face a bit."
5. PLAY WITH SHADOWS
This trick sounds odd, but trust us: The results are kind of magical. "One thing that's very noticeably different in males and female faces is the hairline," says Harwood. "The form of testosterone that creates balding in men ends up giving you a squarer face shape as your hairline recedes, but with women, their hairlines tend to be pulled down and rounded out."
Luckily, you can fake a softer, more-feminine hairline, without resulting to hair transplant surgery, as long as you have some matte eyeshadow that matches your hair color. "It's honestly so easy—just swirl a short smudge brush in a matte shadow, then gently fill in and round out the sparse areas around your hairline using smooth strokes," says Harwood, who uses the MAC 214 Shader Brush BUY IT with MAC Omega or Espresso matte eyeshadows BUY THEM, depending on his hair color. "It's all an optical illusion, but if you start slow and add sheer layers, you'll get a really soft, rounder face that completely changes your appearance," he says.
And if all of the above tips just sounded like anxiety-producing jargon, don't freak—Harwood has a slew of feminizing makeup videos on his page, including one, below, that demonstrates a bunch of the tips and tricks above. Watch them, study them, and then try these tricks on yourself; we'll be happily waiting for the pictures.
Celebrity news, beauty, fashion advice, and fascinating features, delivered straight to your inbox!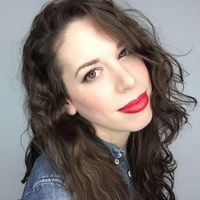 Chloe Metzger is the deputy beauty director at Cosmopolitan, overseeing the editorial content and growth strategy of the hair, makeup, and skin space on digital, while also obsessively writing about the best hair products for every hair type (curly girl here; whattup), and the skincare routines that really, truly work (follow her on Instagram to see behind-the-scenes pics of that magazine life). She brings nearly a decade of writing and editing expertise, and her work has appeared in Allure, Health, Fitness, Marie Claire, StyleCaster, and Parents. She also has an unhealthy adoration for Tom Hanks and would like to please meet him one day, if you could arrange that. Thanks.