Is Your Makeup the Result of Child Labor?
Many shimmery makeup products contain mica—an ingredient often mined via suspicious practices—but big players in the industry are working to change that.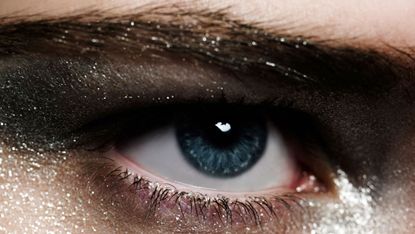 (Image credit: Image Source)
An advertisement currently running on Dutch television features a woman emerging from a car. As she slams the door behind her, the camera zooms in to reveal a tiny handprint on the auto's shimmery surface. "Many products contain traces of child labor," says the voice-over. "Traces of the mineral mica, mined by children's hands." The spot might just as well have featured an eyeshadow compact with a wee thumbprint on the surface of its sparkly powder.
The word mica, from the Latin micare—to shine, flash, or glitter—actually refers to a group of 37 crystalline minerals that have dozens of industrial applications and are used to add shimmer to everything from car paints to cosmetics. European news reports and public-awareness campaigns have educated consumers about the sometimes-shady origins of the substance, but many Americans remain unaware of the inconvenient truth about this beauty mainstay. According to a March 2018 report from the Switzerland-based nongovernmental organization Terre des Hommes (TDH), an estimated 22,000 children work in mica mines in India, where about a quarter of the world's supply is extracted.
Claire van Bekkum, who heads the mica team for TDH, which produced those television spots, has visited the Indian states of Bihar and Jharkhand, the country's so-called mica belt. "You arrive in some remote villages and everything is sparkling—the ground, the hair of the children," she says. She's watched kids flee into the forest, leaving small tools scattered on the ground next to baskets of flaked shards. While Indian law prohibits children under 18 from working in hazardous industries, 70 percent of India's mica mines are operated illegally, by a mafia of sorts whose members have no qualms about using child labor—and don't take kindly to inquisitive outsiders.
India's mica belt is among the poorest regions in the country and has high rates of illiteracy and unemployment. While some families have small plots of land to farm, the tired soil yields precious little, and many kids must work in mines alongside their parents in order to make ends meet. Injuries are common, and the constant breathing in of fine particles can lead to respiratory conditions like asthma, silicosis, and tuberculosis. On top of this, the haphazardly dug mines can crumble without warning: A 2016 report by the Thomson Reuters Foundation found that seven children had been smothered to death in mica mines in the span of just two months.
Though it uses only 18 percent of the mica mined globally each year, the beauty industry is leading the charge to clean things up. In 2006, the Estée Lauder Companies began working with India's Bachpan Bachao Andolan (BBA), or Save the Childhood Movement, to move thousands of impoverished kids out of dangerous workplaces and into classrooms nationwide. (In 2014, its founder, Kailash Satyarthi, shared the Nobel Peace Prize with Pakistan's Malala Yousafzai.) In addition to educating parents about their children's fundamental rights to education and health care, BBA, in tandem with Kailash Satyarthi Children's Foundation (KSCF), will team with state governments to ensure that elementary schools and teachers are in place. The Estée Lauder Companies currently helps fund programs in 152 Indian villages, according to Anna Klein, vice president of corporate affairs for the organization, which owns brands known for their sparkly wares, including Becca, Smashbox Cosmetics, and GlamGlow.
Other industry players are also beginning to confront the problem. A few years ago, the Natural Resources Stewardship Circle, a French collective of cosmetics and fragrance companies, partnered with KSCF to fund work in more Indian villages. And in 2016, a two-day summit in Delhi gathered companies and NGOs involved in the mica industry with representatives from the Indian government and from some of the 700 villages involved in extraction of the mineral to confront the issue. The result was the Responsible Mica Initiative (RMI), whose 40-plus members include NGOs and forward-thinking beauty brands such as Estée Lauder, L'Oréal, Clarins, Coty, Chanel, and Burt's Bees. The RMI works with member companies to improve their supply chains so they have a better idea of what's happening on the ground; its goal is to eradicate all forms of child labor and establish a fully legal mica industry within five years, according to its executive director, Fanny Frémont.
While legalizing some of India's hundreds of artisanal mines could be a step in the right direction, even that is complicated: A number of them are located within protected forests, and sanctioning extraction, in many, could lead to environmental catastrophe. The idea would be to consolidate the industry into a few bigger mines that would operate according to strict environmental and labor guidelines.
The thorny nature of the issue may be why the British company Lush has chosen to take a different tack. For years, the brand had been buying mined mica to use in products like bath bombs, but in 2014, its main supplier admitted that it could no longer guarantee its product was child-labor free. "The alarm bells went off," says Simon Constantine, Lush's head buyer, when he was told he could visit the mine in question only if he was accompanied by armed guards. Surely something unseemly was happening then. Soon after, Lush began replacing the natural mica in its products with a lab-made version called synthetic fluorphlogopite. The ingredient, created by extracting silicate crystals from other minerals processed at high temperatures, is also used by brands like Skin Owl, which makes an illuminating face oil.
Heather Deeth, ethical-buying manager for Lush, admits that the company "struggled to find the right path forward." Boycotting is always the last resort, she says. "If you're a big buyer, you should stay and influence and make a difference." In this instance, however, because Lush says it doesn't buy a lot of mica—and therefore holds minimal sway in the industry—disengaging seemed to make the most sense.
That said, working to legalize India's mines remains a good path forward—and beauty companies can play a role in that process. But, adds Bhuwan Ribhu, a Delhi-based activist who's worked with Kailash Satyarthi Children's Foundation since 2002, consumers can do their part too. While some brands provide details about where they source their ingredients, others need nudging. "Write to them and request that they disclose the source of their mica," says Ribhu, who has little patience for brands that feign ignorance about what goes on in the mines. After all, if they manage to procure the specific grades of mica required for their various products, they should be able to find out who is extracting it. "Ask companies to put in the public domain what they're doing to eliminate child labor," he says. "It's time for them to stop hiding behind excuses."
This story appears in the October 2018 issue of Marie Claire.
RELATED STORY
Celebrity news, beauty, fashion advice, and fascinating features, delivered straight to your inbox!