The 5 Truly Spectacular Beauty Products I'm Loving This Week
My real, no-bullshit reviews of new products you'll actually want to buy.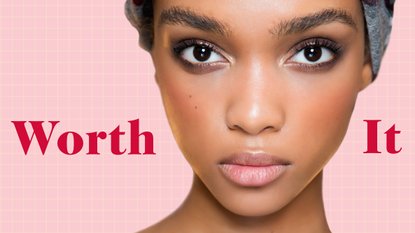 (Image credit: Design by Morgan McMullen)
Hi, hello, and welcome back to Worth It (opens in new tab), my bi-weekly breakdown of the newest beauty products I'm completely head-over-heels obsessed with right now. No, I'm not getting a kickback to write about these products; I merely fell in love with them for one simple reason: They're really freaking excellent.
So please, read on to find out the five products that are actually worth your cash, and catch up on the latest Worth It breakdown, here (opens in new tab).
1. Ren AHA Smart Renewal Body Serum
Ren AHA Smart Renewal Body Serum, $42
SHOP IT (opens in new tab)
WHY I LOVE IT:
It helps smooth the bumps on the back of my arms fast, without leaving me feeling like a sticky grease ball.
MORE DEETS:
Fact: Those red bumps on the back of your arms, thighs, and butt? Those are called keratosis pilaris (KP)—a genetic condition that causes a buildup of keratin in your pores—and sadly, they can't be cured. The good news is that acids (like the lactic acid in this natural serum) help break down the bumps and smooth them away. I've personally tried every single product known to treat KP, and only a few have given me noticeable results, though usually at a cost (like stickiness or smelliness).
This serum, however, dries down to only a semi-tacky finish, which means you can layer on another moisturizer for extra bump-smoothing powers, or use it by itself morning and night without feeling icky all day. Plus, it's formulated with a dose of brightening vitamin C, which works to fade redness over time.
2. Honest Beauty Get It Together Eyeshadow Palette
Honest Beauty Get It Together Eyeshadow Palette, $20

SHOP IT (opens in new tab)
WHY I LOVE IT:
I actually want to use each shade in this palette, which is pretty rare in any eyeshadow palette, let alone one that costs only $20. The powders are all just that ridiculously pretty.
MORE DEETS:
Housed in a mirrored palette are 10 surprisingly pigmented shades (five matte shades in espresso, mauve, cream, chestnut, and black; three iridescent shades in copper, rose gold, and mocha; and two glitter-spiked shades in cinnamon and violet). Each powder is so finely milled and blendable that you can layer them on with your finger for an opaque look, sweep them across your lid with a brush for a sheer finish, or trace one along your lash line for an eyeliner dupe.
3. Dior Addict Lip Glow Color Reviving Lip Balm
Dior Addict Lip Glow Color Reviving Lip Balm, $34

SHOP IT (opens in new tab)
WHY I LOVE IT:
I feel like I'm always on a quest to find a lip balm that doesn't feel too oily or sticky, look too shiny or matte, or taste like wax or a cherry dipped in sprinkles. This balm manages to meet all of my high demands.
MORE DEETS:
I never understood the whole middle-school trend of applying and re-applying thick layers of lip gloss every five minutes. And then I tried this tinted balm. It feels so hydrating and cushioning that I've found myself layering it on multiple times per hour just for, I don't know, fun? Relaxation? Pure joy?
The tinted formula comes in 10 finishes (two matte, two shimmery, and six satin) that range from deep (yet sheer!) berry to pale pink and orange, though my shade of choice is the original 001, which gives your mouth the subtlest of pink glows. And, as a major bonus, none of them will leave that gunky white ring around the edges of your lips like every other balm seems to.
4. DermaDoctor Med e Tate Antiperspirant Wipes
DermaDoctor Med e Tate Antiperspirant Wipes, $48

SHOP IT (opens in new tab)
WHY I LOVE THEM:
They're one of the first antiperspirants that have managed to keep my hella sweaty underarms dry, even in the middle of a swampy summer.
MORE DEETS:
I sweat a lot under my arms—like a lot, a lot—and I've spent a lifetime testing virtually every prescription-strength antiperspirant (most of which horrifically burned and stung) to no avail. Enter: these wipes. Each little packet comes with a single-use wipe saturated with 19 percent aluminum zirconium tetrachlorohydrex glycine, the main antiperspirant ingredient in most deodorants, at one of the highest strengths available for an over-the-counter product.
You'd think that'd make them harsh and irritating, but I felt absolutely nothing when I swiped them over my freshly shaved pits (something that isn't recommended for any deodorant, but hey, I live life on the edge). Every night before bed, I'd wipe one on, let it dry for a few minutes, then go to bed. It's not new technology—they're just concentrated antiperspirant in liquid form—but I love that they dry quickly and don't leave white marks on my clothes.
After a week, I noticed my sweating was reduced by a good 30 percent—which, for anyone who sweats a lot, is a huge difference. Just be warned: They're unscented and won't do anything to prevent smell, so make sure to swipe on deodorant in the morning, too, if you're not into the whole B.O. thing.
5. Lune+Aster Supermoon Bronzer & Glow Palette
Lune+Aster Supermoon Bronzer & Glow Palette, $46
SHOP IT (opens in new tab)
WHY I LOVE IT:
It's the most natural-looking highlighter-bronzer combo I've ever tried. Yes, really.
MORE DEETS:
Unlike most cream highlighters, which usually leave you looking weirdly sweaty after two hours, this cream-to-powder formula blends on as a silky, sheer powder with only the slightest hint of iridescence.
The bronzers are equally subtle (truly all skin tones can wear them, though fair tones will get the most color payoff), so you can tap them over your eyelids and under your cheekbones with your fingers for a light contour, or brush them around the edges of your face for a glowy look. Each little mound is also soft and mushable—almost like soft clay—making the whole palette honestly addictive to play with.
RELATED STORY
Chloe Metzger is the deputy beauty director at Cosmopolitan, overseeing the editorial content and growth strategy of the hair, makeup, and skin space on digital, while also obsessively writing about the best hair products for every hair type (curly girl here; whattup), and the skincare routines that really, truly work (follow her on Instagram to see behind-the-scenes pics of that magazine life). She brings nearly a decade of writing and editing expertise, and her work has appeared in Allure, Health, Fitness, Marie Claire, StyleCaster, and Parents. She also has an unhealthy adoration for Tom Hanks and would like to please meet him one day, if you could arrange that. Thanks.