8 Brilliant Makeup Organizers That'll Make You Wonder Why the Hell You Don't Already Own One
Hi, we would like to order all of these at once, please.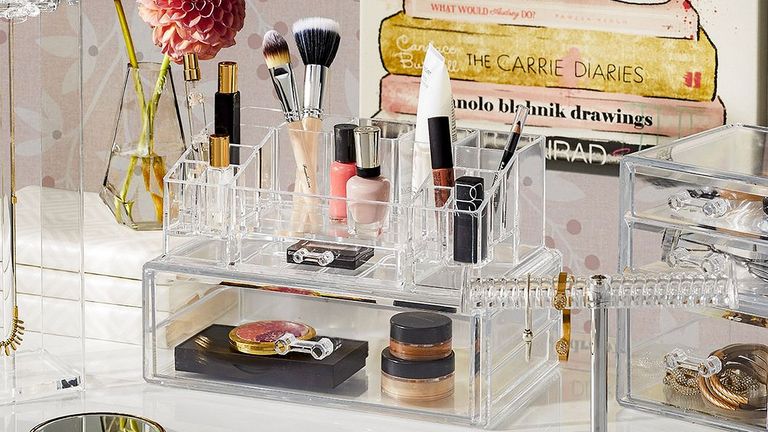 (Image credit: Rebrilliant )
I'm going to go ahead and take a wild guess that your current makeup storage situation is something out of Martha Stewart's worst nightmare. Probably two or three ridiculously old, powder- and foundation-encrusted zip pouches that sit on the back of your toilet or shoved under the sink next to your mouth wash. Am I getting close?
Listen—your makeup deserves better than this. You deserve better than this. You're a grown-ass adult! Get yourself some legit makeup organizers that not only serve a really good purpose, but also look crazy pretty and Instagrammable on your vanity. Or desk. Or toilet tank. And to help narrow your search down from one-billion to eight, I scoped out the very best of the best storage cases, stands, and shelves to get you started.
Now please; throw away those pouches—or burn them. I'm not picky.
1. This Petite Chérie
InterDesign York Lyra Double Vanity Cosmetics and Makeup Organizer Tray, $20
2. This Swiveling Statue
Makeup Organizer 360° Rotating Adjustable Cosmetic Storage Display Case, $30
3. This Gorgeous Everything
Rebrilliant 7 Drawer Cosmetic Organizer, $46
4. This Little Nugget
White Like-It Bricks Manicure Storage, $23
5. This Minimalist Marvel
McKenna Hair & Makeup Storage, $99
6. This Staircase to Beauty Heaven
Readaeer Makeup Cosmetic Organizer Storage Drawers Display Boxes Case, $33
7. This Itty Bitty Beveled Baby
Rain Cosmetics Organizer, $10
8. This Mirrored Masterpiece
Mirrored Makeup Storage, $119