The 12 Best Eyeshadow Sticks, According to Editors and Makeup Pros
Rich, lasting color with a single swipe.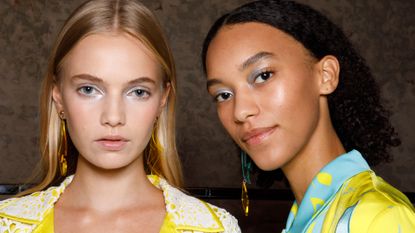 (Image credit: Rosdiana Ciaravolo/Getty Images)
Marie Claire Newsletter
Celebrity news, beauty, fashion advice, and fascinating features, delivered straight to your inbox!
Thank you for signing up to Marie Claire. You will receive a verification email shortly.
There was a problem. Please refresh the page and try again.
Eyeshadow can be tough to master. It can take me hours just to pick shades from my favorite eyeshadow palettes, and don't even get me started on blending and pesky fallout. No matter how much time I spend swiping the brush back and forth, it's near impossible for me to get a seamless, clean eyeshadow look. That is, until I discovered the magic of eyeshadow sticks.
Think of eyeshadow sticks as a makeup beginner's best friend. These little tubes contain silky smooth shadows that are incredibly user-friendly: just swipe your favorite shade across your lid for a one-and-done look. And if you really want an amped-up look, combine a few glittery shadows and blend with your finger—no eyeshadow brush required. Eyeshadow sticks are especially great for when you're feeling lazy with your makeup, says celebrity makeup artist and Omnia Pro Executive Makeup Artist Dominique Lerma. "One swipe of a beautiful stick shadow on my eyelid paired with a matte neutral brown on my crease can fake that I spent more time on my eyes than I actually did."
If you, too, are in your lazy girl era, you're going to want to add these eyeshadow sticks to your cart ASAP. Below, we've curated a list of ultra-creamy eyeshadows that are easy to use, long-wearing, and can be used for a range of makeup looks, no matter your skill level. To make your shopping trip easier, we also consulted the pros for expert tips on how exactly what to look for in these handy tubes. Get ready for the easiest eyeshadow application of your life.
What to Look For in a Eyeshadow Stick
Unless you're going for a sheer wash of color, there's nothing worse than having to apply multiple layers of eyeshadow to get high-impact color. Lerma recommends looking for a pigmented eyeshadow stick—just swatch the stick on the back of your hand to test its color payoff.
Texture is another big factor when on the hunt for an eyeshadow stick. Lerma explains that a great eyeshadow stick won't be drying or won't dry too quickly: "The best way I test it is to apply it like a chunky marker from my lash line up into the crease of my eyes. If it cannot apply gently with one swipe and begins to skip in one forward motion, then the formula is too dry and will not be easily blendable."
This brings us to the next area of consideration—blendability. "An amazing eyeshadow stick should blend seamlessly," Lerma advises. While you should be able to blend a stick shadow with your finger, she recommends using a synthetic brush, adding that she often reaches for the Omnia Pro Brush 430, a "perfectly-sized eye brush to blend colors seamlessly together."
Best Eyeshadow Sticks
Best Overall Eyeshadow Stick
Laura Mercier Caviar Stick Eye Shadow
Laura Mercier's award-winning, cult-favorite Caviar Stick Eye Shadow is everything you could want in an eyeshadow stick. Sure, it may not be the newest product on the block, but it may just be the best one out there. Available in a whopping 25 shades in shimmery, metallic, and matte finishes, there's a flattering hue for just about every skin tone. I'm personally a huge fan of the shade Rose Gold for an instant brightening effect. These sticks are especially creamy and glide nicely against the skin, plus they last all. damn. day.
Pros: Editor-approved; Long-wearing; Highly pigmented; Glides on easily; Offered in 25 shades in three finishes.
Cons: Over $30; Reviewers note some colors don't match the website's description.
Best Splurgeworthy Eyeshadow Stick
Bobbi Brown Long-Wear Cream Eyeshadow Stick
A very close runner-up to Laura Mercier's eyeshadow would have to be Bobbi Brown's eyeshadow sticks. These sticks pack a massive punch of color, no matter which of the 27 shades you opt for. They also come in a variety of long-lasting finishes, including shimmery, metallic, and matte. I personally love to use the shade golden pink to highlight my inner corners, but Bobbi Brown's Global Makeup Artist, Cassandra Garcia, loves to these sticks as a base. "I love that they blend seamlessly and stay on all day," she says. "They are super easy to apply and you don't even need a brush."
Pros: Pro- and editor-approved; Highly pigmented; Long-wearing; Waterproof; Offered in 27 shades in three finishes.
Cons: Over $30.
Best Drugstore Eyeshadow Stick
NYX Professional Makeup Jumbo Eye Pencil
For those that love to experiment with color, might we suggest this under $10 pick? This eyeshadow-eyeliner hybrid comes in 15 distinct shades, including fun colors like Macaroon Mint and Cupcake Pink. With its extra-thick design, you can create your eyeshadow look in seconds with just a swipe across the lid. It also works as an eyeliner or eyeshadow base for an even more intense color. At just $6 a pop, these are worth checking out on your next Ulta run.
Pros: Multi-use; Under $10; Glides on easily; Blendable; Offered in 15 shades.
Cons: Difficult to sharpen; Not waterproof.
Best Budget Eyeshadow Stick
e.l.f. No Budge Shadow Stick
Another great pick that won't your wallet is the e.l.f. No Budge Shadow Stick. Available in eight metallic shades (and eight matte shades), these creamy sticks are perfect for those wanting versatility with their eyeshadow. Each shade is creamy and blendable, meaning these will work for a variety of looks, from smokey eyes to graphic shapes. Just like the name suggests, these sticks won't budge. Plus, with its handy built-in sharpener, your line can stay forever sharp.
Pros: Under $10; Long-wearing; Offered in 16 metallic and matte shades; Glides on easily; Smudgeproof.
Cons: Reviewers note some colors don't match the website's description
Best Eye-Enhancing Eyeshadow Sticks
Charlotte Tilbury Color Chameleon Eye Shadow Pencil
You may know Charlotte Tilbury for her viral Flawless Filter or Contour Wand, but she also makes a viral-worthy eyeshadow stick. Her Colour Chameleon Eye Shadow Pencils come in some of the prettiest shades I've ever seen. Each shade is formulated with specific eye colors in mind: for example, Amethyst Aphrodisiac makes my green eyes pop from a mile away. These pencils are creamy and blendable as well, just be sure to work quickly when blending as they dry down into a long-lasting finish.
Pros: Editor-approved; Long-wearing; Waterproof; Blendable; Offered in eight eye-enhancing shades.
Cons: Over $25; May smear with oily eyelids.
Best 2-in-1 Eyeshadow Stick
Tarte Quick Stick Waterproof Shadow and Liner
When you're rushing to get out the door in the morning, there's nothing better than a multi-tasking product like this one. I'll be the first to admit I've used this 2-in-1 pencil on my morning commutes. The eyeshadow end is super easy to apply and blend out, so I love using this across the lids in a rush, then if I have an extra minute, I'll use the eyeliner end for extra definition. Both formulas last the entire day and never have to be sharpened thanks to this pencil's twist-up design.
Pros: Editor-approved; Twist-up, dual-ended design; Waterproof; Vegan formula; Dermatologist- and ophthalmologist-tested; Glides on easily.
Cons: Does not have much variety in shades.
Best Matte Eyeshadow Stick
Nudestix Magnetic Eye Color
No list of the best eyeshadow sticks wouldn't be complete without the OG, a.k.a. Nudestix's Magnetic Eye Color. The brand that basically originated travel-friendly stick makeup expanded its line to include eyeshadow and we couldn't be happier. If you prefer neutral shades, you have your pick of over 30 flattering colors in both matte and satin finishes. These are especially long-wearing too—according to the brand, they stay put for up to 24 hours and are ideal for oily lids.
Pros: Comes with travel tin and sharpener; Offered in 36 shades in matte and satin finishes; Long-wearing.
Cons: Over $25; Dries quickly.
Best Editor-Approved Eyeshadow Stick
"I'm not great at makeup, so this taupe-colored shadow stick from Halsey's makeup brand About-Face is perfect for me. It makes my green eyes pop, and really does last for hours. I apply it across my entire upper lash line for a dramatically sparkly look, or just in the inner corners or across the center of my eye as a finishing, brightening touch. The formula is also blendable for a few seconds after you apply, so it's also great for an all-over look on the lid." — Julia Marzovilla, E-Commerce Editor
Pros: Editor-approved; Highly pigmented; Long-wearing; Blendable; Vegan formula.
Cons: Some reviewers note creasing with hooded eyes.
Best Glimmer Eyeshadow Stick
Iconic London Glaze Dual Ended Eyeshadow Crayon
Shimmer lovers absolutely have to try this 2-in-1 eyeshadow stick. One side is a creamy, pearlescent shade that delivers high-impact color and glides on like a dream. The other side is a liquid glitter glaze that complements the crayon shade. Each can be worn on their own—for intense metallic color, opt for the crayon side, or for a sheer wash of glitter, go with the glaze side. But worn together, these two formulas combine to create an ultra-glam, long-lasting "wet" effect. I can't forget to mention my eyeshadow stayed flawless through a whole night of dancing after using these sticks.
Pros: Editor-approved; 2-in-1 formula; Glides on easily; Multi-use; Highly pigmented; Long-wearing.
Cons: Only available in shimmery finish.
Best Skin-Loving Eyeshadow Stick
IT Cosmetics Superhero No-Tug Longwear Eyeshadow Stick
We love a hard-working beauty product. This eyeshadow stick from IT cosmetics is formulated with skin-loving ingredients like peptides, collagen, ceramides, and caffeine so that your eyelids become smoother over time. Those ingredients also allow for a super smooth glide, so no tugging here! Shades range from a shimmery amethyst to a matte deep brown and true gold. Reviewers especially love how easily these sticks apply and how great these work for oily eyes.
Pros: Glides on easily; Waterproof; Formulated with skin-smoothing ingredients; Long-wearing; Offered in 12 shades in matte and shimmery finishes.
Cons: Dries fast.
Best Colored Eyeshadow Stick
Sephora Collection Waterproof Eyeshadow & Eyeliner Multi-Stick
Sephora's in-house beauty collection should not be slept on, especially because their incredible shade range is hard to beat. From terracotta red to khaki green, this Sephora stick is offered in just about every color you could want. While these work as eyeliner, they are especially great for eyeshadow thanks to their jumbo. One sweep is all you need for intense color, but you can also layer your favorite shades to add some depth. Just work fast while blending as these pencils do dry down quickly.
Pros: Under $15; Offered in 25 shades and three finishes; Waterproof; Long-wearing; Highly pigmented; Multi-use.
Cons: Difficult to sharpen; Dries fast.
Best Pro-Approved Eyeshadow Stick
Bodyography Shadow Stylist Crayon
Lerma counts herself a fan of this vegan eyeshadow crayon. She says, "Bodography Shadow Stylist Crayon is long-wearing, creamy eyeshadow in a portable stick. It's so friendly for those on the go!" This stick comes in eight shades, but Lerma's favorites are Coin (Rose Gold), Aglow (Champagne), and Blush (Metallic Rose Pink). Each shade applies smooth and dries down in 30 seconds (enough time to play with!) to a pretty metallic finish.
Pros: Pro-approved; Waterproof; Long-wearing; Vegan formula; Glides on easily.
Cons: Only available in a metallic finish.
Meet the Makeup Experts
Dominique Lerma a Hollywood bred Internationally published Makeup Artist and Beauty Educator, known for her ability to create flawless complexions and innovative beauty looks. She grew her love for makeup artistry at a very ripe age and began beautifying faces for her fellow classmates at her all girl parochial high school. Her self taught passion flourished while she was given the opportunity of working with the world reknowned Mac Cosmetics and soon became a Viva Glam Ambassador. Her 9 years in the beauty industry has landed her on the pages of Instyle, Nylon, Runway, and Photo Vogue Italia. Dominique's vast resume includes Beauty, editorial, celebrity, advertising, rebranding and bridal. She serves as a Beauty Educator for Frankie Rose Cosmetics and is a bilingual traveling sales representative for both Enzo Milano Professional Hair Styling Tools and Royal Langnickel Brush. Her creative expertise consists of Makeup artistry, hairstyling and men's grooming.
Cassandra Garcia is a New York-based makeup artist. As an optimist and naturally curious person, Garcia is at ease working across all types of mediums and creating a broad range of looks, whether it's an effortlessly undone or an iconic red carpet moment. Her celebrity clients include Kate McKinnon, Aidy Bryant, Heidi Gardner, and Vanessa Bayer, and her work can be found in publications such as Glamour, Marie Claire, GQ, and Hollywood Reporter. In addition, brands such as Reem Acra, Cynthia Rowley, Jenny Packham, Tibi, and Veronica Beard have called on Garcia's expertise for runway looks. Garcia represents Bobbi Brown Cosmetics as its resident editorial makeup artist.
Celebrity news, beauty, fashion advice, and fascinating features, delivered straight to your inbox!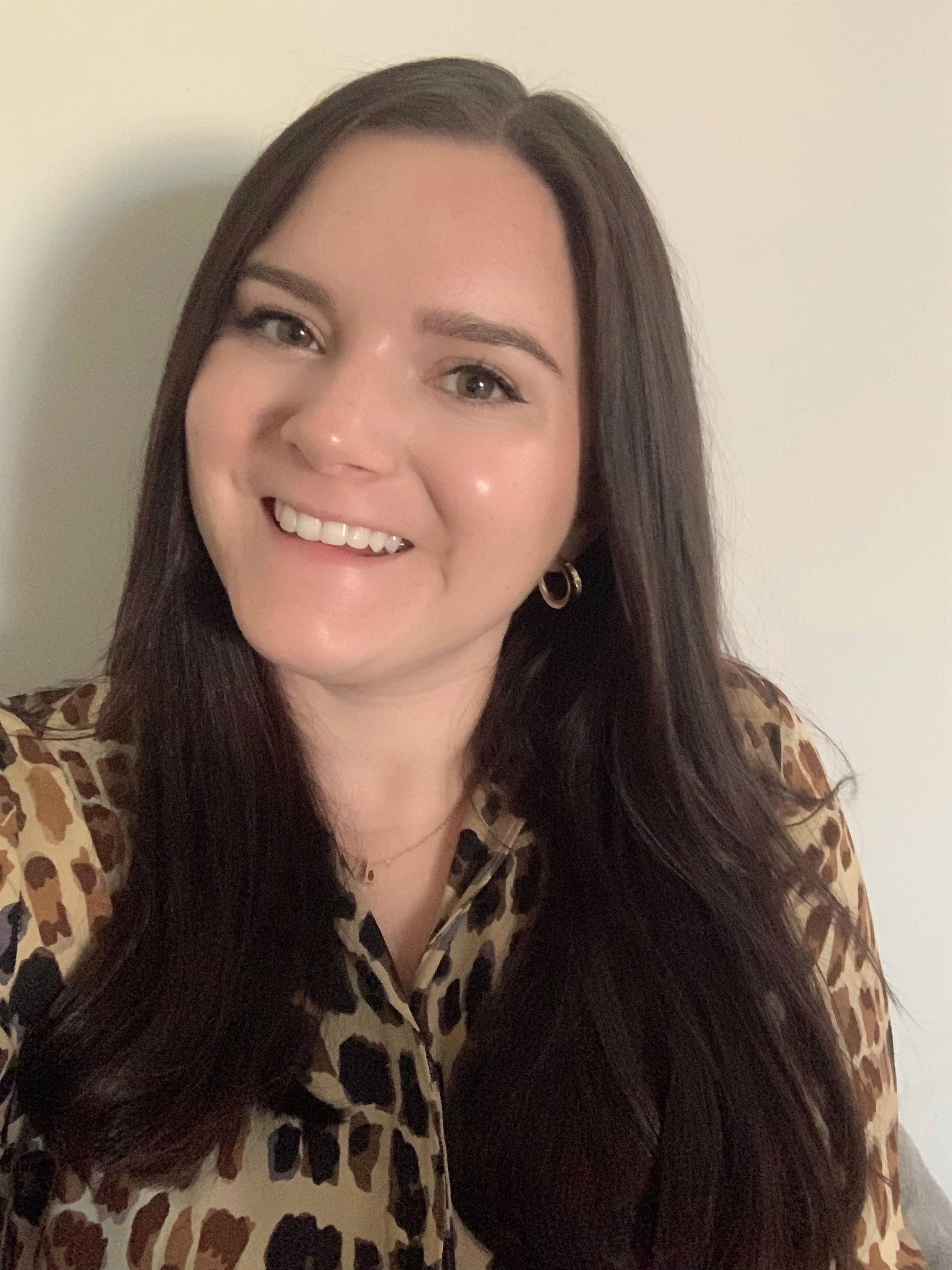 Brooke Knappenberger is Contributing Writer at Marie Claire, where she writes across the board from fashion and beauty to books and celebrities. As a pop culture junkie, Brooke obsessively consumes and writes about the latest movie releases, streaming TV shows, and celebrity scandals. She has over three years of experience writing on fashion, beauty, and entertainment and her work has appeared on Looper, NickiSwift, The Sun US, and Vox Magazine of Columbia, Missouri. Brooke obtained her Bachelor's Degree in Journalism from the University of Missouri's School of Journalism with an emphasis on Magazine Editing and has a minor in Textile and Apparel Management.