Finally, the Easiest Way to Contour Your Face If You're Lazy but Still Want the Lewk
Cheekbones so sharp, you can throw away your knives.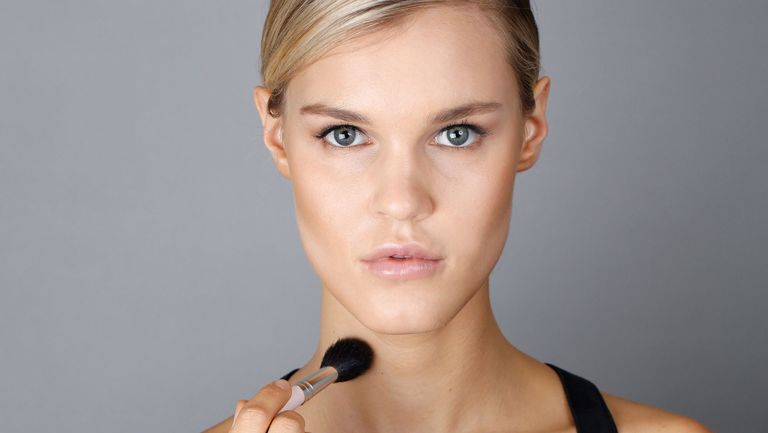 (Image credit: Kathryn Wirsing)
I'm going to tell you something, and you're going to refuse t0 believe me: Contouring is really easy. Seriously. Because even though Instagram contouring has turned into a 12-step, 20-product process that requires a degree in fine arts or the last name Kardashian to master, everyday contouring requires just a few minutes, a couple of products, and absolutely zero reality TV fame. And to prove to you just how simple a basic contour can be, we've created the world's easiest tutorial, ahead.
1/6
Step 1: Carve It Out
To make your cheekbones really pop, swipe a line of contour powder (we like Benefit Hoola Bronzing Powder) from your ear to the apple of your cheek using an angled contour brush, like the Sephora Collection Classic Double Ended Brush.
Make sure to keep the contour directly on the bottom edge of your cheekbone, so much so that your brush should be straddling your cheekbone as you apply it.
2/6
Step 2: Define the Jaw
Reload your brush with powder, tap off the excess, and blend along the edge of your jawline, swirling in concentric circles from the base of your jaw all the way to your chin.
3/6
Step 3: Blend It Down
A natural-looking contour requires hardcore blending, which means you can't just leave your jaw rimmed with brown powder. Instead, swirl the bronzer beneath your chin and extend it down your neck—yes, your neck—too.
4/6
Step 4: Define the Hairline
Yes, even the edges of your forehead can use some contour love. Get some more powder, tap off the excess, and swirl it along your forehead and over your temples, staying close to your hairline.
5/6
Step 5: Chisel the Nose
Using a small blending brush, like the Wet n Wild Crease Brush, trace a line down each side of your nose, lightly blending down to the tip of your nose, then back up until you almost hit the edges of your brows.
6/6
Step 6: Add the Blush
The quickest way to ruin your contour is by foregoing blush. A rosy cheek makes the whole look seem natural and soft. So with a blush brush (like Real Techniques Blush Brush), swirl a silky blush (our favorite: Tarte Amazonian Clay 12-Hour Blush) over the apples of your cheeks, blending in small circles up to your temples.
Then, grab your phone, take a selfie, and brag about your newfound bone structure to anyone who will listen.
Chloe Metzger is the deputy beauty director at Cosmopolitan, obsessively writing about new makeup launches, the best hair products (curly girl here; whattup), and the skincare formulas that really work for every skin type (follow her on Instagram to see behind-the-scenes pics of that magazine life). She also has an unhealthy adoration for Tom Hanks and would like to please meet him one day, if you could arrange that. Thanks.