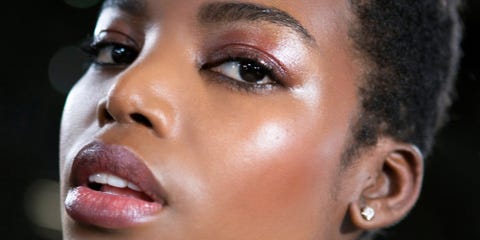 Fact: The best highlighters should be the ones you don't even know are there—the ones that leave your skin looking naturally dewy, glowy, and luminescent, rather than shimmery and glittery. Seem like a tall order? Not for these five tested-and-approved highlighters, below, which are guaranteed to give you that ever-elusive, super-soft highlight, no games involved.

1
Wet 'N Wild MegaGlo Highlighting Powder
Wet 'N Wild MegaGlo Highlighting Powder in Golden Flower Crown, $5
If the last time you wore Wet 'N Wild was in junior high, you've got about a decade of making up to do, because this iridescent powder has become a cult-favorite among the beauty community for its legit shade range (light pink for fair skin, champagne for light-to-medium skin, apricot for medium-to-dark skin, and copper for dark-to-deep skin tones) and for the super-natural, super-subtle glimmer it leaves behind.
2
Marc Jacobs Dew Drops Coconut Gel Highlighter
Marc Jacobs Dew Drops Coconut Gel Highlighter, $44
This coconut-infused gel highlighter will up your skin's hydration factor, resulting in a dewy sheen that works on every skin tone. Mix it with your foundation or primer or use on it's own, but note—a little goes a long way (as noted by reviewers!). Translation: It's worth the money because it'll last you forever.
Nars Illuminator in Orgasm, $30
If Nars liquefied its four best-selling blushes (Copacabana, a pearly-pink, Hot Sand, an iridescent light pink, Orgasm, a peachy pink with champagne shimmer, and Super Orgasm, a deeper pink with golden flecks) and bottled them up, you would get these sheer highlighters. Because that's literally what they are. Swirl a few drops in with your moisturizer or foundation for an all-over glow, or blend a few drops over your cheekbones, brow bones, and Cupid's bow for a concentrated highlight.
4
Becca Shimmering Skin Perfector Pressed Powder
Becca Shimmering Skin Perfector Pressed Powder in Champagne Pop, $26
This little powder highlighter has the magical ability to look good on literally all skin tones (yes, even deep skin) without looking chalky, ashy, or sparkly, thanks to its mix of both warm apricot and cool peach undertones. Lightly sweep it over your cheekbones and eyelids with a fan brush for a diffused finish.

5
RMS Beauty Living Luminizer
RMS Beauty Living Luminizer, $38
Okay, we're aware that recommending a pearly-white highlighter for anyone other than the ultra-pale seems like a cruel joke, but that's why this little highlighter has received so much praise over the last year: It truly looks good on all skin tones. The balm-like formula is super sheer with just a hint of iridescence (so, you know, basically the definition of a dewy) and a faint, blueish undertone, which gives skin the illusion of a naturally bright glow.