25 Curly Hair Products for Every Hair Type
Say it with me: My curls will thrive this year.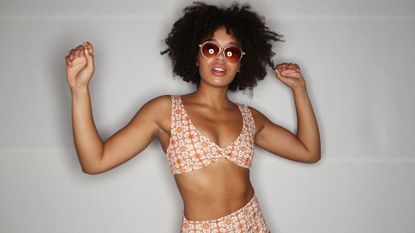 (Image credit: Getty Images)
Let's be honest: Finding products that work with your curls is a journey of trial and error that is never, ever fun. So we've compiled this list of curl-loving products—from heavy creams to oils to leave-ins, drugstore finds to high-end purchases—that will address every curl need out there. But first, let's talk about the science of curly hair. There are so many factors that play into our curls looking their best, and lot of that has to do with our hair porosity.
What is hair porosity?
Porosity has to do with how hair absorbs water and hydration. Low porosity hair doesn't absorb water very well, which can lead to dehydration and frizz. High porosity hair absorbs water very quickly, but can also break more easily and take forever to dry. Want to know your porosity levels? Pluck a few hairs and drop it into a glass of plain water. If it sinks to the bottom immediately, you may have high porosity hair. Low porosity hair will float on top of the water for a while. If your hair sinks a little then hovers in the middle, you probably have normal porosity hair. Well, congrats on being perfect, I guess.
What products does my curly hair need?
Low porosity hair won't react very well with heavy creams and butters, and prefers products that the hair cuticle can absorb better, like serums and sprays. High porosity hair can handle heavier products, which should include some protein treatments to strengthen your strands. But even with these guidelines, it can still be difficult to find products that are your holy grails. Ahead, our editor-approved guide to curly hair products, no matter your hair type.
Tatjana Freund is a Beauty Commerce Writer, covering makeup, skincare, and haircare products and trends. She's a fan of vodka tonics and creepy Wikipedia pages.