The 20 Best Products to Air Dry Your Hair With
Experts break down how to air dry your hair—sans frizz.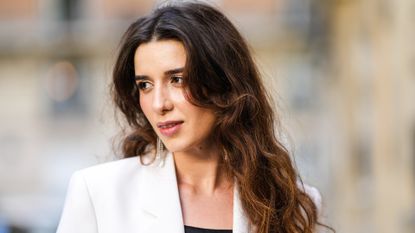 (Image credit: Edward Berthelot/Getty )
You're tired. You're late. And the thought of pulling out a blow dryer? Yea, that's not going to happen. But if you have frizzy or flat hair, living a low-maintenance life and having a good hair day can seem like a far-off dream. The good news is that using one of the best air dry hair products can change the game. These oils, creams, mousses, and gels are designed to enhance your natural texture, seal your ends, and restore hydration so your hair looks as defined and polished as possible. That said, slapping any old product on your ends isn't going to get the job done—there's a technique.
"You need to take as much of the excess moisture out of the hair with a towel," advises Adam Reed, celebrity hairstylist and founder of ARKIVE. "Comb through the hair with product and leave the comb tracks in place—don't disrupt them until the hair is almost dry. Then gently manipulate and open up the hair. The longer you can leave the hair without touching it, the less frizz you'll have. If you touch it, it gets fluffy and doesn't maintain that nice, air-dry finish."
Sounds pretty easy, right? To get on board with a shower-and-go hairstyle, keep reading. We've rounded up the 20 best air dry hair products, ahead.
Air Drying for Your Hair Type
You'll have to experiment to find out what kind of air dry product works best on your hair type. "You have to find a product that works really well with your hair, so it depends on your hair type. There's a bit of a trial-and-error process," explains Reed. "As a general rule, thicker hair with more curls will require heavier moisture to stay hydrated. Something like a cream could be a good place to start. Finer hair will need much more lightweight hydration."
He also suggests using less product at the get-go so you don't weigh your hair down. If frizz starts to creep up, consider adding a drop of oil into the mix for added hydration.
The Best Air Dry Hair Products
Samantha Holender is the Beauty Editor at Marie Claire, where she reports on the best new launches, dives into the science behind skincare, and keeps up with the latest trends in the beauty space. She has previously written for Us Weekly, Popsugar, Makeup.com, Skincare.com, and Philadelphia Wedding. Follow her on Instagram @samholender.