The 15 Best Products to Air Dry Your Hair With, According to Stylists
Experts break down how to air dry your hair—sans frizz.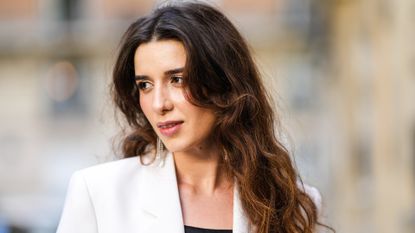 (Image credit: Edward Berthelot/Getty )
You're tired. You're late. And the thought of pulling out your favorite blow dryer? Yea, that's not going to happen. But if you have frizzy or flat hair, living a low-maintenance life and having a good hair day can seem like a far-off dream. The good news is that using one of the best air dry hair products can change the game. These oils, creams, mousses, and gels are designed to enhance your natural texture, seal your ends, are valuable heat protectants against UV heat, and restore hydration so your hair looks as defined and polished as possible.
How to Air-Dry Your Hair According to Your Hair Type
That said, slapping any old product on your ends isn't going to get the job done—there's a technique. "You need to take as much of the excess moisture out of the hair with a towel," advises Adam Reed, celebrity hairstylist and founder of ARKIVE Headcare. "Comb through the hair with product and leave the comb tracks in place—don't disrupt them until the hair is almost dry. Then gently manipulate and open up the hair. The longer you can leave the hair without touching it, the less frizz you'll have. If you touch it, it gets fluffy and doesn't maintain that nice, air-dry finish."
Plus, you'll have to experiment to find out what kind of air dry product works best on your hair type. "You have to find a product that works really well with your hair, so it depends on your hair type. There's a bit of a trial-and-error process," explains Reed. "As a general rule, thicker hair with more curls will require heavier moisture to stay hydrated. Something like a cream could be a good place to start. Finer hair will need much more lightweight hydration."
He also suggests using less product at the get-go so you don't weigh your hair down. If frizz starts to creep up, consider adding a drop of oil into the mix for added hydration.
How Much Product To Apply
While the exact answer to the "how much product" question has more to do with your specific hair type and texture than anything else, celebrity stylist Glenn Ellis has a general rule of thumb that he tends to follow. "I always suggest starting with a dime to quarter size amount," he says.
If you have finer hair you'll want to use a dollop closer to a dime size,
if you have thicker hair you'll want to use more. You want it to be enough to work through all of the hair but not too much that it is too thick. You can always add a bit more if needed but start off with less and add where needed!
Shop The Best Air-Dry Hair Products
Your Air-Dry Questions, Answered
What Do Air Dry Products Do?
Air-dying your hair is the perfect no-fuss way to look good straight out of the shower, and air-dry hair products are the secret weapon to make your hair look amazing without much effort. "They coat the hair and help keep the frizz to a minimum," says Ellis. "They also add shine and nourishment to the hair without leaving a crunchiness or heaviness feeling to the hair."
Does Washing Your Hair Affect How it Air-Dries?
The short answer is yes. Before you think about air-drying your hair, you'll want to find the best shampoo and conditioner for your hair type to really set yourself up for success. Shampoos and conditioners that weigh your hair down or make it too greasy cannot be remedied by adding in more products, no matter how good they are. "Shampoo and conditioner is an important part of any hair routine," says Franck Izquierdo, Co-founder of IGK Hair Care. "Your styling routine can also help enhance the way your hair air-dries for the best results."
Meet The Experts
Samantha Holender is the Beauty Editor at Marie Claire, where she reports on the best new launches, dives into the science behind skincare, and keeps up with the latest trends in the beauty space. She has previously written for Us Weekly, Popsugar, Makeup.com, Skincare.com, and Philadelphia Wedding. Follow her on Instagram @samholender.