The 15 Best Products to Air Dry Your Hair With, According to Stylists
Experts break down how to air dry your hair—sans frizz.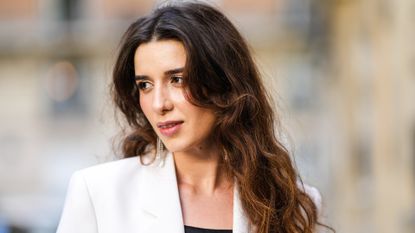 (Image credit: Edward Berthelot/Getty )
You're tired. You're late. And the thought of pulling out your favorite blow dryer? Yea, that's not going to happen. But if you have frizzy or flat hair, living a low-maintenance life and having a good hair day can seem like a far-off dream. The good news is that using one of the best air dry hair products can change the game. These oils, creams, mousses, and gels are designed to enhance your natural texture, seal your ends, are valuable heat protectants against UV heat, and restore hydration so your hair looks as defined and polished as possible.
How to Air-Dry Your Hair According to Your Hair Type
That said, slapping any old product on your ends isn't going to get the job done—there's a technique. "You need to take as much of the excess moisture out of the hair with a towel," advises Adam Reed, celebrity hairstylist and founder of ARKIVE Headcare. "Comb through the hair with product and leave the comb tracks in place—don't disrupt them until the hair is almost dry. Then gently manipulate and open up the hair. The longer you can leave the hair without touching it, the less frizz you'll have. If you touch it, it gets fluffy and doesn't maintain that nice, air-dry finish."
Plus, you'll have to experiment to find out what kind of air dry product works best on your hair type. "You have to find a product that works really well with your hair, so it depends on your hair type. There's a bit of a trial-and-error process," explains Reed. "As a general rule, thicker hair with more curls will require heavier moisture to stay hydrated. Something like a cream could be a good place to start. Finer hair will need much more lightweight hydration."
He also suggests using less product at the get-go so you don't weigh your hair down. If frizz starts to creep up, consider adding a drop of oil into the mix for added hydration.
How Much Product To Apply
While the exact answer to the "how much product" question has more to do with your specific hair type and texture than anything else, celebrity stylist Glenn Ellis has a general rule of thumb that he tends to follow. "I always suggest starting with a dime to quarter size amount," he says.
If you have finer hair you'll want to use a dollop closer to a dime size,
if you have thicker hair you'll want to use more. You want it to be enough to work through all of the hair but not too much that it is too thick. You can always add a bit more if needed but start off with less and add where needed!
Shop The Best Air-Dry Hair Products
Best Overall Air-Dry Hair Product
JVN Complete Hydrating Air Dry Hair Cream
Our editors trust JVN—the brand is created by Queer Eye's Jonathan Van Ness—so it's no wonder his air dry cream leaves hair, with a frizz-free look and touchable hold. The key ingredient? Hemi-squalane, which acts as a more hydrating replacement to the typical silicones often seen in hair products. Plus, the addition of moringa seed gives you shine, while chia seed gives your hair bounce. Better yet, the formula is incredibly buildable, which will leave you with glossy—but not greasy—hair.
Pros: Keeps frizz away for most of the day; Great for adding volume
Cons: Can weigh down thinner hair types; Some reviewers sayit feels sticky.
Customer Review: "I've been using this product for weeks and it's amazing. I have thick frizzy hair and live in a humid climate. This cream is Everything I've ever wanted in a hair product. This makes my hair soft, shiny, and reduces frizz SIGNIFICANTLY!" — Sephora
The Best Air Dry Product for Detangling
Briogeo Superfoods Avocado + Kiwi Mega-Moisture 3-in-1 Leave-In Spray
Got tangled hair? We highly recommend scooping up this miracle-working primer from Briogeo to get rid of them. A few sprays directly into damp hair will make brushing through knots about 1000 times more manageable. This leave-in cream from the brand is formulated with tons of good-for-hair nutrients (read: chia seeds, avocado, kiwi, spinach, and sunflower seeds) that will keep your hair both hydrated and protected from the sun's UV rays, which can mess with hair color and dry hair out over time.
Pros: Pleasant smell; Concentrated and lightweight
Cons: Can leave greasy residue for some hair types
Customer Review: "This product is heavy enough I can see a difference in my hair. I have low porosity so my hair does not absorb product easily. I could tell a difference by my third time trying it! SO AMAZING!" — Ulta
The Best Air Dry Product for Wavy Hair
Kenra Professional Volume Mousse Extra 17
This $20 styling mousse from Kenra remains a celebrity hairstylist favorite—it's featured in nearly every kit both backstage and on set. If you have natural waves, this mousse will define them but won't make them crunchy thanks to the fact that it has a firm hold but a lightweight feel in your hair. It's great to add fullness to the hair, and provides heat protection up to 450 degrees. The formula is also designed not to flake off or leave build-up behind.
Pros: Pleasant smell
Cons: Adds minimal volume; Can be very drying
Customer Review: "Always use after shampooing and drying my hair until it's damp. Works great adding the volume I need for my fine hair. Will keep purchasing it." — Ulta
The Best Air Dry Cream for Damaged Hair
Klorane Nourishing Leave-In Cream With Mango
Hot tools can do some mega damage to your hair. While air drying is *chef's kiss* for getting hair back to a healthy state, you can be left staring at split ends in the interim. Enter this vegan mango-infused leave-in product from Klorane. The wildly nourishing cream isn't going to just prevent future breakage—it's going to do its part to seal your pre-existing split ends and prevent new ones from coming in. It's free of sulfates as well and includes mango seed butter and lactic acid which actually helps maintain moisture levels in the hair.
Pros: Great for thicker hair types; Can be applied to wet or dry hair
Cons: Can be too greasy for some
Customer Review: "Loveeeeee how soft and smooth this leaves my hair, even in the humid summer heat! Can be applied on wet or dry hair. A little goes a long way! Smells like juicy mangoes and peach!" — Revolve
The Best Air Dry Product for Added Texture
Alterna Caviar Anti-Aging Smoothing Anti-Frizz
Leaving your waves or curls to their own devices can be risky business. If you're going to let it dry au naturale—all the power to you. But, if you want a little help enhancing and defining your curl pattern and style without changing the natural shape, Alterna has you covered. This lightweight air dry balm is going to add the perfect amount of softness and shine. While the word blow-dry is in the name, you don't need to use a hot tool to achieve amazing results.
Pros: Lightweight; Leaves hair feeling softer
Cons: Can feel too crunchy for some
Customer Review: "Lately I've been too lazy to blow dry my hair, but this "blowout butter" takes good care of my hair. I apply it in my hair, make a bun and leave it for a little while, and it does miracles to my hair when I undo it!" — Dermstore
The Best Budget-Friendly Air Dry Product
This drugstore fave hair product from Odele performs just as well as many of its luxe counterparts. Formulated specifically for air drying your hair, this lightweight cream provides the separation and soft finish that makes air drying so alluring. The formula is both sulfate free and paraben free, has a 100 percent natural scent, and is cruelty-free to boot. Plus, the formula smooths your hair and provides just enough separation for a lived-in look that never looks or feels heavy.
Pros: Affordable; A little goes a long way
Cons: Not ideal for short, straight hair
Customer Review: "This product is what have always been looking for. I never use heat to style my hair but have found leave in products really weigh my hair down. I have shoulder length thick wavy hair and this really gives me the volume and body I am looking for!" — Odele
The Best Lightweight Air Dry Product
Aveda Phomollient Styling Foam
For fine to medium hair that wilts under the weight of most other leave-in products, meet your airy new BFF. The patented liquid-to-foam formula from Aveda is so light you won't notice any crunch left behind—just soft strands. It also is geat for adding body to fine hair. One five-star reviewer said that "It even works with second day hair. I just dampen my hair and set overnight with the curler and allow to dry. It's provides awesome help, even with a head free roller."
Pros: Quickly builds body; No hydrocarbon propellants
Cons: Strong tea tree oil smell; Can be messy
Customer Review: "My hair short, fine and straight. it needs body after washing. I have found this product to build body without leaving my hair stiff with residue. It leaves my hair healthy looking with shine, body and softness. It gives old hair a young vibe." — Nordstrom
The Best Air Dry Product for Volume
Moroccanoil Hydrating Styling Cream
This styling cream from Moroccanoil is infused with ingredients that fight both frizz and static. This leave-in version is ideal for dry and brittle hair because it restores yoru hair's natural elasticity and bounce while hydrating and conditioning natural locks from the inside. Argan oil is included in the formula to smooth everything over and add shine without weighing down your hair, and it's free of parabens and sulfates to boot. Reviewers say it doesn't leave behind a film and easily detangles strands.
Pros: Pleasant smell; Great for maintaining curls
Cons: Adds minimal shine; Bottle is cumbersome to use
Customer Review: "Great for curls. I've recently been trying heatless curls and this does the trick for the frizz!! amazing and light weight. Not greasy." — Sephora
This thick custard from Tracee Ellis Ross's hair brand Pattern is here to provide medium hold and moisture to your strands. The oil-rich formula includes shea butter, sweet almond oil and cacay oil to prevent breakage and breakage. And while the formula might seem heavy, the texture is lightweight enough that it won't hold your hair down over time. One reviewer said that this product "has the ability to slick my hair back, which can be a difficult thing to do on very coily and springy type 4 hair," and that they "fully expected that my hair would be weighed down but somehow it remained light and fluffy."
Pros: Top-rated; Includes shea butter; Fights breakage; Lightweight; Prov