What Is Cosmetic Tattooing? Read This Before You Get One
Semipermanent makeup looks so much better than the harsh lip liner and drawn-on eyebrows from back in the day. But here's why you still need to think before you ink.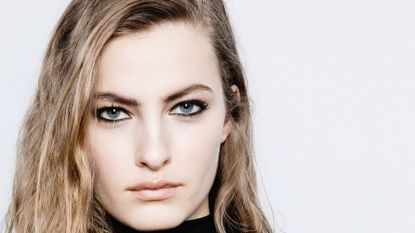 (Image credit: Getty Images)
Marie Claire Newsletter
Celebrity news, beauty, fashion advice, and fascinating features, delivered straight to your inbox!
Thank you for signing up to Marie Claire. You will receive a verification email shortly.
There was a problem. Please refresh the page and try again.
"You're getting a tattoo on your face? Like you're in prison?" Leave it to my husband to get all literal the night before my appointment to have my lips recontoured and tinted with semipermanent pigments.
For as long as I can remember, I have bemoaned the stingy diameter of my upper lip and its askew Cupid's bow. The natural color too leans toward an unripe, anemic strawberry still on the vine. Sure, I can plump it with an artful lick of lip liner and strategic shading, but reapplication throughout the day gets tedious—not to mention dangerous when you live in L.A. and do most cosmetic touch-ups at stoplights.
Luckily, there's never been a better time to outwit genetics. Semipermanent makeup, which includes, among other treatments, lip tinting, everlasting eyeliner, and the wildly popular microblading (individually tattooed eyebrow hairs), is having more than a moment. Actresses like Mandy Moore, Olivia Wilde, and Lena Dunham have been transparent about their ink experiences—and when septuagenarian sex symbol Helen Mirren revealed she had her eyes "done" last spring, she was talking about the microblader's needle, not the plastic surgeon's knife.
Most women are loving the results too. On the brutally honest cosmetic-enhancement forum RealSelf, 73 percent of those who rated permanent makeup called the trendy procedure "worth it" because of the minimal downtime and need for only topical anesthesia. A quick skim of reviews on the site finds that the treatments sound less invasive than Botox. But, in fact, my husband is absolutely on point when he calls me out on the implications of my lip fix. "Nobody wants to say tattoo because you visualize this solid block of color," says Rose Marie Beauchemin, a New Jersey–based permanent-makeup artist who's worked in the industry for more than 25 years and heads the American Academy of Micropigmentation. "But really, any color that goes into your skin is a tattoo." The difference with these procedures—and the reason they're called semipermanent makeup—is that the artists use micropigments that are absorbed by the body over time and finer needles, so the ink isn't inserted as deeply as it would be if you got, say, a traditional bicep tat. In fact, this type of work typically lasts only six months to two years, depending in part on your skin type, sun exposure, the artist, the ink, and even the tools. And the costs vary greatly, from about $200, on the very low end, for basic microblading to $5,000 for permanent lip color from a well-known pro.
Dominique Bossavy, for example, uses a digitally programmed pen that deposits particles of pigments one millimeter beneath skin's surface in a trademarked procedure she calls NanoColor Infusion. The renowned Paris-born permanent-makeup artist, who divides her time between New York, Beverly Hills, Dubai, and her native city, zeroes right in on my pucker when we meet on the day of my lip rejuvenation. Decked out in a chunky gold Chanel logo necklace and six-inch platform Gucci pumps, the honey-blond, high-spirited Bossavy is the last person you would expect to tattoo your face. She's also a tetrachromat, which means she has the rare superhero ability to see up to 100 million colors compared with the million or so hues mere mortals like me can perceive. She proves it when she puts on her magnifying headgear, peers at my fair Irish complexion, and trills, "Ahh, you have olive undertones in your skin. Did you know that?" I did not.
A deep understanding of color theory is one of the basic skills expected of any cosmetologist. And here's where things start to get murky in the booming semipermanent-makeup space. Many of the cosmetic-tattoo artists working today have less training than professional bartenders do. In the past few years, hundreds of microblading academies and permanent-makeup classes have sprouted up across the country. These schools typically certify students after just two to three days of training. What's even more troubling is the fact that many graduates never practice on live models before they start racking up clients, according to Beauchemin.
"In most states, there is no regulation," says Audrey Glass, a Los Angeles–based semi-permanent-makeup artist who specializes in microblading. "You could be working in finance, and then tomorrow you're like, 'You know what? I'm going to tattoo someone's face.'" Glass, who sports a constellation of self-applied semipermanent freckles across the bridge of her nose and recently had her lips tinted to a soft coral by a colleague at her eponymous studio, apprenticed for months with a semipermanent-makeup artist before she started working professionally. (Bossavy apprenticed in Paris for almost two years before she went out on her own in 1989.)
Dig deeper and you find out that the requirements for practicing cosmetic tattooing vary wildly depending on where you live, and they're mostly overseen by a state's overstretched Department of Health. In Los Angeles, practitioners simply have to register with county officials, get a hepatitis B shot, and take a two-hour bloodborne-pathogens training course to start working as a semipermanent-makeup artist. New Jersey requires 100 hours of training and proof that the artist has completed 15 cases. Philadelphia, perhaps one of the strictest areas, requires all body-art specialists, including those who do only cosmetic tattoos, to have no less than three years of experience.
Not Ready for the Needle?
Even if the laws regulating cosmetic tattooing haven't evolved much since the 1930s—when the procedure basically involved injecting vegetable dyes into the skin as a "complexion treatment"—techniques certainly have. The artists finding acclaim on Instagram have moved away from stenciled-looking brows and over-defined lip lines in favor of more natural-looking results. Some even offer trickier applications, such as camouflaging stretch marks or hiding dark circles with pigment. And the latest play, BB Glow, is billed as semipermanent foundation that mimics the effect of a BB cream. It's reportedly all the rage in Russia and Korea, but many experts in the States warn against the procedure, which requires the use of skin-toned inks that contain the white pigment titanium dioxide.
Bossavy says that this insoluble pigment doesn't mix well with others and doesn't fade the way other colors do. Plus, "it can get inside the pores and enlarge their appearance," she notes. Beauchemin echoes the alarm: "Nightmare. I have seen titanium dioxide sit on the skin like sour cream and then turn yellow." Even worse, L.A. dermatologist Nancy Samolitis says attempting to fade the colorant with a laser (i.e., laser tattoo removal) doesn't work. "There isn't a laser that can effectively target pigment of that color, and lasering over titanium dioxide can result in irreversible darkening," says Samolitis. To be fair, I reached out to Trisha Rave, who runs an academy in Los Angeles that teaches the BB Glow cosmetic-tattooing procedure in a one-day training course, and she insists that the pigments used contain a "minuscule and safe" amount of titanium dioxide.
One thing is clear: As with any cosmetic procedure, you should do serious legwork before you commit. "Schedule a consultation, check the cleanliness of the artist's station, and ask to see lots of before and after photos. You can't be too picky," advises New York microblader Tamara Palumbo, who owns FringeBrow. And proceed with caution—because there's no way to know for sure what's going into your skin. You might assume the Food and Drug Administration (FDA) has some oversight in this area or that it approves the ingredients used in the inks, but that's not the case. The agency investigates a formula or manufacturer only after it hears about a problem. "It's shocking to me that they'll be so picky about claims that you can make for drugstore creams but not for something that's injected into the body and carried to your lymph nodes," says Los Angeles dermatologist Jessica Wu, who adds that a hyper-sensitivity reaction to semipermanent pigments can lead to granulomas, unsightly nodules under the skin that may appear months or years after you get inked.
Semipermanent makeup may not be going anywhere—figuratively or literally—but you need to balance the risks with the rewards. So far, I'm happy with my treatment. It's been a few weeks since I saw Bossavy, and the results are remarkable. My smile seems enhanced, and my upper lip, redrawn with muted berry-hued curves, looks fuller—plus, it needs no tinkering at red lights.
This article appears in the April 2019 issue of Marie Claire.
RELATED STORY
Celebrity news, beauty, fashion advice, and fascinating features, delivered straight to your inbox!