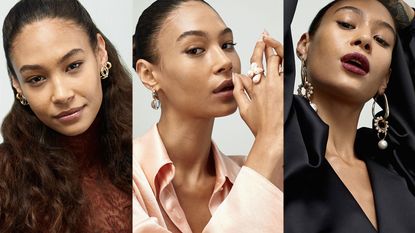 (Image credit: Andrew Stinson)
Marie Claire Newsletter
Celebrity news, beauty, fashion advice, and fascinating features, delivered straight to your inbox!
Thank you for signing up to Marie Claire. You will receive a verification email shortly.
There was a problem. Please refresh the page and try again.
Whether you love a dramatic, full-color look or are more of a no-makeup makeup type, there's a good chance your beauty routine starts with two steps a day: foundation and concealer. With long-lasting products in the right shades, these base-makeup heroes do the expected work of evening things out, covering, and concealing, and they can also brighten and highlight.
That said, these fundamental products are some of the most commonly misused—hello, unnatural texture and color—and underutilized for all the ways they can be wielded. To help you create a flawless, undetectable canvas for whatever additional elements you have in mind, we asked makeup artist Mark Edio for a few tips on how to get the most out of your foundation and concealer.
Start with Maybelline Super Stay Full Coverage foundation and concealer—the products both last up to 24 hours, making them a reliable duo to start your makeup with and ideal for everyday use. Find your match-up, then read on for four essential lessons on using them that'll make all the difference.
---
Blend Your Foundation Outward
When it comes to the products Marie Claire recommends, we take your faith in us seriously. Every product that we feature comes recommended by a MC writer or editor, or by an expert we've spoken to. Learn more about how we review products.
Start by washing your hands and then use a foundation brush (be sure to sanitize these often) to apply foundation in the center of your cheek area, Edio says. Then blend outward using a cone-shaped sponge, pushing the product into the skin. This helps imperfections and various areas of discoloration that happen in the cheek area, around the nose, and near the mouth.
Pro tip: Be sure to blend your foundation lightly down the neck to avoid a visible line of uneven color between your face and neck.
---
Coordinate Your Under-Eye Shades
When you're tackling under-eye circles, Edio recommends starting with a light base of foundation, because it might be enough to cover them depending on the severity of the darkness. Slightly wet a blending brush, then gently apply just a bit underneath the eyes—you don't want too much of a buildup before concealer.
Pro tip: Use a concealer shade that's a bit lighter than your foundation under your eyes to fake that perky awake look.
Apply using the precise paddle applicator, and then tap with your finger to gently press it in, subtly warming the product so it melts onto the skin more easily.
Nanushka satin shirt, $435, Pascale James ring, Laura Constantine ring, $208, Bonheur Jewelry ring, $118, Modern Weaving earrings, $270
---
Build Up Spot Coverage Gradually
"The key is to get maximum coverage, without it being heavy."
When you're trying to cover a pesky blemish, it can be tempting to generously layer on foundation and concealer a few too many times in an attempt to fully conceal—but that gets way too heavy, Edio says. To avoid a caked-on look (which of course only makes imperfections more obvious), your plan of attack should begin with a layer of foundation applied with a warm, damp blending brush or sponge. The warm water on the blending tool helps melt the foundation onto the skin without being too heavy and streaky, Edio explains.
Pro tip: Color is key for covering up blemishes. Start with a foundation that matches your skin tone exactly—you don't want to brighten spots or make them look darker.
Not satisfied? Try going back with foundation on a dry sponge to give the designated area a little bit more coverage. Then, you can use the precise paddle applicator to dab concealer in the same shade as your foundation over the blemish. Concealer has more pigment than foundation and much more opacity to it, which helps provide additional coverage to blemishes, Edio explains. Gently pat it down with your index finger or a makeup sponge.
Next, use a very soft powder brush to set everything with powder in a shade close to your skin tone. Apply all over the face with a soft dusting motion for an even result. Finish off with a light face mist (Edio recommends something with rose water) to hydrate things and keep your makeup looking fresh.
Beaufille shirt, Au Rate ring, $800, Reliquia ring, $189, Soko ring, $58, Gabriela Artigas ring, $250, Completed Works earrings, £195
---
Use a 1-2 Punch for a Perfect Lip Line
An area you might not yet be targeting with your face-makeup pair is around the mouth. It's particularly helpful when you're wearing a bold lip, because it allows you to recreate the lip line for more definition. Start with a sheer veil of foundation all over the lip area, as a base for the concealer to hold in place longer, Edio says. Grab a soft, flat brush the size of your pinky, and make sure it's sanitized before using it to lightly dot concealer in the same shade as your foundation around the lip line.
Next, blend the concealer with your finger or a sponge just to smooth it out and to ensure there are no obvious lines. This will also give the border of your lipstick or lip liner something to adhere to.
Pro tip: Use a slightly lighter shade of concealer (the same one used under the eyes works) a bit above the cupid's bow to create a subtle highlight.
Beaufille shirt, $535, Pascale James rings, Soko ring, $58, Adeam earrings
---
Styled by Kathy Lee, Makeup by Mark Edio, Hair by Linh Nguyen
Celebrity news, beauty, fashion advice, and fascinating features, delivered straight to your inbox!
Maya McDowell is an Assistant Editor at HearstMade.