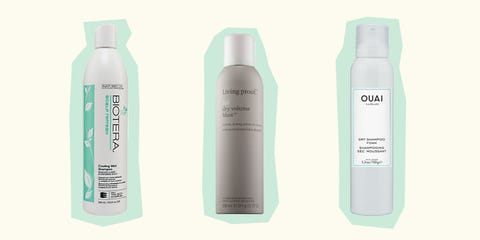 The dry shampoo category has exploded over the past few years. And while having a million options isn't a bad thing, it's decidedly overwhelming. But when you use as much of the style-prolonging stuff has we do, editing down the perfect one is must. After all, you want a formula that's going to cater to what you need most, be it the right consistency for your curl pattern or one that won't compromise your scalp's health. Here, find our editor-approved picks for all hair types.
1
If Your Hair Is Straight
Dry shampoo is a texturizer just as much as it's a waterless cleanser. To amp up pin-straight strands, look to a volumizing formula that won't weight hair down. This spray from Living Proof has special molecules that are lighter and bigger than industry standard ingredients for that extra zhoosh.
Living Proof Full Dry Volume Blast, $29; ulta.com.
When you've got wavy hair, dry shampoo = cool-girl waves. Basically you just want permanent second-day hair. You can add grit to just-showered hair by spreading this practically-invisible powder through your strands. Or, you can reset dirty texture by working it into the roots through the mids and ends. Either way, the end goal is more volume and piece-y sections.
Verb Dry Shampoo, $14; sephora.com.
Foam is the new mousse. And we love foam for curls. This cutting-edge dry shampoo foam is super light and doesn't disrupt the curl pattern while providing much needed volume at the roots through the ends. This is what will bring your curls back to life with that fresh-out-of-the-shower shine.
Ouai Dry Shampoo Foam, $28; theouai.com.
If your hair gets extra oily, powder is always the way to go. It allows you to really to get up into the scalp area with your fingertips, as well as concentrate product where you *really* need it. And don't worry, this finely-milled powder is nearly imperceptible as it sops up all of the grease.
Bumble and bumble Prêt-à-Powder, $27; sephora.com.
As you probably know by now, overuse of dry shampoo is not a good thing. It can lead to unhealthy buildup and exacerbate other scalp problems, like dryness. If your scalp is sensitive you should 1) use dry shampoo sparingly on the roots and 2) look to a formula like this one, which is infused with tea tree oil and calming cooling mint.
Biotera Scalp Refresh Dry Shampoo, $7.79; sallybeauty.com.