The 10 Best Dry Shampoos of 2023
Oribe, Klorane, and Living Proof top the list.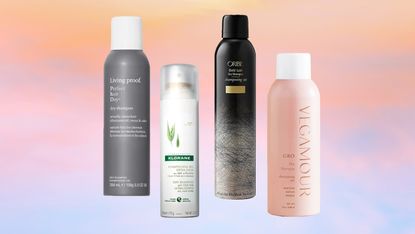 (Image credit: Future)
Marie Claire Newsletter
Celebrity news, beauty, fashion advice, and fascinating features, delivered straight to your inbox!
Thank you for signing up to Marie Claire. You will receive a verification email shortly.
There was a problem. Please refresh the page and try again.
There's no better feeling than a fresh blowout. But let's be real: I only have the energy to take on that kind of styling twice a week. So, for day two, three, and, on occasion, day four hair, I need reinforcements. That's when I call upon the best dry shampoos in existence to soak up oil, add volume, and genuinely cleanse my roots. I want cleanliness not crunchiness, volume that doesn't get accompanied by powdery flakes, and a fresh scent to boot. It's a tall order, but here's the good news: Several dry shampoos on the market meet my criteria.
Be it powders, sprays, or tinted variations—if you can name it, I promise I've tried it. Through this journey, I've been able to identify the best dry shampoos in existence. Some are best suited for extra oily days, while others can be used on clean hair as a mere volume-boosting styling tool. A few are better for darker hair colors (we love a tinted option!), and others take a good few minutes to work in, but remain worth it. To find the best dry shampoo for you, and have a good hair day every day, read ahead. (If you're looking for natural dry shampoo options, check out our favorites, too)
What to Look For in Dry Shampoo
If you scan the ingredients on a dry shampoo bottle, chances are you're going to see some variation of a starch. "It absorbs excess grease, oil, and dirt from the hair, leaving the hair looking and smelling clean and fresh," says celebrity hairstylist Andrew Fitzsimons.
While you might see a rogue liquid dry shampoo, most are going to come in either a spray can or as a powder. They function very similarly, so the best one for you largely boils down to personal preference. "Spray or aerosol dry shampoo absorbs oil and adds volume, but is typically better for thin and fine hair as opposed to a powder dry shampoo," says Fitzsimons. "If you have hair that is thick and oily, you may want to consider a powdery dry shampoo, so you can have a more targeted approach."
The last thing you want is for your dry shampoo to leave a white powder residue at your roots, so choose one that genuinely blends in with your hair. "Some dry shampoos are transparent and others leave a white powder on the hair that you have to blow dry in order to avoid the white cast," says celebrity hairstylist Dimitris Giannetos. If your hair is very dark, you might want to consider seeking out a tinted formula.
The Best Dry Shampoos
The Best Dry Shampoo Overall
Klorane Dry Shampoo With Oat Milk
If you told me I could only use one dry shampoo for the rest of my life, this is my pick. I'm not sure what magic the chemist over at Klorane infused into this spray formula, but it works like a charm. The spray instantly soaks up my grease (even when I feel like the oil is taking over) and leaves me with hair that genuinely looks freshly washed. It's also safe for sensitive scalp (I have that!) and color-treated hair (have this too!), so I feel comfortable using it multiple times per week.
Pros: Safe for sensitive scalp; Good for color; Editor-approved
Cons: Might look a little powdery
The Best Volumizing Dry Shampoo
Living Proof Perfect Hair Day Dry Shampoo
I'm so obsessed with Living Proof's dry shampoo, I wrote a love letter about its amazing-ness. Now, if you don't have time to go read my dissertation on why this is the best of the best, I'll sum it up. Living Proof's formula is the ultimate volume-booster. It's able to create lift and body—even on my fine, flat hair—without the crunchiness that's accompanied by a dry texturizer. Because of the dreamy feel, I'll use this on freshly-washed, clean hair just to create a lived-in look.
Pros: Editor-approved; Volumizing; Great smell
Cons: Might leave a white cast on dark hair
The Best Drugstore Dry Shampoo
Not Your Mother's Clean Freak Original Refreshing Dry Shampoo
Want an affordable dry shampoo that works as well as its luxe competitors? Enter Not Your Mother's dry shampoo, which is without a question the best drugstore dry shampoo in the game. It comes in tinted variations for anyone with dark hair—and in every scent under the sun. Regardless of what you choose, I promise the formula will deliver. It absorbs grease in seconds and leaves your hair with a soft, never crunchy, feel.
Pros: Affordable; Multiple options; Good for colored hair
Cons: Can be drying
The Best Dry Shampoo for Texture
Andrew Fitzsimons Discreet AF Dry Shampoo
"The Andrew Fitzsimons Discreet AF Dry Shampoo is my absolute favorite dry shampoo to work with. It absorbs oil, adds volume and texture, and works for all hair types. It's also formulated with the AF Aurascent Technology, a long-lasting scent technology that envelopes the hair strands with a divine fragrance, allowing the citrus, green floral, and creamy wood notes to gradually release, which leaves your hair feeling sublimely refreshed between washes." — Andrew Fitzsimons
Pros: Hairstylist-recommended; Good for all hair types
Cons: Too much texture for some
The Best Powder Dry Shampoo
Nature Lab. TOKYO Perfect Clean Dry Shampoo
Fitzsimons is a big fan of this particular powder shampoo thanks to its cleansing abilities. "It's formulated with Japanese rice powder and minerals to soak up excess oil and dirt," he explains. The rice powder is multi-purpose though; it doubles as a natural deodorizer, so it leaves your hair smelling fresh and clean. Need more convincing? This particular bottle is also TSA-approved, so you can toss it in your carry-on for all your summer vacations.
Pros: Good for travel; Light scent
Cons: Too much for fine hair
The Best Barely-There Dry Shampoo
Giannetos' all-time favorite is this invisible option from Unite. "It's very gentle for the hair, smells amazing, and it is very lightweight so it doesn't make the hair feel stiff," he says. "Plus, it definitely doesn't clog the pores on the scalp." What does it do? Give insane volume. Just a few sprays around your front pieces and on the crown of your head will give you a lift reminiscent of a '90s supermodel blowout.
Pros: Hairstylist-recommended; Gives volume; Lightweight
Cons: Doesn't absorb a ton of oil
The Best Luxury Dry Shampoo
Oribe Gold Lust Dry Shampoo
Oribe's iconic scent should be enough of a reason to add this dry shampoo to your repertoire. Seriously, when I wear this, I skip perfume. But delicious smell aside, this formula actually delivers. It's designed with a translucent starch blend that absorbs dirt, oil, and impurities, as well as the brand's signature hair complex that protects color treated hair from UV damage, photoaging, and stress. It's an all around win in my book.
Pros: Long lasting scent; Protective
Cons: Feels a little wet at first
The Best Dry Shampoo for Thinning Hair
When dealing with hair loss, you want to make sure your scalp is in a happy place. That means no clogging and no gunk. Dry shampoo can be your enemy, but thanks to Vegamour, it doesn't have to be. This specific talc- and benzene-free formula is designed with hair growth in mind. It uses plant-based phytoactives like red clover to not only create the appearance of thicker, fuller hair, but also minimize hair thinning.
Pros: Good for thin hair; Plant-based
Cons: Leaves residue; Better for thicker hair
The Best Dry Shampoo for Extra Greasy Hair
If you don't think any dry shampoo will have the power to tackle your level of grease, I challenge you to give this Ouai option a shot. Standard rice starch teams up with volcanic minerals (natural detoxifiers!) to actually soak up the oil that has built up on your roots. I recommend letting the product sink in for a few minutes, but once you give it a little zhuzh you'll be amazed at how fresh your hair feels. Pro tip: If you want a little extra volume, flip your hair upside down and spray dry shampoo at the base.
Pros: No white residue; Long lasting
Cons: Strong scent
The Best Dry Shampoo Texture
Olaplex No.4D Clean Volume Detox Dry Shampoo
A little grit isn't a bad thing. In fact, a big reason why people love dry shampoo is because it adds volume and density. But, if you fall into the camp of individuals that straight up despise the feeling of product, this Olaplex option is for you. It's weightless, and I mean that whole-heartedly. It's clinically proven to not clog pores or leave a white residue, while still delivering results.
Pros: Lightweight; Translucent
Cons: Doesn't absorb as much oil as other options
Meet the Experts
Before he was known as Hollywood's top hair stylist, Andrew Fitzsimons has been obsessed with fashion, beauty and form for more than two decades. His passion led him from humble roots in Ireland to cultivate his talent in the fashion industry in Dublin, then to Paris and New York and LA where he counts Bella Hadid, Madonna, Mariah Carey, Kim Kardashian, Kylie Jenner, Megan Fox, Joan Smalls, and Shay Mitchell as his regular clientele. Andrew's incredible knowledge and eye for trend turned him into one of the most respected and finest hair stylists, but it's his personal beauty philosophy that keeps him the A-list favorite. This free spirit combined with his know-how gives him the ability to translate trends through to individual personal style.
Dimitris Giannetos is a Los Angeles-based hairstylist. After a fruitful career in Greece, Giannetos relocated to the U.S. in 2013 and quickly established himself as an in-demand jack of all trades, working with brands such as L'Oreal as an ambassador and styling the tresses of Camila Cabello, Joey King, Megan Fox, Alessandra Ambrosio, and many more. Giannetos' work can be seen in the pages of domestic and international editions of publications such as Vogue, Numero, Harper's Bazaar, V Magazine, Schon, Elle, and Marie Claire, among others. He has collaborated with photographers including Greg Swales, The Morelli Brothers, Cameron McCool, Paul Empson, Tony Kelly, Yu Tsai, and many more
Celebrity news, beauty, fashion advice, and fascinating features, delivered straight to your inbox!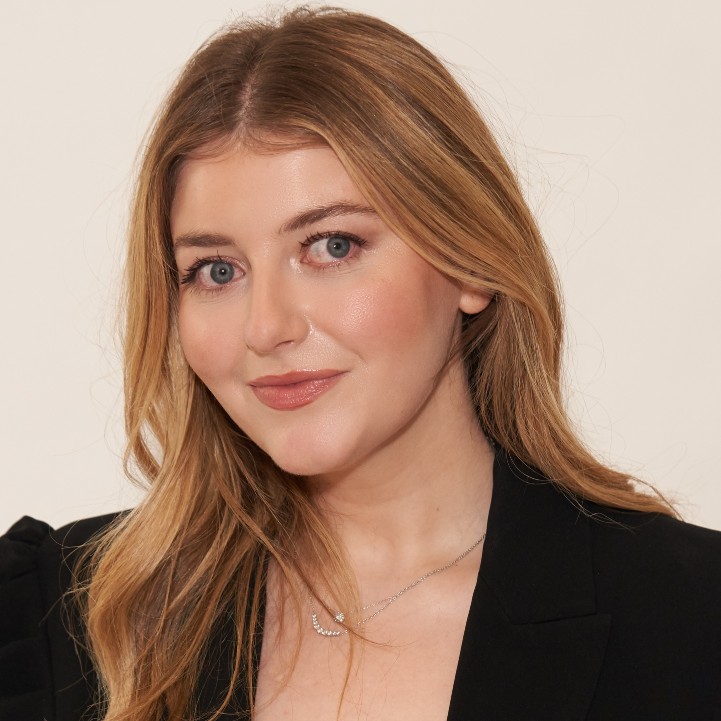 Samantha Holender is the Beauty Editor at Marie Claire, where she reports on the best new launches, dives into the science behind skincare, and keeps up with the latest trends in the beauty space. She has previously written for Us Weekly, Popsugar, Makeup.com, Skincare.com, and Philadelphia Wedding. Follow her on Instagram @samholender.