The 18 Best At-Home Keratin Treatments, According to Editors and Experts
These at-home keratin solutions will change your hair game.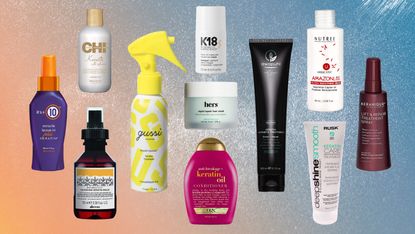 (Image credit: Future)
Marie Claire Newsletter
Celebrity news, beauty, fashion advice, and fascinating features, delivered straight to your inbox!
Thank you for signing up to Marie Claire. You will receive a verification email shortly.
There was a problem. Please refresh the page and try again.
If your natural hair runs on the frizzy, can't-be-tamed side of the spectrum and you can't be bothered straightening and styling day in and day out, you might have done a little digging into the big wide world of keratin treatments. First, there are in-salon options. And while they're highly effective, they can cost up to $300 or more and take up a big chunk of time (think: three to six hours). Then there are at-home keratin treatments, which can offer similar smoothing and straightening benefits at a fraction of the price and without many of the harsh chemicals (looking at you, formaldehyde).
But—and this is a big one—it's important to do your research, which is why we've turned to trichologist Dr. Penny James and hair chemist and medical researcher Alexandra Arriaga. As Arriaga says: "Not all at-home keratin treatments are created equal." It's important to avoid certain chemicals and familiarize yourself with the pros and cons of each kind of keratin treatment. That said, while it's likely that you're going to get more foolproof, longer-lasting results from a salon keratin treatment, at-home keratin treatments can be worthwhile, budget-friendly alternatives.
Best Deals on At-Home Keratin Treatments
An Overview of the Best At-Home Keratin Treatments
What to Look For in a Keratin Treatment
Avoid Formaldehyde: Finding the best at-home keratin treatment is less about what you should see and more about what you shouldn't see on the label. The big chemical to avoid is a carcinogen called formaldehyde, "a colorless, strong-smelling gas that presents a health hazard when breathed into the lungs, gets into the eyes, or touches the skin," says Arriaga. According to the National Cancer Institute, when formaldehyde reaches a certain concentration in the air (0.1 ppm to be exact), you may experience watery eyes, burning sensations in the eyes, nose, and throat, coughing, wheezing, nausea, and skin irritation. Looking for labels like "No Formaldehyde" or "Formaldehyde Free" on your at-home keratin bottle is a good start, but you're going to want to do some extra digging. "Many keratin treatments, both professional and at-home options, contain the liquid form of formaldehyde, which is called methylene glycol," explains Arriaga. "To identify products containing formaldehyde-related ingredients, look for the following words on the label: Formaldehyde, formalin, and methylene glycol."
What's the Difference Between an At-Home Keratin Treatment and a Salon Keratin Treatment?
At base level, keratin is a protein found in the hair. The more keratin you have, the smoother, glossier, and shinier your hair will be—it fills the frizz-causing holes in the hair cuticle. That said, not every keratin treatment is created equal. In a salon, you can expect more dramatic, longer-lasting results—an in-salon keratin treatment can take curly, coily hair to a straighter state that lasts for weeks or more. At-home treatments, which can take the form of conditioners, shampoos, masks, or, occasionally, salon-mimicking systems, can work wonders for frizz, but won't necessarily last through dozens of shampoos or change your natural texture. The results will also differ across hair types.
How Do Keratin Treatments Work?
When you go to a salon or purchase a profession-grade at-home kit, the hair is typically straightened with a solution containing glyoxylic acid or formaldehyde, explains Arriaga. "When some of these solutions are applied on the hair, the bonds inside each strand are broken and resealed in a straighter position." Trichologist Dr. James adds that a minimum of 450 degrees is needed to seal the deal (pun very much intended) and "glue" the cuticle back together.
Meanwhile, keratin-infused solutions and products "work by coating each individual strand to smooth down the hair cuticles and give a glossy, frizz-free finish," says Dr. James. "This coating wears off over time, however."
How We Chose The Best At-Home Keratin Treatments
The products on this list have either been vetted by Marie Claire's Beauty Editor Samantha Holender (a.k.a. yours truly) and Marie Claire's Beauty Director Deena Campbell or have been hand-selected by a hair expert. Each and every one is also highly rated by reviewers. While the *best* keratin treatment for you will vary based on hair type and personal preference, you truly can't go wrong with one of the items on this list. For a more personalized recommendation, or if you have any concerns, check in with your hairstylist.
The Best At-Home Keratin Treatments
The Best Keratin-Infused Hair Products
How to Prep for a Keratin Treatment
As tempting as it may be, don't just go straight into treatment mode. The preparation is just as important. "The pre-treatment will be shampooing your hair with a sulfate-free shampoo," says Dr. James. Arriaga also recommends getting your hair colored ahead of your treatment. "Keratin will help preserve the color," she adds. Just give yourself a few days or weeks of buffer time.
What to Do After a Keratin Treatment
After you finish your at-home treatment, there are a few key things to avoid, like getting your hair wet or direct sun exposure. "Even keratin treatments that claim you can wash your hair immediately benefit from waiting at least 24 hours," says Alexandra Efstratiou, a New York-based stylist. "It just gives the hair and product time to settle in together."
How to Make at At-Home Keratin Treatment Last
If you used a simple keratin treatment product that's not heat-activated, your results will probably last until your next shampoo. Sometimes, your hair will even become naturally silkier and smoother with continued use.
If you used a more intense at-home treatment that's designed to last for months, such as the Gussi option, Efstratiou says that "the longevity of a keratin is primarily based on your frequency of washing, so the less often you can do the better."
Better yet, stylists also recommend using hair styling products that have keratin in them (so basically all of the above) to keep your treatment looking fresh. "I like to recommend using keratin-infused products on days you do wash and style your hair," says Shalom. "Extra doses of keratin help to refresh the treatment results."
Are At-Home Keratin Treatments Safe?
If you're using a keratin-infused product—you're good to go. Have fun! Shampoo and style away! If you're using a true at-home keratin system, it's worthwhile to exercise a little extra caution. The biggest thing to be wary of is formaldehyde, which may be printed on the label as formalin or methylene glycol. "Many keratin treatments, both professional and at-home options, contain the liquid form of formaldehyde, which is called methylene glycol," explains Arriaga. You *really* want a formaldehyde-free product to protect your eyes and overall health. According to the CDC, "exposure to formaldehyde can irritate the skin, throat, lungs, and eyes," while "repeated exposure to formaldehyde can possibly lead to cancer."
Meet the Experts
Celebrity news, beauty, fashion advice, and fascinating features, delivered straight to your inbox!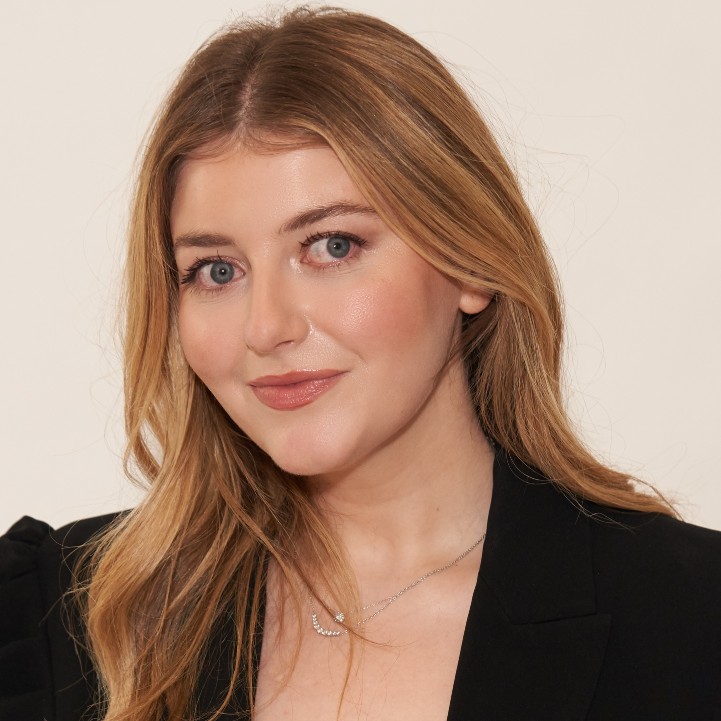 Samantha Holender is the Beauty Editor at Marie Claire, where she reports on the best new launches, dives into the science behind skincare, and keeps up with the latest trends in the beauty space. She has previously written for Us Weekly, Popsugar, Makeup.com, Skincare.com, and Philadelphia Wedding. Follow her on Instagram @samholender.