Not Your Mother's Clean Freak Is the Only Dry Shampoo to Make My Hair Feel Clean—Not Crunchy
Bonus: It's only $8 per bottle.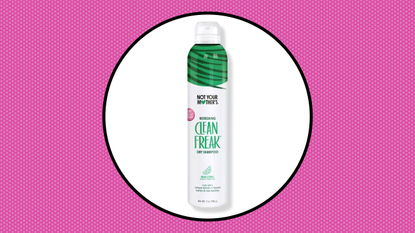 (Image credit: Future)
I've been blessed with extremely fine, thin hair. If you didn't pick up on my sarcasm, that means my hair has as much volume as Flat Stanley and gets oily in five seconds flat. I'm inseparable from my dry shampoo—and I've recently been on the hunt to find the best of the best. Living Proof is a top contender (obviously) and Oribe can hold its own (naturally), but the Not Your Mother's Clean Freak Dry Shampoo is the one that really took me by surprise. It's a no-frills, benzene-free, drugstore formula that manages to soak up grease in a grand total of 30 seconds. The main selling point? It doesn't leave behind a gross, crunchy, chalky, sandpaper-y texture. For all the details, scroll ahead.
The Formula
It's less about what's in this formula and more about what's left out of it. Most importantly, it's benzene-free. But it also steers clear of sulfate surfactants, silicones, parabens, and dyes, which gives me some peace of mind. As for what's inside? You can count the ingredients on your fingers—it's the definition of a "less is more" product. Natural barley and rice starches are the most notable ingredients, and work in tandem to detox oil buildup, dirt, and grime. Fragrance did also make its way into the mix (it's a light citrus scent), but there is a fragrance-free option in the line if you're concerned.
The Texture
I've always had a love-hate relationship with dry shampoos, in large part because of the way they made my hair feel. I like to run my fingers through my hair without the grittiness of a texturizer. Unfortunately, my oily roots necessitate a pick-me-up. Enter: Not Your Mother's Clean Freak Dry Shampoo. The $8 formula is somewhat of a miracle worker; it soaks up oil and dries up roots to a point where shine is nonexistent. In order to do that, there's going to be a little texture added—I can't lie and say that hair is going to feel like a fresh-as-a-daisy blowout. There is a silver lining: The gritty texture is objectively much, much, much less noticeable than competitors. And it gives hair the added benefit of a little volume.
The Staying Power
Normally my dry shampoo saga goes as follows: I douse my hair in product, everything is well and good for a few hours, and then, circa late afternoon, I look like one big grease ball. It's more like a temporary fix—if you want a permanent fix, you're going to have to hop in the shower. The question remains: Exactly *how* many hours will the oil-absorbing band-aid last? It's going to differ from person to person and depending on your starting point, but you should be able to make it through the majority of the day with little to no touch-ups. For best results, you'll want to apply product to every layer of the hair—not just the top roots.
My Review
I'm somewhat of a dry shampoo connoisseur. I go through approximately a bottle a month, use one every other day, and have tried just about every product on the market. My main pain point, without fail, is that majority of products leave a chalky film behind that comes *this* close to suffocating my scalp. The dry shampoo powders are no better on the texture front—in fact, I'd go so far to say that they're worse.
Not Your Mother's Clean Freak can conveniently be scooped up at the drugstore, Target, or even Ulta. The options are plentiful (there's everything from a body-building dry shampoo and a texturizing dry shampoo to a clean and smooth iteration), but I decided to start with the OG, which comes in both an unscented and light citrus scent.
My hair was appropriately dirty at the time of testing—it was the morning of day two, so my volume was looking subpar, my face-framing pieces were a little extra oily, and my roots were starting to get shiny. It wasn't a disaster zone, but I wouldn't call it great. That in mind, I held the bottle a good eight inches away from my hair and went to town. I coated my roots, sprayed some extra along my hairline, and gave a few extra pumps throughout the body of my hair. I let it soak in for a good 30 seconds before rubbing in the white powder. I personally didn't have any difficulty with the white shadow (my hair is a light brown meets dark blonde), but I'd proceed with caution if your hair is on the darker side.
The barley and rice starches worked their magic and my hair looked revived. I'll call it a success, but the product's ability to absorb oil wasn't what made me head-over-heels obsessed. Instead, it was the unmatched texture. My volume was restored to its former glory (I can only imagine what the bodybuilding formula does) and my hair remained soft and shiny. I recognize that there's going to be some added graininess with any hair product; the dry shampoo's feel isn't entirely non-existent. But I will say that it's running circles around its competitors in the texture department. And for that reason, I'm hooked.
Samantha Holender is the Beauty Editor at Marie Claire, where she reports on the best new launches, dives into the science behind skincare, and keeps up with the latest trends in the beauty space. She has previously written for Us Weekly, Popsugar, Makeup.com, Skincare.com, and Philadelphia Wedding. Follow her on Instagram @samholender.