The 10 Best Purple Shampoos for Blonde, Silver, and Gray Hair
All of the blonde, none of the brassiness.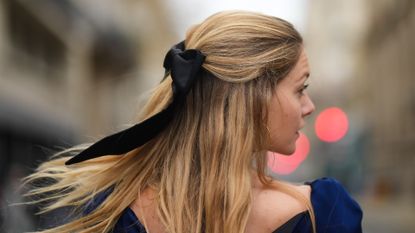 (Image credit: Edward Berthelot/Getty Images)
When I was in college, a roommate of mine came out of the bathroom, grinning from ear to ear, and announced that she'd found her new holy grail beauty product. And what was it? Purple shampoo. She explained to the rest of us that her blonde hair, which incorporated dazzling highlights, often grew brassy between salon appointments. This means that bright yellow, unnatural-looking tones often showed up in her hair a few weeks or months after it had been lightened. And no matter how high-quality her regular shampoos and conditioners, nothing could fix it. Except, of course, for purple shampoo.
"Purple shampoo is a shampoo with a purple pigment that helps neutralize or get rid of the brassy and yellow tones in the hair," explains hairstylist Glenn Ellis. "The purple pigment in the shampoo neutralizes or cancels out the yellow tones you see in the hair. It is similar to the toning process at the salon, but not as strong or long-lasting. It helps keep your hair fresh between touch ups!"
Since you may not be able to visit your go-to hairstylist or colorist as often as you'd like, I've tapped experts to discover everything there is to know about purple shampoo, how and when to use purple shampoo, and how to find the best one for you.
Why Use a Purple Shampoo?
Ellis says that if your highlights, platinum color, or grays are looking dull or yellow, that's the best time to look into a purple shampoo—just as brunettes often turn to blue shampoos when their locks are looking dull.
"You want to use a purple shampoo when you start to see those warmer tones come through in your blonde—when it starts to get yellowy-brassy looking," Ellis explains. "Typically, people use it once every other week once they start to see brassiness (usually 6-8 weeks post color). I recommend talking with your colorist about the frequency with which you use it, depending on your color."
Hairstylist Kevin Kelly adds that purple shampoo is only really a good fit for people with light hair. "You cannot use purple shampoo on caramel highlights," he says. "It will not do anything. It's not light enough for the color to grab on to." He also adds that purple shampoo works wonders "if your hair isn't light enough or your hair was highlighted or colors in properly."
So, next time you're in the middle of a hair disaster, consider grabbing a purple shampoo before you start to panic. But remember that purple shampoo is meant to be a temporary fix until your next dye appointment—not a permanent panacea.
"The more you use purple shampoo, the more it makes your blonde look dull, because you are continuously depositing color shampoo," Kelly points out. So, while it's important to keep a bottle on hand, that doesn't mean you can eschew your hair appointments altogether.
What To Look For in Purple Shampoo
As with all hair products, there are an overwhelming number of purple shampoos on the market, making it hard to determine which one's right for you. Thus, I asked Ellis to break down the basics.
"As with any shampoo, you want to look for a high-quality one that is sulfate free," he says. "A good rule of thumb is that the lighter it is, the more subtle of a tone it's going to be. The brighter the purple, the more drastic the results will be."
Still unsure of where to start? Don't worry—we've got you covered. Below, the best purple shampoos to keep your shade of blonde hair bright.
The Best Purple Shampoos
Best Purple Shampoo Overall
KEVIN.MURPHY BLONDE.ANGEL.WASH
"This is great for fine hair and moisture," says Kelly of this salon favorite. "A lot of purple shampoos have high alcohol in them and tend to dry out your blonde hair. This formula is also just enough that it's not going to overtone your hair and make you super ashy or gray like some others might." Ellis agrees, adding that unlike many other purple shampoos, there's no need to use this formula in tandem with another non-purple shampoo, because this one cleanses thoroughly enough.
Pros: stylist-approved; works well on thin hair; nourishing and softening
Cons: contains silicones
Customer Review: "I usually use it for first few washes after I have had my hair colored. It takes the red/brass notes out and cools out the blonde." -KEVIN.MURPHY
Best High-Potency Purple Shampoo
Olaplex No.4P Blonde Enhancer Toning Purple Shampoo
"The Olaplex purple shampoo is great," raves Ellis. "It is really potent though, so I recommend using a quarter size of it and diluting it with another shampoo. It also has all the properties of the original Olaplex shampoo, so it really helps strengthen the hair as well." Reviewers love this option, too, writing that it's softening and that it works beautifully on both gray and blonde hair. It can be drying, though, so for those with dry or high porosity hair, it shouldn't be used with every wash.
Pros: stylist-approved; strengthens hair follicles; high potency, so long-lasting; free of sulfates, SLS, and SLES
Cons: can be drying
Customer Review: "This product leaves my hair so soft! It was so damaged before and I noticed the difference after 1.5 weeks of using it!" -Sephora
Best Purple Shampoo for Damaged Hair
Pureology Strength Cure Blonde Shampoo and Conditioner
Celebrity hairstylist Jamie Wiley says, "I recommend Pureology Strength Cure Blonde Shampoo and Condition because it's sulfate-free, maintains color vibrancy, and minimizes fading." She adds that it works on all hair types because of its thoughtful list of ingredients, which balance hydration and color retention. She explains, "The nourishing formula will soften and hydrate the hair while toning out the orange brassy tones using bright purple orchid, which provides natural violet toning properties."
Pros: comes with matching conditioner; hydrating; good for damaged hair; stylist-approved; vegan; paraben-free
Cons: contains silicones
Customer Review: "My hair was dry and breaking which looked like a frizzy mess with the humidity. Im so glad I got the Pureology strength set. My hair looks and feels healthy." -Walmart
Kérastase Blond Absolu Anti-Brass Purple Shampoo
Reviewers love this purple shampoo from Kérastase, raving that it's great not only for fixing brassiness, but also for maintenance of dyed or lightened hair. However, they warn that because the formula is high-potency, a little goes a long way. The rich product is infused not only with color-strengthening properties like ultraviolet neutralizers, but it's also packed with hydrating ingredients like hyaluronic acid and Edelweiss flower. It's been clinically proven to strengthen and enhance blonde and gray hair, and reviewers back up these claims, with buyer after buyer calling this the greatest shampoo they've ever used.
Pros: works on all hair types; hydrating; shine-enhancing; contains hyaluronic acid
Cons: contains sulfates
Customer Review: "I have tried so many different purple shampoos and this is by far the best!...I literally just finished drying my hair and I am shocked at how visible the difference is. Shampoo once before, let it sit for 5+ minutes, and you'll be soooo cool." -Sephora
Best Purple Shampoo for Gray Hair
Clairol Professional Shimmer Lights Purple Shampoo
This option is infused with protein to strengthen your strands while reducing brassiness. Reviewers with gray hair (both natural and dyed) also swear by it for the way it tones and enhances color. The brand even recommends it for use on brown hair, explaining that it balances color, toning down brassiness levels on hair that's multi-tonal, such as highlighted hair. Users tend to agree, but warn that if you have dry or high porosity hair, you should use it sparingly, as it can be drying.
Pros: affordable; protein-infused; great for gray and blonde hair alike
Cons: some reviewers dislike the scent
Customer Review: "This is my favorite drugstore purple shampoo to use whenever I bleach my hair. It tones the brassiness out of my hair without fail. It is not damaging, smells nice, and lathers beautifully." -Target
Best Scented Purple Shampoo
OGX Hydrate & Color Reviving + Lavender Luminescent Platinum Shampoo
One of my personal favorite haircare brands is OGX. It's a budget-friendly, hydration-centered brand boasting rich formulas with scents that are luxurious but never overpowering. Users who deal with dry hair or who have dry scalps love this moisturizing purple shampoo in particular, writing that it has a gentle lavender scent and that it's suitable for all hair types and curl patterns. Reviews also indicate that the formula lathers well and that a little goes a long way.
Pros: works on all hair types; affordable; long-lasting
Cons: some users find the formula too thick
Customer Review: "Felt great on my scalp. Great cleansing. Feel this product does make a difference—especially on blonde highlights." -Walgreens
Best Purple Shampoo for Curls
Moroccanoil Blonde Perfecting Purple Shampoo
If you have dry, curly, or high porosity hair and are afraid that purple shampoo will dry you out, consider this gently fragranced option from Moroccanoil, another one of my top haircare brands. Customers write that it's nourishing, smooths out frizz without destroying curls, and that it doesn't make hair dry the way other alternatives do. This shampoo also promises to enhance shine and fight split ends by sealing the hair cuticle and infusing strands with argan oil, which is rich in antioxidants.
Pros: works on all hair types; good for curly hair; moisturizing
Cons: contains silicones
Customer Review: "Most purple shampoos dry your hair out but this one leaves your hair silky and so soft. Also, if you leave your shampoo for a long time hoping it'll change your hair color—it won't. You'll get some tones of purple but if you do the recommended time you'll be tokay." -Sephora
Best Deep-Cleansing Purple Shampoo
Oribe Bright Blonde Shampoo for Beautiful Color
Customers laud this vegan shampoo from Oribe for how it thoroughly cleans hair and combats brassiness, with multiple users saying that after using the formula, they feel like they've just left the salon. Like many purple shampoos, however, this option can be drying, particularly for those with hair that's thirsty to begin with. In those cases, users can indulge in this shampoo as needed rather than with every wash, much in the way one would use a clarifying shampoo.
Pros: vegan; hydrating; works on all hair types
Cons: contains silicones
Customer Review: "Love this shampoo! The lather is not super prominent but the shampoo and conditioner are wonderful! Smells great and leaves my hair professionally washed." -Sephora
Best Fast-Acting Purple Shampoo
Matrix So Silver Purple Shampoo
This shampoo is marketed for people with blonde, gray, and highlighted hair, and boasts a strong color-depositing formula. Indeed, multiple reviewers write about how impressed they are with it, saying that they noticed a marked improvement in their hair color after just one wash. Because it's so highly pigmented, the brand recommends using gloves when applying this shampoo to wet hair before lathering well and rinsing as thoroughly as possible. If you find that your hair is in even more need of anti-brassy TLC, repeat the process and leave the formula on for three to five minutes before rinsing.
Pros: affordable; yields fast results
Cons: contains sulfates
Customer Review: "My only complaint is that I wish it were safe for everyday use. I use it once a week, and that day my baby-fine, stick-straight hair behaves better than any other day. I have gray hair with natural silver highlights, and this really brightens the silver and gives my volume a bit of a boost. So pretty!" -Ulta
Best Shine-Enhancing Purple Shampoo
dpHUE Cool Blonde Purple Shampoo
One of the most popular purple shampoos on Ulta's website, this option from dpHue works on a variety of dyed hair colors—especially pastels and bright shades that require hair to be bleached first. The formula, which is highly pigmented, also promises to banish brassiness after every single wash, and the brand recommends leaving the product in for up to five minutes to experience even better, more noticeable results. Several reviewers warn that the formula can be drying, though, so be sure to pair it with your favorite, most hydrating conditioner or hair mask.
Pros: free of parabens, SLS, SLES, sulfates, and phthalates; quick results
Cons: some users find it drying
Customer Review: "I use this product about two to three times a week as the only shampoo in my line up. I started using it to decrease the brassy color in my blonde hair and you see immediate results! I now have blue hair, but it's gentle enough that it's not stripping the color out at a crazy fast pace. I've seen a drastic change in my hair quality and hair growth since I first started using it in March. It's amazing how a little bit goes a long way and it can get me through two to three months before I start running low. The shampoo itself can make your hair feel dryer than normal in the shower, but the conditioner